Small Faces: There Are But Four Small Faces (Deluxe Edition)
There Are But Four Small Faces (Deluxe Edition)
2 CDs
CD (Compact Disc)
Herkömmliche CD, die mit allen CD-Playern und Computerlaufwerken, aber auch mit den meisten SACD- oder Multiplayern abspielbar ist.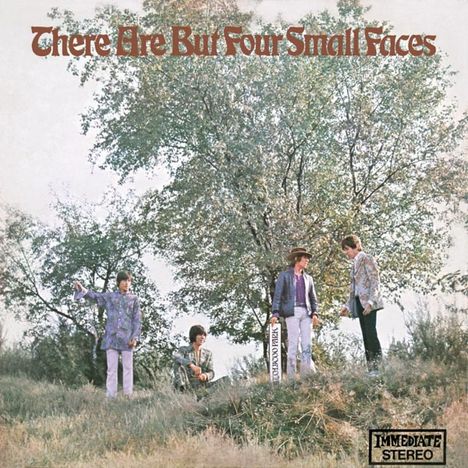 Nur noch 1 Stück am Lager. Danach versandfertig innerhalb 1-2 Wochen (soweit verfügbar beim Lieferanten)
Verlängerter Rückgabezeitraum bis 31. Januar 2023
Alle zur Rückgabe berechtigten Produkte, die zwischen dem 1. bis 31. Dezember 2022 gekauft wurden, können bis zum 31. Januar 2023 zurückgegeben werden.

Label: Charly, 1968
Bestellnummer:

4177655

Erscheinungstermin: 21.4.2014
*** digitally remastered
*** Hardcover-Book
Product Information

The Small Faces USA debut LP released on Andrew Loog Oldham's Immediate Records in 1968 has been newly expanded and remastered in 2014 from the original master tapes for the first time ever! This definitive edition of "There Are But Four Small Faces" has been overseen by surviving band members Kenney Jones and Ian McLagan and features previously unseen memorabilia and photography, plus In-depth sleeve notes by Ken Sharp with new exclusive interviews with Olympic Studios engineer George Chkiantz, PP Arnold, renowned photographer Gered Mankowitz and commentary by Eric Carmen ("All By Myself", The Raspberries) and Californian journalist Harvey Kubernik.
Disk 1 von 2 (CD)
1 STEREO: Itchycoo Park
2 Talk To You
3 Up The Wooden Hills To Bedfordshire
4 My Way Of Giving
5 I'm Only Dreaming
6 I Feel Much Better
7 Tin Soldier
8 Get Yourself Together
9 Show Me The Way
10 Here Come The Nice
11 Green Circles
12 (Tell Me) Have You Ever Seen Me
13 STEREO Bonus Tracks: Eddie' Dreaming (Take 4, Mix 1)
14 Get Yourself Together (Early Mix)
15 Show Me The Way (Take 5, Alt Mix)
16 (Tell Me) Have You Ever Seen Me (Alternate Take)
Disk 2 von 2 (CD)
1 Itchycoo Park (Mono Version)
2 Talk To You (Mono Version)
3 Up The Wooden Hills To Bedfordshire (Mono Version)
4 My Way Of Giving (Mono Version)
5 I'm Only Dreaming (Mono Version)
6 Feel Much Better (Mono Version)
7 Tin Soldier(Mono Version)
8 Get Yourself Together (Mono Version)
9 Show Me The Way (Mono Version)
10 Here Come The Nice (Mono Version)
11 Green Circles (Mono Version)
12 (Tell Me) Have You Ever Seen Me (Mono Version)
13 MONO Bonus Tracks:Tin Soldier ( TV Backing Track )
14 Here Come The Nice ( Usa Version )
15 Green Circles ( Take 1 Alternate Mix 2 )