The Beach Boys: Sail On Sailor (SHM-CD) (Triplesleeve)
Sail On Sailor (SHM-CD) (Triplesleeve)
2 CDs
CD (Compact Disc)
Herkömmliche CD, die mit allen CD-Playern und Computerlaufwerken, aber auch mit den meisten SACD- oder Multiplayern abspielbar ist.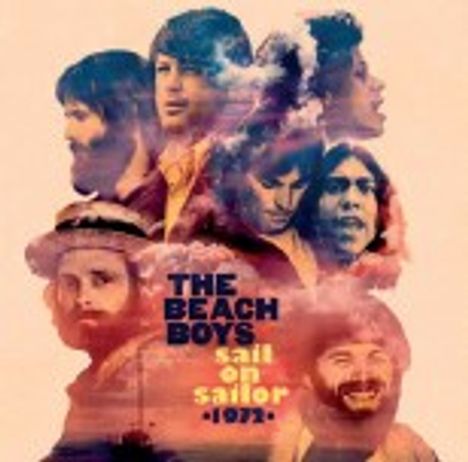 lieferbar innerhalb 1-2 Wochen
(soweit verfügbar beim Lieferanten)
Label: Universal, 1972
Bestellnummer:

11060212

Erscheinungstermin: 2.12.2022
*** SHM - Super High Material
*** Japan-Import
Aufbauend auf dem Erfolg von »Feel Flows« von 2021 und der »Sounds Of Summer«-Produktreihe wird UMe im November 6 neue Pakete veröffentlichen, die auf den Aufnahmen der Beach Boys von 1972 aus den Alben »Carl And The Passions« und »Holland« basieren.

Das Projekt umfasst 120 Tracks, von denen 80 bisher unveröffentlicht sind! Die Band feiert in diesem Jahr und bis 2023 ihr 60-jähriges Bestehen, und eine Reihe von Großereignissen wird die Begeisterung der Verbraucher bis zum nächsten Jahr anheizen.


Rezensionen
».​.​.​die beiden letzten großen Alben der Beach Boys, frisch remastert und ergänzt um die EP ›Mount Vernom And Fairway (A Fairy Tale)‹, dazu jeweils eine bunte Mischung aus Demos, alternativen Abmischungen, Singleversionen und Livemitschnitten.​« (Good Times, Februar/März 2023)
Die Hörproben gehören zum Artikel The Beach Boys: Sail On Sailor (Deluxe Edition) (CD). Das Tracklisting kann bei diesem Artikel ggf. abweichen.
Disk 1 von 2 (CD)
1 Carl And The Passions - »So Tough«: You Need A Mess Of Help To Stand Alone
2 Here She Comes
3 He Come Down
4 Marcella
5 Hold On Dear Brother
6 Make It Good
7 All This Is That
8 Cuddle Up
9 SO TOUGH BONUS TRACKS:The Road Not Taken (Demo - Previously Unreleased)
10 All This Is That (A Cappella Mix - Previously Unreleased)
11 He Come Down (2022 Mix - Previously Unreleased)
12 You Need A Mess Of Help To Stand Alone (Track And Backing Vocals)
13 Marcella (A Cappella Mix - Previously Unreleased)
14 Make It Good (Alternate Mix With Intro - Previously Unreleased)
15 Cuddle Up (Alternate Mix - Previously Unreleased)
16 Carl And The Passions /Pet Sounds Promo (1972)
17 LIVE BONUS:Intro To 2ndSet:Jack Riley
18 You Need A Mess Of Help To Stand Alone
19 Marcella
20 Only With You
21 California Saga - Big Sur
22 Funky Pretty
Disk 2 von 2 (CD)
1 Holland: Sail On Sailor
2 Steamboat
3 California Saga - Big Sur
4 California Saga - The Beaks Of Eagles
5 California Saga - California
6 The Trader
7 Leaving This Town
8 Only With You
9 Funky Pretty
10 Mount Vernon And Fairway (A Fairytale) By Brian Wilson (Please Listen In The Dark): Mount Vernon And Fairway Theme
11 I'm The Pied Piper - Instrumental
12 Better Get Back In Bed
13 Magic Transistor Radio
14 I'm The Pied Piper
15 Radio King Dom
16 HOLLAND BONUS TRACKS: We Got Love (2022 Mix - Previously Unreleased)
17 Hard Time (Previously Unreleased)
18 Carry Me Home (Previously Unreleased)
19 California Saga - The Beaks Of Eagles (1973 Single Mix - Previously Unreleased)
20 California Saga - California (1973 Single Mix)
21 Sail On Sailor (Track - Previously Unreleased 2022 Mix)
22 Holland Promo 1 (1973)
23 Sail On Sailor (Live 1975)