The Beach Boys: Pet Sounds (50th Anniversary Deluxe-Edition)
Pet Sounds (50th Anniversary Deluxe-Edition)
2 CDs
CD (Compact Disc)
Herkömmliche CD, die mit allen CD-Playern und Computerlaufwerken, aber auch mit den meisten SACD- oder Multiplayern abspielbar ist.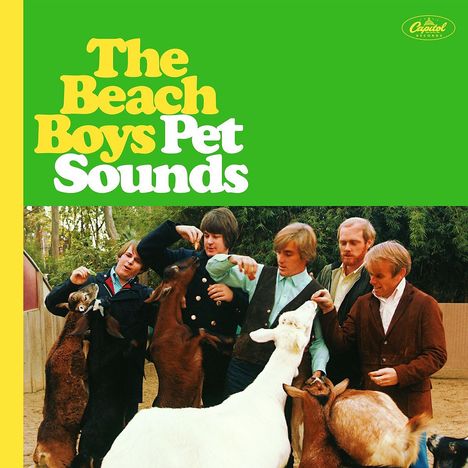 lieferbar innerhalb 2-3 Wochen
(soweit verfügbar beim Lieferanten)
Label: Universal
Bestellnummer:

2465589

Erscheinungstermin: 9.6.2016
*** remastertes Album in Stereo & Mono
Gesamtverkaufsrang: 37617
Verkaufsrang in CDs: 18655
Das im Mai 1966 erschienene Album Pet Sounds gilt heute als das Meisterwerk des Komponisten und Produzenten Brian Wilson und wird oft als eines der besten und einflussreichsten Alben der Popmusik gepriesen.

Dies wird dadurch bestätigt, dass Pet Sounds weithin als eines der einflussreichsten Alben aller Zeiten gilt und in den Listen mehrerer Musikmagazine, darunter New Musical Express, The Times und Mojo Magazine, auf Platz 1 der größten Alben aller Zeiten steht. Im Jahr 2003 wurde es auf Platz 2 der Rolling Stones-Liste der 500 größten Alben aller Zeiten gewählt (Sgt. Pepper's stand an erster Stelle).

Zusammen mit Revolver und Pink Floyds The Piper at the Gates of Dawn ist Pet Sounds eines der ersten Meisterwerke des Psychedelic Rock mit seinen kunstvollen Experimenten, psychedelischen Texten, neuen Gitarren-, Orgel-, Klavier- und anderen Instrumentenklängen.

The Beach Boys feiern den 50. Jahrestag des Kultalbums mit Special Editions!

The Beach Boys' Kultalbum »Pet Sounds« von 1966 wird weltweit als eines der für die Popmusik wichtigsten Alben aller Zeiten gezählt.

»Pet Sounds 50th Anniversary Edition« wird zum 50ten Jubiläum in verschiedenen Konfigurationen veröffentlicht.
Darunter eine 4CD/Blu-ray Audio Collectors Edition, präsentiert in einem festen Einband. Diese beinhaltet das remasterte Originalalbum in Stereo und Mono, Hi Res Stereo, Mono, Instrumentals sowie 5.1. Surround-Sound Mixes, Session Outtakes, Alternativmixe und bisher unveröffentlichte Liveaufnahmen.

Die 2CD Deluxe-Edition paart das remasterte Album in Stereo und Mono mit einigen der zusätzlichen Tracks von der Collectors Edition.

Auch wird es zwei remasterte 180 Gramm Schallplatten geben, mit dem Album in Mono und Stereo und einer Neuaufarbeitung des Originalcovers.
Disk 1 von 2 (CD)
1 MONO:Wouldn't it be nice
2 You still believe in me
3 That's not me
4 Don't talk
5 I'm waiting for the day
6 Let's go away for awhile
7 Sloop John B
8 God only knows
9 I know there's an answer
10 Here today
11 I just wasn't made for these times
12 Pet sounds
13 Caroline no
14 STEREO:Wouldn't it be nice
15 You still believe in me
16 That's not me
17 Don't talk (put your head on my shoulder)
18 I'm waiting for the day
19 Let's go away for awhile
20 Sloop John B
21 God only knows
22 I know there's an answer
23 Here today
24 I just wasn't made for these times
25 Pet sounds
26 Caroline no
Disk 2 von 2 (CD)
1 INSTRUMENTAL:Wouldn't it be nice
2 You still believe in me
3 That's not me
4 Don't talk (put your head on my shoulder)
5 I'm waiting for the day
6 Let's go away for awhile
7 Sloop John B
8 God only knows
9 I know there's an answer
10 Here today
11 I just wasn't made for these times
12 Pet sounds
13 Caroline no
14 LIVE:Wouldn't it be nice
15 Sloop John B
16 God only knows (1966)
17 Good vibrations
18 God only knows
19 Wouldn't it be nice (1967)
20 God only knows (1972)
21 God only knows (1982)
22 Sloop John B (1989)
23 Caroline no
24 You still believe in me (1993)