The Beach Boys: Sail On Sailor (remastered) (Limited Super Deluxe Edition)
Sail On Sailor (remastered) (Limited Super Deluxe Edition)
5 LPs, 1 Single 7"
LP (Long Play)
Die gute alte Vinyl - Langspielplatte.
Single 7''
Die gute alte Vinyl –Single.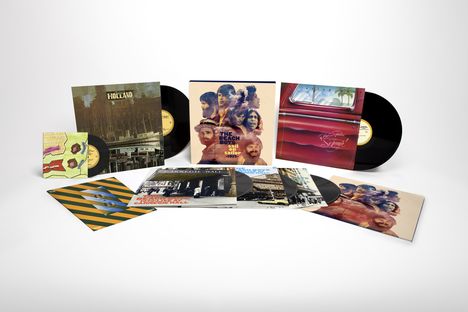 lieferbar innerhalb einer Woche
(soweit verfügbar beim Lieferanten)
Bestellmenge limitiert: Bei diesem Artikel nur 2 Exemplare pro Kunde!

Vinyl liefern wir innerhalb Deutschlands immer portofrei.
Label: Capitol, 1972
Bestellnummer:

11057909

Erscheinungstermin: 2.12.2022
Aufbauend auf dem Erfolg von »Feel Flows« von 2021 und der »Sounds Of Summer«-Produktreihe wird UMe im November 6 neue Pakete veröffentlichen, die auf den Aufnahmen der Beach Boys von 1972 aus den Alben »Carl And The Passions« und »Holland« basieren.

Das Projekt umfasst 120 Tracks, von denen 80 bisher unveröffentlicht sind! Die Band feiert in diesem Jahr und bis 2023 ihr 60-jähriges Bestehen, und eine Reihe von Großereignissen wird die Begeisterung der Verbraucher bis zum nächsten Jahr anheizen.

Die Beach Boys »Sail On Sailor« Kollektion feiert die bahnbrechenden 1972er Alben »Carl And The Passions« und »Holland«.
Dieses 5LP-Set enthält ein 38-seitiges Buch mit ausführlichen Linernotes, seltenen Fotos und mehr. Die Sammlung enthält remasterte Versionen der Originalalben sowie ein bisher unveröffentlichtes Konzert aus der Carnegie Hall, aufgenommen 1972. Sie enthält 4 bisher unveröffentlichte Bonustracks und die originale »Mount Vernon and Fairway« 7inch EP aus Holland, die seit den 1970er Jahren nicht mehr auf Vinyl erhältlich war.

LP1: Carl And The Passions - »So Tough«
LP2: Holland
LP3: The Beach Boys Live At Carnegie Hall (Previously Unreleased) November 23, 1972 (1st Set)
LP4: 2nd Set
LP5: 2nd Set Continued
7" EP: Mount Vernon And Fairway (A Fairytale)
Rezensionen
»Das vorliegende 5-LP-Set ist die erste Wahl für den vinylaffinen Beach-Boy-Anhänger.​ [.​.​.​] hält sich mit Dynamik- Kompression wohltuend zurück.​ Insgesamt klingt es dennoch druckvoller und aufgeräumter als die frühen Ausgaben.​.​.​« (MINT, Februar 2023)
LP
1 Side A: You Need A Mess Of Help To Stand Alone
2 Here She Comes
3 He Come Down
4 Marcella
5 Side B: Hold On Dear Brother
6 Make It Good
7 All This Is That
8 Cuddle Up
LP
1 Side A: Sail On Sailor
2 Steamboat
3 California Saga - Big Sur
4 California Saga - The Beaks Of Eagles
5 California Saga - California
6 Side B: The Trader
7 Leaving This Town
8 Only With You
9 Funky Pretty
LP
1 Side A: Concert Intro: Jack Rieley
2 Sloop John B
3 You Need A Mess Of Help To Stand Alone
4 Leaving This Town
5 Darlin'
6 Only With You
7 Side B: Heroes and Villains
8 Long Promised Road
9 Don't Worry, Baby
10 Student Demonstration Time
11 I Get Around
LP
1 Side C: Intro to 2nd Set: Jack Rieley
2 Marcella
3 California Saga – California
4 Help Me, Rhonda
5 Let The Wind Blow
6 Side D: Medley: Wonderful / Don't Worry, Bill
7 God Only Knows
8 Do It Again
9 Wouldn't It Be Nice
10 Wild Honey
LP
1 Side E: 2nd Set Continued: Good Vibrations
2 California Girls
3 Surfin' USA
4 Fun Fun Fun
5 Jumpin' Jack Flash
6 Side F: Sail On Sailor Bonus Tracks: We Got Love (previously unreleased 2022 mix)
7 Hard Time (previously unreleased)
8 Carry Me Home (previously unreleased)
9 Fairy Tale Music (previously unreleased 2022 mix)
Single 7"
1 Side C: Mount Vernon And Fairway Theme
2 I'm The Pied Piper - Instrumental
3 Better Get Back In Bed
4 Magic Transistor Radio
5 Side D: I'm The Pied Piper
6 Radio King Dom