Ten Years After: A Sting In The Tale (Deluxe Edition)
A Sting In The Tale (Deluxe Edition)
CD
CD (Compact Disc)
Herkömmliche CD, die mit allen CD-Playern und Computerlaufwerken, aber auch mit den meisten SACD- oder Multiplayern abspielbar ist.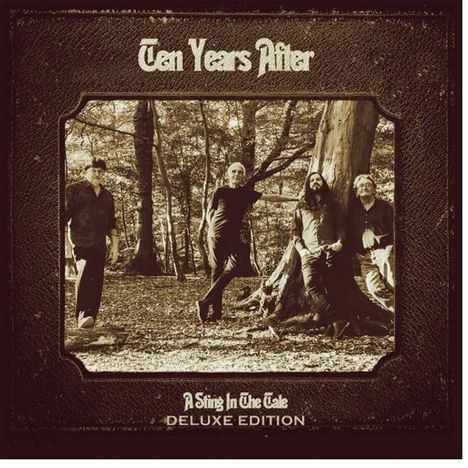 lieferbar innerhalb 1-2 Wochen
(soweit verfügbar beim Lieferanten)
Verlängerter Rückgabezeitraum bis 31. Januar 2023
Alle zur Rückgabe berechtigten Produkte, die zwischen dem 1. bis 31. Dezember 2022 gekauft wurden, können bis zum 31. Januar 2023 zurückgegeben werden.
Label: Deko, 2017
Bestellnummer:

10397230

Erscheinungstermin: 19.3.2021
Weitere Ausgaben von A Sting In The Tale
*** Digipack
Gesamtverkaufsrang: 29625
Verkaufsrang in CDs: 13110
Product Information

Reissue with bonustracks! For fans of Alvin Lee, Ten Years After, and Classic Rock!

Over fifty years since the release of their eponymous debut album in 1967, Ten Years After has returned 2017 with a new studio album containing twelve tracks titled "A Sting In The Tale". This new "Deluxe Edition" also contains 4 live tracks from the bands recent tour including an amazing rendition of the smash hit "I'd Love To Change The World", which remains as relevant today as when first released in 1971.

The beginning of their meteoric rise to fame can be pinpointed to their performance at The Woodstock Music and Arts Festival in August 1969. The audience were blown away by the intensity of the band's performance and their unique combination of Jazz, Blues and Rock, and their enigmatic frontman Alvin Lee. This made them one of the biggest bands of the early 70's. As well as original members Ric Lee (Drums) and Chick Churchill (Keys), the band now features Bass Icon Colin Hodgkinson (Peter Green, Spencer Davis, Chris Rea) and multi-award winning Guitarist / Vocalist Marcus Bonfanti (Van Morrison, Ginger Baker, Ronnie Wood).

The title "A Sting In The Tale" reflects the same sentiment Ric & Chick wished to convey in the 2015 live album "The Name Remains The Same". Although the band lineup has changed and the music continues to evolve and grow fifty years on, the sound of the band will always be heavily rooted in the way they paved the way during the late sixties and early seventies and will never forget its incredible heritage. This new record is the 'Sting' in the continuing Tale of Ten Years After.
Disk 1 von 1 (CD)
1 Land Of The Vandals
2 Iron Horse
3 Miss Constable
4 Up In Smoke
5 Retired Hurt
6 Suranne Suranne
7 Stoned Alone
8 Two Lost Souls
9 Diamond Girl
10 Last Night Of The Bottle
11 Guitar Hero
12 Silverspoon Lady
13 BONUS TRACKS:Land Of The Vandals (Live)
14 Last Night Of The Bottle (Live)
15 Silverspoon Lady (Live)
16 I'd Love To Change The World (Live)