Ten Years After: A Space In Time (50th Anniversary Edition) (Half Speed Mastering) (180g)
A Space In Time (50th Anniversary Edition) (Half Speed Mastering) (180g)
2 LPs
LP (Long Play)
Die gute alte Vinyl - Langspielplatte.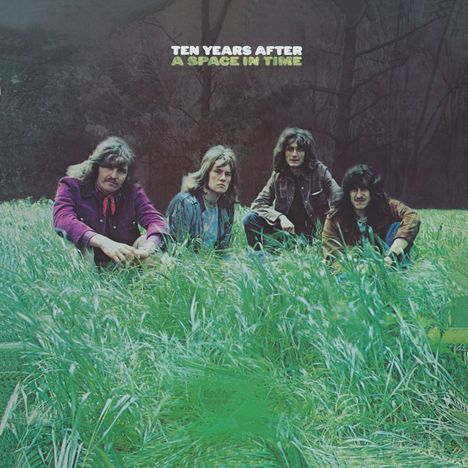 Vinyl liefern wir innerhalb Deutschlands immer portofrei.
Label: Chrysalis, 1971
Bestellnummer:

10994300

Erscheinungstermin: 17.3.2023
Weitere Ausgaben von A Space In Time
*** Gatefold Cover
Gesamtverkaufsrang: 134
Verkaufsrang in LPs: 37
»A Space In Time« ist das sechste und meistverkaufte Album von Ten Years After und wurde ursprünglich im August 1971 veröffentlicht. Mit ihrem bekanntesten Song »I'd Love To Change The World«, der regelmäßig in Filmen und TV-Shows zu hören ist, schlug die Band eine melodischere Richtung ein als bei früheren Veröffentlichungen und zeigte die Band auf ihrem Höhepunkt.

Diese neue (verspätete) 50-Jahres-Jubiläumsausgabe des Albums enthält einen brandneuen Mix des ursprünglichen Produzenten/Engineers Chris Kimsey (Rolling Stones/Emerson Lake & Palmer/Marillion), der die ursprünglichen 2"-Mehrspurbänder verwendet. Er hat moderne Plug-ins verwendet, die die Originalaufnahme perfekt emulieren und erweitern. Das Ergebnis ist atemberaubend: Die zweite Disc in diesem Set enthält den Original-Mix des Albums von 1971. Beide wurden von Miles Showell in den Abbey Road Studios gemastert. Diese Neuauflage des Albums ist in einem Klappcover untergebracht und enthält neue Anmerkungen von Chris Kimsey und den Bandmitgliedern Ric Lee, Chick Churchill und Leo Lyons.

Disc One (Chris Kimsey 2022 Mix)
Disc Two (Original Mix)


Die Hörproben gehören zum Artikel Ten Years After: A Space In Time (50th Anniversary Edition) (CD). Das Tracklisting kann bei diesem Artikel ggf. abweichen.
LP
1 One of these days (chris kimsey 2022 mix)
2 Here they come (chris kimsey 2022 mix)
3 I'd love to change the world (chris kimsey 2022 mix)
4 Over the hill (chris kimsey 2022 mix)
5 Baby won't you let me rock 'n' roll you (chris kimsey 2022 m
6 Once there was a time (chris kimsey 2022 mix)
7 Let the sky fall (chris kimsey 2022 mix)
8 Hard monkeys (chris kimsey 2022 mix)
9 I've been there too (chris kimsey 2022 mix)
10 Uncle jam (chris kimsey 2022 mix)
LP
1 One of these days (1971 original mix)
2 Here they come (1971 original mix)
3 I'd love to change the world (1971 original mix)
4 Over the hill (1971 original mix)
5 Baby won't you let me rock 'n' roll you (1971 original mix)
6 Once there was a time (1971 original mix)
7 Let the sky fall (1971 original mix)
8 Hard monkeys (1971 original mix)
9 I've been there too (1971 original mix)
10 Uncle jam (1971 original mix)