Life & Love
LP
LP (Long Play)
Die gute alte Vinyl - Langspielplatte.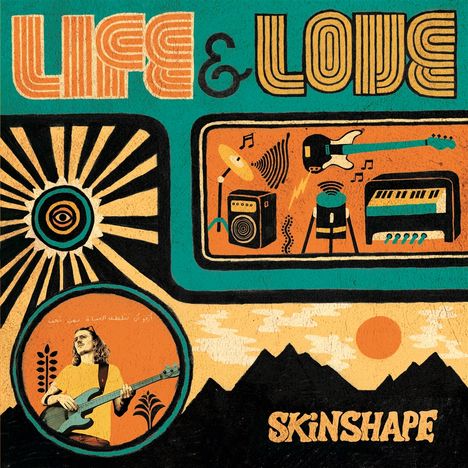 Derzeit nicht erhältlich.
Lassen Sie sich über unseren eCourier benachrichtigen, falls das Produkt bestellt werden kann.

Vinyl liefern wir innerhalb Deutschlands immer portofrei.
Label: Lewis
Erscheinungstermin: 3.7.2020
Weitere Ausgaben von Life & Love
Product Information

Re-issued and remastered. Genre - Funk/Jazz/Soul/Psyche. »Life & Love« is the third album from Skinshape (with 'Filoxiny' being his fourth). Written, recorded and produced by Will Dorey at the Arch Studio, London, and in his bedroom. Great melting pot of styles and tunes, D.I.Y. Funk Soul Jazz. Recommended if you're into Khruangbin.

Skinshape is the project of British musician William Dorey. The sound has roots in many genres but in particular 1960s-0s Funk, Soul, Reggae, Psychedelic Rock, Afrobeat and Folk. Skinshape grew out of a love for old music and the way it sounded. Initially Dorey experimented with samples (especially drum breaks) to create instrumental Hip-Hop/Trip-Hop tracks but then later started to play around with tape machines as a means to create his own »samples«. This process gave birth to Skinshape with all elements being recorded by Dorey since the first self-titled album released in 2014. Aside from the Skinshape project Dorey was bassist for the band Palace from 2014-2017 and runs a reggae label called Horus Records based in North London.


Die Hörproben gehören zum Artikel Skinshape: Life & Love (CD). Das Tracklisting kann bei diesem Artikel ggf. abweichen.
LP
1 Take My Time
2 Inside
3 Don't Call My Name
4 Shyma
5 Penny In A Well
6 Fountayne
7 The Bay
8 Hurry & Enjoy
9 The Moment
10 I Won't Be There