Skinshape: Arrogance Is The Death Of Men
Arrogance Is The Death Of Men
LP
LP (Long Play)
Die gute alte Vinyl - Langspielplatte.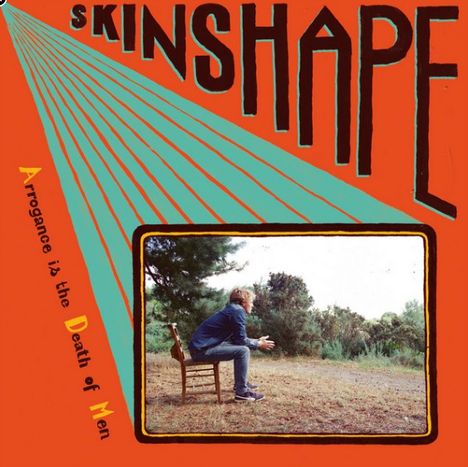 Lieferzeit beträgt mind. 4 Wochen
(soweit verfügbar beim Lieferanten)

Vinyl liefern wir innerhalb Deutschlands immer portofrei.
Label: Lewis, 2020
Bestellnummer:

10352881

Erscheinungstermin: 18.12.2020
Weitere Ausgaben von Arrogance Is The Death Of Men
Product Information

Second album in less than a year from the prolific William Dorey. Includes the singles 'Another Day, 'Behind The Sun' and 'Losing My mind'. CD packaging is gatefold with choice of 5 inserts to 'choose your own cover'. Building on the success of 2018's 'Filoxiny' (listed as one of Q Magazine's '354 Albums to Blow Your Mind') and this year's 'Umoja' ("a pleasure to listen to from start to finish" - Songlines magazine) - both of whose singles have peppered the playlists of BBC 6 Music and have lead to his helming of a Bandcamp takeover - Skinshape returns with the witheringly, prophetically titled 'Arrogance is the Death of Men'.

Written and recorded between November 2019 and July 2020, Skinshape bids to recreate something akin to the 'old style' of 'Oracolo' (2015) and 'Life & Love' (2017). With 'Arrogance_', Will Dorey's blueprint points to a simple formula, aligning a bank of fresh drum breaks recorded at the end of 2019 to whatever he had to hand, for a long player recorded in the majority at home due to the COVID-19 lockdown. Forever balanced between sweetness and a sigh, as per his position 'Behind the Sun', the Skinshape essence, intricate yet always reachable, at times tailored in a single session and sourcing archive bric-a-brac when required, is all around on the sweetly strummed 'Tomorrow' and 'The Eastern Connection', featuring Ivan Kormanak on drums.

Maintaining an incisive knowledge of global sounds that keeps him in the filmic company of Khruangbin and El Michels Affair, Dorey's listening to vintage Vietnamese music and Asian film scores provides the basis of 'Sound of Your Voice' and 'Flight of the Erhu', starring Wan Pinchu on Erhu violin. Acutely aware of the world's ongoing health crisis without preaching about the whys and wherefores, the title track and 'Losing My Mind' reflect enforced confinement as tranquil songs of both quiet consideration yet powerful release. Dorey's guitar pieces and wraith-like soul continue to flicker with fascination as Indian Summers and fireside retreats beckon, with 'Watching From The Shadows' - about "standing up for yourself, and avoiding the limelight for your own good"- and 'Outro' gently bringing the album to rest.


Die Hörproben gehören zum Artikel Skinshape: Arrogance Is The Death Of Men (CD). Das Tracklisting kann bei diesem Artikel ggf. abweichen.
LP
1 Tomorrow
2 Sound Of Your Voice
3 Arrogance Is The Death Of Men
4 The Eastern Connection
5 Behind The Sun
6 Another Day
7 Losing My Mind
8 Flight Of The Erhu
9 Watching From The Shadows
10 Outro