Morse, Portnoy & George: Cover To Cover Anthology (Vol. 1 - 3)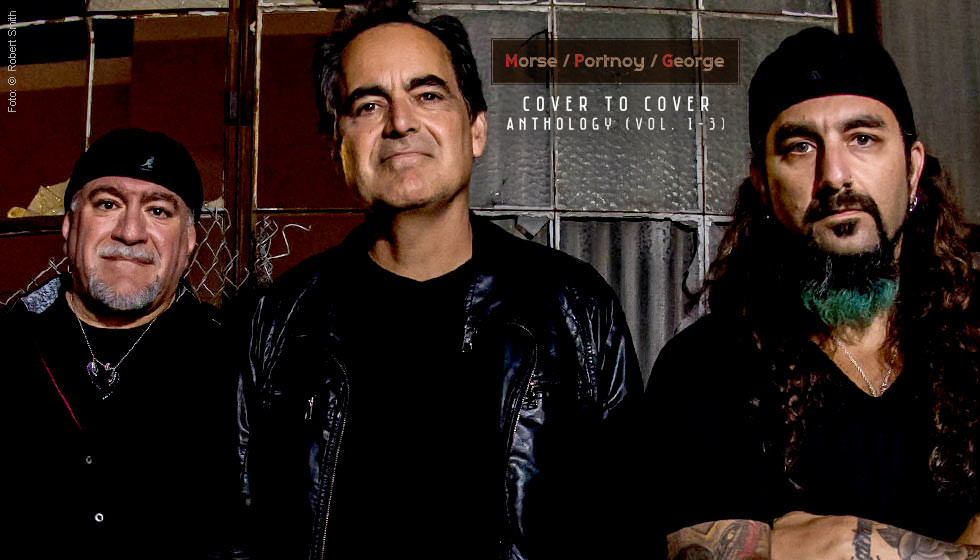 Alle drei vereint
14 Jahre ist es her, dass Neal Morse, Mike Portnoy und Randy George ihr erstes gemeinsames Coveralbum veröffentlichten und sich einigen Legenden der Rockwelt und ihren Songs widmeten. Vor acht Jahren erschien endlich der Nachfolger.

2020 kommt nun mit »Cov3r to Cov3r« endlich der lang erwartete dritte Teil. Und nicht nur das: Mit »Cover to Cover Anthology (Vol. 1–3)« gibt es zudem eine Box, die alle drei Alben vereint.
Cover To Cover Anthology (Vol. 1 - 3)
3 CDs
CD (Compact Disc)
Herkömmliche CD, die mit allen CD-Playern und Computerlaufwerken, aber auch mit den meisten SACD- oder Multiplayern abspielbar ist.
versandfertig innerhalb von 1-3 Tagen
(soweit verfügbar beim Lieferanten)
Label: Inside Out
Bestellnummer:

9879187

Erscheinungstermin: 24.7.2020
*** Digipack im Schuber
Neal Morse (Vocals, Keyboard, Gitarre), Mike Portnoy (Drums, Vocals) und Randy George (Bass, Keyboard) werden als Progressive-Rock-Musiker in ihrem jeweiligen Metier gefeiert, aber ihre Fans weltweit wissen, dass sie zusammen eine ganz besondere Magie entstehen lassen können.

In ihrer »Cover To Cover«-Serie hat das Trio Songs gecovert von Größen wie Paul McCartney, Cream, The Who, Jethro Tull, Steely Dan und vielen mehr. Dabei sind außerdem Songs von Prog-Klassikern wie King Crimson und Yes.

Die »Cover To Cover Anthology (Vol. 1–3)« bringt alle drei Alben zusammen, inklusive dem brandneuen »Cov3r To Cov3r« und den remasterten Versionen der ersten beiden Veröffentlichungen.
Disk 1 von 3 (CD)
1 COVER TO COVER:Where The Streets Have No Name (2020 Remastered cover version)
2 I'm The Man (2020 Remastered cover version)
3 What Is Life? (2020 Remastered cover version)
4 Badge (2020 Remastered cover version)
5 Maybe I'm Amazed (2020 Remastered cover version)
6 Day After Day (2020 Remastered cover version)
7 Pleasant Valley Sunday (2020 Remastered cover version)
8 Tuesday Afternoon (2020 Remastered cover version)
9 Can't Find My Way Home (2020 Remastered cover version)
10 I'm Free / Sparks (2020 Remastered cover version)
11 Where Do The Children Play (2020 Remastered cover version)
12 Feelin' Stronger Everyday (2020 Remastered cover version)
13 Rock N Roll Suicide (2020 Remastered cover version)
Disk 2 von 3 (CD)
1 COVER 2 COVER:Peace, Love & Understanding (2020 Remastered cover version)
2 Lido Shuffle (2020 Remastered cover version)
3 Crazy Horses (2020 Remastered cover version)
4 Driven To Tears (2020 Remastered cover version)
5 Come Sail Away (2020 Remastered cover version)
6 Rikki Don't Lose That Number (2020 Remastered cover version)
7 Lemons Never Forget (2020 Remastered cover version)
8 The Letter (2020 Remastered cover version)
9 I Saw The Light (2020 Remastered cover version)
10 Teacher (2020 Remastered cover version)
11 Southern Man/Needle And The Damage Done/Cinnamon Girl (2020 Remastered cover version)
12 Starless (2020 Remastered cover version)
Disk 3 von 3 (CD)
1 COV3R To COV3R: No Opportunity Necessary, No Experience Needed (cover version)
2 Hymn 43 (cover version)
3 Life On Mars (cover version)
4 Baker Street (cover version)
5 It Don't Come easy (cover version)
6 Baby Blue (cover version)
7 One More Red Nightmare (cover version)
8 Black Coffee In Bed (cover version)
9 Tempted (cover version)
10 Runnin' Down A Dream (cover version)
11 Let Love Rule (cover version)