King Crimson: The Power To Believe (200g) (Expanded Edition)
The Power To Believe (200g) (Expanded Edition)
2 LPs
LP (Long Play)
Die gute alte Vinyl - Langspielplatte.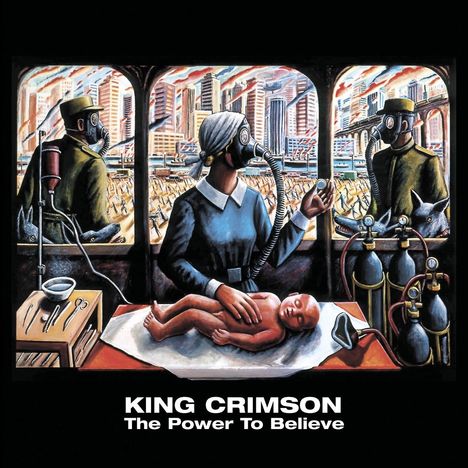 Vinyl liefern wir innerhalb Deutschlands immer portofrei.
Weitere Ausgaben von The Power To Believe
*** Gatefold Cover
Gesamtverkaufsrang: 20800
Verkaufsrang in LPs: 7330
Die Vinyl Ausgabe von The Power to Believe enthält auf den Seiten 1-3 die erweiterte 2019er Version inklusive der Sustayn-Z Suit. Seite 4 enthält 8 Tracks, die von dem Mini-Album Happy with what you have to be Happy with, stammen. Da das Album eine Länge von drei Vinylseite aufweist, wurde entschieden, weiteres Material anzufügen und als Doppel-LPs zu veröffentlichen. Die Fans haben in den letzten Jahren beharrlich auf Vinylausgaben der letzten drei Alben Studioalben gewartet und mit deren Veröffentlichungen sind nun alle King Crimson Studio Alben als 200 Gramm Vinyl Editionen erhältlich.


Product Information

This first time vinyl version of The Power to Believe features in its 2019 expanded master on sides one, two and three (including the Sus-tayn-Z suite), and side four featuring eight tracks taken from the mini-album Happy with what you have to be Happy with.
Double 200g vinyl, cut from masters approved by Robert Fripp.
Rezensionen
»Zur Doppel­-LP füllten die Herausgeber das Tracklisting noch mit drei Bonustracks aus den Sessions sowie mit Material der EP ›Happy With What You Have To Be Happy With‹ auf.​ Auch hier überzeugt der Vinylsound, die Brillanzarmut ist gewollt, da Fripp hier die Schlagzeugbecken fast komplett aus dem Mix nahm.​« (Good Times, Februar/März 2020)
Die Hörproben gehören zum Artikel King Crimson: The Power To Believe (CD). Das Tracklisting kann bei diesem Artikel ggf. abweichen.
LP
1 The Power to Believe I: A Cappella
2 Level Five
3 Eyes Wide Open
4 Elektrik
5 Facts of Life: Intro
6 Facts of Life
7 The Power to Believe II: Power Circle
8 Dangerous Curves
LP
1 Happy with What You Have to Be Happy With
2 The Power to Believe III: Deception of the Thrush
3 The Power to Believe IV: Coda
4 Sus-tayn-Z 1
5 Superslow
6 Sus-tayn-Z 2
7 Bude
8 Happy with What You Have to Be Happy With
9 Mie Gakure
10 She Shudders
11 Eyes Wide Open
12 Shoganai
13 I Ran
14 Potato Pie