Camille Thomas - Voice of Hope
Camille Thomas - Voice of Hope
2 LPs
LP (Long Play)
Die gute alte Vinyl - Langspielplatte.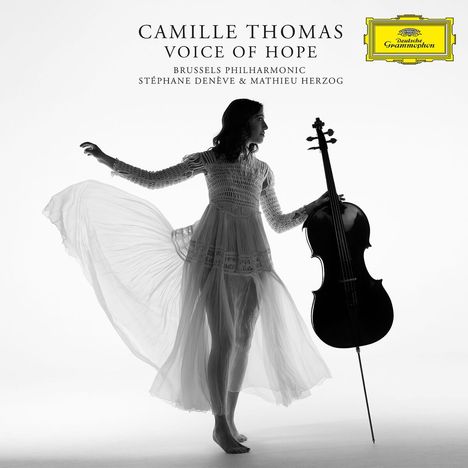 Vinyl liefern wir innerhalb Deutschlands immer portofrei.
Fazil Say: Cellokonzert op. 73 "Never give up"
+Maurice Ravel: Melodie hebraique Nr. 1 "Kaddisch"
+Christoph Willibald Gluck: Reigen seliger Geister aus Orfeo ed Euridice
+Herny Purcell / Mathieu Herzog: When I am laid on Earth aus Dido and Aeneas
+Max Bruch: Adagio für Cello & Orchester op. 47 "Kol Nidrei"
+Richard Wagner / Mahieu Herzog: Träume
+Antonin Dvorak: Songs my Mother taught me
+John Williams: Thema aus Schindlers Liste
+Jules Massenet: Porquoi me revellier aus Werther
+Gaetano Donzetti: Una furtiva lagrima aus L'Elisir d'amore
+Giacomo Puccini: Casta Diva aus Norma
Künstler: Camille Thomas, Brussels Philharmonic Orchestra, Stephane Deneve, Mathieu Herzog
Label: DGG, DDD, 2019
Bestellnummer:

11087318

Erscheinungstermin: 3.3.2023
Serie: First Time on Vinyl (DGG)
Gesamtverkaufsrang: 9981
Verkaufsrang in LPs: 3841
Das zweite Album von Camille Thomas, der ersten exklusiv von Deutsche Grammophon unter Vertrag genommenen Cellistin seit Jahren. Die junge Französin setzt sich mit der Macht der Zuversicht auseinander – neben einer persönlichen Auswahl bezaubernder Arien-Transkriptionen von Gluck, Dvorák, Verdi, Bellini, Ravel, Wagner und anderen findet sich die Weltpremiere des von Fazil Say für Camille Thomas komponierten Konzerts für Cello und Orchester. Begleitet wird sie vom Brussels Philharmonic Orchestra unter Stéphane Denève und Mathieu Herzog. »Schönheit wird die Welt retten«, schreibt Dostojewski – das bestätigt Camille Thomas mit dieser Einspielung. Darum geht es bei Thomas' neuem Album. Wie ein Archipel um das Cellokonzert von Fazil Say gebaut (das Camille Thomas 2018 uraufgeführt hat), lässt es uns mit zehn weiteren Komponisten, u. a. Henry Purcell, Richard Wagner, John Williams oder Max Bruch, den Weg vom Schmerz zur Hoffnung beschreiten.
Tracklisting

Details

Mitwirkende
Die Hörproben gehören zum Artikel Fazil Say: Camille Thomas - Voice of Hope (CD). Das Tracklisting kann bei diesem Artikel ggf. abweichen.
LP
Deux mélodies hébraïques, M. A22
1 Maurice Ravel: 1. Kaddisch (Arr. For Cello And Orchestra By Richard Tognetti)
Orfeo ed Euridice Orphée et Eurydice (Arr. For Cello And Orchestra By Mathieu Herzog)
2 Dance Of The Blessed Spirits (Act 2)
Dido and Aeneas (Arr. For Cello And Orchestra By Mathieu Herzog)
3 "When I Am Laid In Earth" Dido's Lamento (Act 3)
"Never Give Up" Concerto For Violoncello And Orchestra, Op. 73
4 Fazil Say: 1. Never Give Up ("Never Give Up" Concerto For Violoncello And Orchestra, Op. 73)
5 Fazil Say: 2. Terror - Elegy ("Never Give Up" Concerto For Violoncello And Orchestra, Op. 73)
6 Fazil Say: 3. Song Of Hope ("Never Give Up" Concerto For Violoncello And Orchestra, Op. 73)
"Kol Nidrei" Adagio For Cello And Orchestra, Op. 47
7 Max Bruch: "Kol Nidrei" Adagio For Cello And Orchestra, Op. 47
Wesendonck Lieder
8 5. Träume (Arr. For Cello And Orchestra By Mathieu Herzog)
Ciganské melodie Gypsy Melodies, Op.55
9 Antonín Dvo¿ák: 4. Songs My Mother Taught Me (Orch. By Fritz Kreisler)
10 John Williams: Theme From "Schindler's List" (Adapt. For Cello And Orchestra)
Werther (Original Version)
11 "Pourquoi me réveiller" (Act 3)
L'elisir d'amore (Edited Alberto Zedda)
12 "Una furtiva lagrima" (Act 2)
Norma (Arr. For Cello And Orchestra By Mathieu Herzog)
13 "Casta Diva" (Act 1)
LP
Deux mélodies hébraïques, M. A22
1 Maurice Ravel: 1. Kaddisch (Arr. For Cello And Orchestra By Richard Tognetti)
Orfeo ed Euridice Orphée et Eurydice (Arr. For Cello And Orchestra By Mathieu Herzog)
2 Dance Of The Blessed Spirits (Act 2)
Dido and Aeneas (Arr. For Cello And Orchestra By Mathieu Herzog)
3 "When I Am Laid In Earth" Dido's Lamento (Act 3)
"Never Give Up" Concerto For Violoncello And Orchestra, Op. 73
4 Fazil Say: 1. Never Give Up ("Never Give Up" Concerto For Violoncello And Orchestra, Op. 73)
5 Fazil Say: 2. Terror - Elegy ("Never Give Up" Concerto For Violoncello And Orchestra, Op. 73)
6 Fazil Say: 3. Song Of Hope ("Never Give Up" Concerto For Violoncello And Orchestra, Op. 73)
"Kol Nidrei" Adagio For Cello And Orchestra, Op. 47
7 Max Bruch: "Kol Nidrei" Adagio For Cello And Orchestra, Op. 47
Wesendonck Lieder
8 5. Träume (Arr. For Cello And Orchestra By Mathieu Herzog)
Ciganské melodie Gypsy Melodies, Op.55
9 Antonín Dvo¿ák: 4. Songs My Mother Taught Me (Orch. By Fritz Kreisler)
10 John Williams: Theme From "Schindler's List" (Adapt. For Cello And Orchestra)
Werther (Original Version)
11 "Pourquoi me réveiller" (Act 3)
L'elisir d'amore (Edited Alberto Zedda)
12 "Una furtiva lagrima" (Act 2)
Norma (Arr. For Cello And Orchestra By Mathieu Herzog)
13 "Casta Diva" (Act 1)
Mehr von Deutsche Grammophon