The Many Faces Of The Doors
The Many Faces Of The Doors
3 CDs
CD (Compact Disc)
Herkömmliche CD, die mit allen CD-Playern und Computerlaufwerken, aber auch mit den meisten SACD- oder Multiplayern abspielbar ist.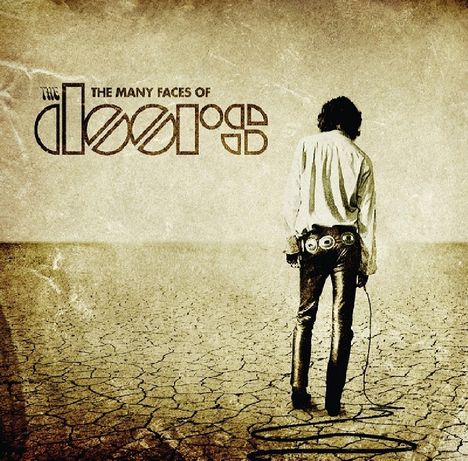 Lieferzeit beträgt mind. 4 Wochen
(soweit verfügbar beim Lieferanten)

Wir beschaffen die Ware speziell für Sie nach Bestelleingang.
*** Digipack
Niemand kann bestreiten, dass The Doors eine der wichtigsten Bands der Rockgeschichte sind.

Ausgestattet mit einem außergewöhnlichen Charisma (man sollte nicht vergessen, dass Jim Morrison damals von der Presse als »the american Mick Jagger« betrachtet wurde), einem sehr persönlichen Sound und mit einem unglaublichen Katalog wurden The Doors nicht nur eine herausragende Band des Genres, sondern waren gleichzeitig eine Quelle der Inspiration für unzählige Künstler.

Mit dem Triple-Album »The Many Faces Of The Doors« besuchen wir die verborgene Welt der Band, mit schwer zu findenden Tracks, Nebenprojekten der Mitglieder, Remakes und den Bandwurzeln.

Mit einem großartig gestalteten Artwork, einer Titelauswahl, die auf jahrelanger Recherche und Arbeit basiert, einem remasterten Sound und Klappentexten bietet »The Many Faces Of The Doors« ein einzigartiges Album, das bereits von vielen Fans der Band gepriesen wird.
Disk 1 von 3 (CD)
1 Perceptual Notions / Jim Morrison
2 Just Like Sherlock Holmes / Ray Manzarek & Roy Rogers
3 Numbers / Ray Manzarek & Roy Rogers
4 Liquid Highway / Cliff Morrison (Feat. Jim Morrison) & The Lizard Sun Band
5 August Moon / Cliff Morrison & The Lizard Sun Band
6 Half A Life / Phantom´s Divine Comedy
7 Calm Before The Storm / Phantom´s Divine Comedy
8 Brain Damage / Robbie Krieger
9 Time / Robbie Krieger
10 The First Time (I Heard Coltrane) / Tribaljazz Feat. John Densmore
11 Blues For Bali / Tribaljazz Feat. John Densmore
12 The End / Nico
Disk 2 von 3 (CD)
1 The End / Raveonettes
2 Riders Of The Storm / Steve Crooper, Tony Kaye & Joe Lynn Turner
3 Touch Me / Robert Gordon, Steve Morse & Nik Turner
4 People Are Strange / David Johansen
5 The Crystal Ship / Edgar Winter & Chris Spedding
6 Break On Through (To The Other Side) / Mark Farner & Chick Churchill
7 Hello, I Love You / Ken Hensley
8 Light My Fire / Ian Gillan, Rick Wakeman & Steve Howe
9 Love Her Madly / Mick Box & Mark Stein
10 Alabama Song / Todd Rundgren & Geoff Downes
11 Love Me Two Times / Lou Gramm, Thijs Van Leer & Larry Coryell
12 Touch Me / Clinic
Disk 3 von 3 (CD)
1 Gloria / The Shadows Of Knight
2 Back Door Man / Howlin´ Wolf
3 Who Do You Love? / Bo Diddley
4 Close To You / Muddy Waters
5 Little Red Rooster / Howlin´ Wolf
6 Mystery Train / Little Junior Parker
7 Crossroads / Robert Johnson
8 Rock Me / Muddy Waters
9 Summertime / Billie Holiday
10 Good Rockin´ Tonight / Roy Brown
11 Alabama Song / Lotte Lenya
12 Crawling King Snake / John Lee Hooker