The Many Faces Of Jimi Hendrix
The Many Faces Of Jimi Hendrix
3 CDs
CD (Compact Disc)
Herkömmliche CD, die mit allen CD-Playern und Computerlaufwerken, aber auch mit den meisten SACD- oder Multiplayern abspielbar ist.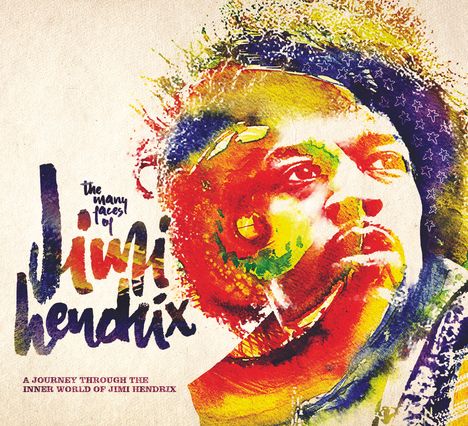 lieferbar innerhalb 2-3 Wochen
(soweit verfügbar beim Lieferanten)
*** Digipack
Wir sind uns gewiss einig, dass Jimi Hendrix einer der charismatischsten und kreativsten Gitarristen aller Zeiten gewesen ist, mit einem generationenübergreifenden Einfluss auf unzählige Musiker.

The Many Faces Of Jimi Hendrix taucht tief in seine Karriere und sein Schaffen ein. In seine ersten Schritte in der Musikindustrie unter Zusammenarbeit mit verschiedenen Künstlern, in die Nebenprojekte seiner zwei Basisbandmitglieder (Experience und Band Of Gypsys).

Darüber hinaus widmet sich das Album seinen Songs, einem der größten Schätze der Rockmusikkultur.
Disk 1 von 3 (CD)
1 Midnight Daydream - Bruce Cameron Feat Billy Cox & Buddy Miles
2 How Would You Feel - Curtis Knight Feat Jimi Hendrix
3 Genuine - Cork Feat Noel Redding
4 Compassion for the Blues - Buddy Miles
5 I Don't Know What You've Got But It's Got Me - Little Richard Feat Jimi Hendrix
6 Raining the Blues - Bruce Cameron Feat Mitch Michell
7 Your Mama Wants Ya Back - Betty Davis
8 Knock Yourself Out - Curtis Knight & the Squires Feat Jimi Hendrix
9 Waiting - Cork Feat Noel Redding
10 Hornet's Nest - Curtis Knight & the Squires Feat Jimi Hendrix
11 Tobacco Road - Buddy Miles
12 Born to Lose - Bruce Cameron Feat Billy Cox & Buddy Miles
13 Shoo-B-Doop and Cop Him - Betty Davis
14 Sin City - Cork Feat Noel Redding
Disk 2 von 3 (CD)
1 Free Spirit
2 Wipe the Sweat
3 Red House
4 Voices
5 Psycho
6 Hot Trigger
7 Voice in the Wind
8 Go-Go Jam
9 She's a Fox
10 Suspicious
11 Soul Floor
12 Keep a Knockin'
13 Long Tall Sally
14 Lucille
Disk 3 von 3 (CD)
1 Hey Joe - Fouth Stone
2 Spanish Castle Magic - Monks of Doom
3 Fire - Tricky Bag
4 All Along the Watchtower - Freedom Searchers
5 Can You See Me? - Thee Hypnotics
6 Purple Haze - Bleeding Hearts
7 Ain't No Telling - 501 Spanish Verbs
8 Third Stone from the Sun - David Dreams
9 I Don't Live Today - The Corn Dollies
10 You Got Me Floating - Styler and Baldwin
11 Voodoo Chile - the Membranes
12 Spanish Castle Magic - The Stretch Heads
13 If Six Was Nine - Obsequious Cheesecake
14 Are You Experienced? - The Mock Turtles