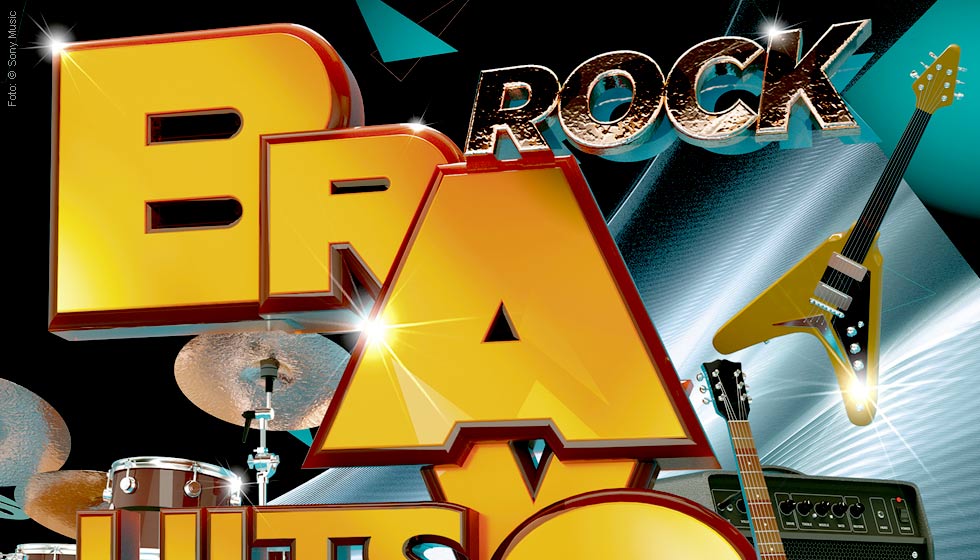 Stimmt die Luftgitarren
Wer auf handgemachte Rockmusik steht und nur das Beste vom Besten will, der kommt an »Bravo Hits Party Rock« nicht vorbei.

Die drei prall gefüllten CDs halten nämlich zu 100 %, was der Titel der Compilation verspricht. Über 60 absolute Klassiker der harten Gitarrenmusik, die auf keiner Feier fehlen dürfen. Von Kiss, Queen und Status Quo bis zu Kid Rock und Nickelback sind alle Jahrzehnte vertreten.
Bravo Hits Party Rock
3 CDs
CD (Compact Disc)
Herkömmliche CD, die mit allen CD-Playern und Computerlaufwerken, aber auch mit den meisten SACD- oder Multiplayern abspielbar ist.
Label: Nitron
Bestellnummer:

11459876

Erscheinungstermin: 26.5.2023
Serie: Bravo Hits
Bravo Hits Party Rock
Das sind 3 prall gefüllte CDs mit den besten Rocksongs aller Zeiten. Von Classic- bis Nu Rock findest Du hier die größten Hits. Mit Queen, Kiss, ZZ-Top, The Police, KID Rock, Journey, Elton John, The Killers, Incubus, Good Charlotte und vielen mehr. Hier gibt sich das Who is Who des Rock die Ehre.
Das ist die beste Auswahl für Deine Party!
Disk 1 von 3 (CD)
1 Queen: Another One Bites The Dust
2 Kiss: I Was Made For Lovin' You
3 ZZ Top: La Grange (2005 Remastered)
4 Golden Earring: Radar Love (UK Single Version)
5 Steppenwolf: Born To Be Wild (Single Version)
6 Judas Priest: Breaking The Law
7 Status Quo: Rockin' All Over The World
8 Lynyrd Skynyrd: Sweet Home Alabama
9 Ram Jam: Black Betty
10 Free: All Right Now
11 Blue Öyster Cult: (Don't Fear) The Reaper
12 Uriah Heep: Easy Livin'
13 Jethro Tull: Locomotive Breath
14 The Knack: My Sharona
15 Ike & Tina Turner: Nutbush City Limits
16 The Sweet: Fox On The Run (Single Version)
17 Bachman-Turner Overdrive: You Ain't Seen Nothing Yet
18 Suzi Quatro: Can The Can
19 Thin Lizzy: Whiskey in the Jar
20 Patti Smith: Because the Night
21 Electric Light Orchestra: Don't Bring Me Down
22 Elton John: I'm Still Standing
Disk 2 von 3 (CD)
1 Journey: Don't Stop Believin'
2 Billy Idol: Rebel Yell
3 The Police: Message In A Bottle
4 Foreigner: Urgent
5 Toto: Hold The Line (Single Version)
6 Yes: Owner Of A Lonely Heart
7 The J Geils Band: Centerfold
8 Boston: More Than A Feeling
9 Kansas: Carry On Wayward Son
10 Huey Lewis & The News: The Heart Of Rock & Roll (Single Edit)
11 Kenny Loggins: Footloose (From 'Footloose' Soundtrack)
12 Mike Oldfield: Shadow On The Wall
13 The Clash: Should I Stay Or Should I Go
14 Mother's Finest: Baby Love
15 The Cranberries: Zombie
16 Heart: Barracuda
17 Alice Cooper: Poison
18 Twisted Sister: We're Not Gonna Take It
19 Survivor: Eye of the Tiger
20 Europe: The Final Countdown
Disk 3 von 3 (CD)
1 P!nk: So What
2 The Killers: Mr. Brightside
3 Crazy Town: Butterfly
4 Kid Rock: All Summer Long
5 Lenny Kravitz: Are You Gonna Go My Way
6 Incubus: Drive
7 Imagine Dragons: Radioactive
8 Good Charlotte: The River
9 Gossip: Heavy Cross
10 Jet: Are You Gonna Be My Girl
11 Run-DMC: Walk This Way
12 Bloodhound Gang: Fire Water Burn
13 OPM: Heaven Is A Halfpipe
14 Wheatus: Teenage Dirtbag
15 Guano Apes: Open Your Eyes
16 3 Doors Down: Kryptonite
17 Die Happy: Supersonic Speed
18 Papa Roach: Last Resort
19 Nickelback: How You Remind Me
20 Ugly Kid Joe: Cats in the Cradle
21 Asia: Heat of the Moment
22 Faith No More: Epic