U2: The Joshua Tree (30th Anniversary) (Limited Edition)
Das Durchbruch-Album
Als vor 30 Jahren ihr Album »The Joshua Tree« erschien, waren U2 längst kein unbeschriebenes Blatt mehr. Im Gegenteil: Die beiden Vorgänger landeten bereits auf Platz eins der UK-Charts und auch weltweit hatte die Band bereits große Erfolge gefeiert.

Dennoch: ihr fünftes Album markiert gewissermaßen ihren internationalen Durchbruch. Es erzielte gleich mehrere erste Plätze in den Hitlisten, mehr als 20 Millionen verkaufte Tonträger und eine Vielzahl von Gold- und Platinauszeichnungen.

Zum 30. Jubiläum widmen U2 diesem Meilenstein eine besondere Neuauflage: »The Joshua Tree (30th Anniversary)«.
The Joshua Tree (30th Anniversary) (Limited Edition)
4 CDs, 1 Buch
CD (Compact Disc)
Herkömmliche CD, die mit allen CD-Playern und Computerlaufwerken, aber auch mit den meisten SACD- oder Multiplayern abspielbar ist.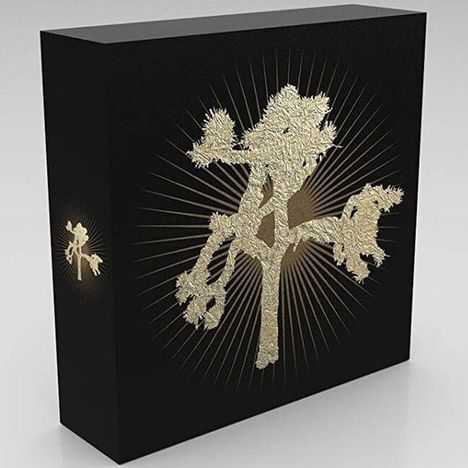 Nur noch 1 Stück am Lager. Danach versandfertig innerhalb einer Woche (soweit verfügbar beim Lieferanten)
*** digitally remastered
Gesamtverkaufsrang: 23875
Verkaufsrang in CDs: 10459
Als das fünfte Studioalbum von U2 am 9. März 1987 auf Island Records veröffentlicht wurde, ahnte die Band nicht, dass der von Brian Eno und Daniel Lanois produzierte Songzyklus zum erfolgreichsten Werk der gesamten Laufbahn avancieren sollte. Die 11 Tracks ernteten zahlreiche Preise und Auszeichnungen.

The Joshua Tree stieg in den US-Albumcharts auf Platz 7 ein und erreichte drei Wochen später Platz 1. Es war das erste Album von U2, das die Nummer 1 in den Vereinigten Staaten erreichte. 1999 erhielt The Joshua Tree die höchste Zertifizierung der RIAA, Diamond, mit 10 Millionen verkauften Einheiten. Das Album erreichte außerdem Platz 1 der britischen, kanadischen, westdeutschen, niederländischen und australischen Charts. In der Schweiz erreichte das Album Platz 1 der Charts und hielt sich dort insgesamt 33 Wochen. Das Album und das Cover belegten auch Platz 1 bei den jährlichen Music Awards des Rolling Stone Magazins, die von den Lesern gewählt wurden. Die Kritiker des Rolling Stone wählten es auf Platz 2 der Alben des Jahres. U2 gewann außerdem bei den Grammy Awards für The Joshua Tree die Auszeichnung Best Rock Performance By A Group Or Duo. Produktionsnachweis Produziert und bearbeitet: Daniel Lanois und Brian Eno


Die erweiterte Geburtstagsedition
U2 feiern den 30. Geburtstag von »The Joshua Tree«. Passend dazu veröffentlichen Bono und Co. 2017 eine 30th-Anniversary-Edition des legendären Albums.

»The Joshua Tree« ist das fünfte Studioalbum der Iren. Es wurde von Brian Eno und Daniel Lanois produziert und erschien ursprünglich bereits am 9. März 1987. Bis heute ist es das meistverkaufte U2-Album.

»The Joshua Tree« landete sowohl in England und den USA als auch in Deutschland auf Platz eins der Charts, nicht zuletzt dank Hitsingles wie »With Or Without You«, »I Still Haven't Found What I'm Looking For«, »Where The Streets Have No Name«, »In God's Country« und »One Tree Hill«.

Jetzt, 30 Jahre später, legen U2 ihren Klassiker neu auf, und zwar in verschiedenen erweiterten Formaten: Auf der Doppel-CD wartet neben dem remasterten Album ein Livemitschnitt ihres Konzertes im Madison Square Garden 1987. Das 4-CDs-Set umfasst zwei zusätzliche Discs mit Raritäten, Remixes und B-Seiten, außerdem ein 84-seitiges Buch mit vielen bislang ungesehenen Fotos, die The Edge während der »Mojave Desert«-Session von 1986 machte.

Für Vinylfreunde gibt es die »The Joshua Tree (30th Anniversary)« außerdem in einer gigantischen 7-LP-Box, der ebenfalls das Buch beiliegt.

Das gesamte Tracklisting der »The Joshua Tree (30th Anniversary)« finden Sie im Folgenden.

Ein Meilenstein der Rockgeschichte feiert Geburtstag. »The Joshua Tree (30th Anniversary)« heißt U2s besonderes Geschenk an ihre Fans.
Rezensionen
»Ein Edelstein! Und ein passender Auftakt zur aktuellen Anniversary-Tour der Band.​« (stereoplay, Juli 2017)

»Was man auf keinen Fall links liegen lassen sollte ist das 84-seitige Hardcover-Begleitbuch, für das Gitarrist The Edge sein privates Foto-Archiv öffnete und in dem es zahlreiche bisher unveröffentlichte Bilder zu sehen gibt, die 1986 während der Cover-Fotosession in der Mojave-Wüste entstanden sind.​ Was Fotograf Anton Corbijn dort zustande brachte ist zwischenzeitlich legendär, das Boxset liefert acht seiner Bilder als großformatige Reproduktionen.​« (Good Times, August/September 2017)

»›The Joshua Tree‹ gehört zu den sehr wenigen Alben, auf denen nichts Überflüssiges ist, sondern die Essenz der Band, wie sie damals war – auf der Suche, mit großen Augen und großem Herzen, einem großen Sendungsbewusstsein und, ja, einem großen Ego auch.​« (Rolling Stone, 1.​Juni 2017)
Disk 1 von 4 (CD)
1 Where The Streets Have No Name (Remastered 2007)
2 I Still Haven't Found What I'm Looking For (Remastered 2007)
3 With Or Without You (Remastered 2007)
4 Bullet The Blue Sky (Remastered 2007)
5 Running To Stand Still (Remastered 2007)
6 Red Hill Mining Town (Remastered 2007)
7 In God's Country (Remastered 2007)
8 Trip Through Your Wires (Remastered 2007)
9 One Tree Hill (Remastered 2007)
10 Exit (Remastered 2007)
11 Mothers Of The Disappeared (Remastered 2007)
Disk 2 von 4 (CD)
1 Where The Streets Have No Name (Live Madison Square Garden, NY, USA 1987)
2 I Will Follow (Live Madison Square Garden, NY, USA 1987)
3 Trip Through Your Wires (Live Madison Square Garden, NY, USA 1987)
4 Medley: I Still Haven't Found What I'm Looking For Exodus (Live Madison Square Garden, NY, USA 1987)
5 Mlk (Live Madison Square Garden, NY, USA 1987)
6 Bullet The Blue Sky (Live Madison Square Garden, NY, USA 1987)
7 Running To Stand Still (Live Madison Square Garden, NY, USA 1987)
8 In God's Country (Live Madison Square Garden, NY, USA 1987)
9 Sunday Bloody Sunday (Live Madison Square Garden, NY, USA 1987)
10 Medley: Exit Gloria (Live Madison Square Garden, NY, USA 1987)
11 October (Live Madison Square Garden, NY, USA 1987)
12 New Year's Day (Live Madison Square Garden, NY, USA 1987)
13 Pride (In The Name Of Love) (Live Madison Square Garden, NY, USA 1987)
14 With Or Without You (Live Madison Square Garden, NY, USA 1987)
15 Party Girl (Live Madison Square Garden, NY, USA 1987)
16 I Still Haven't Found What I'm Looking For (Live Madison Square Garden, NY, USA 1987 Choir Version)
17 "40" (Live Madison Square Garden, NY, USA 1987)
Disk 3 von 4 (CD)
1 One Tree Hill (St Francis Hotel Remix)
2 Bullet The Blue Sky (Jacknife Lee Remix)
3 Running To Stand Still (Daniel Lanois Remix)
4 Red Hill Mining Town (Steve Lillywhite 2017 Mix)
5 With Or Without You (Daniel Lanois Remix)
6 Where The Streets Have No Name (Flood Remix)
Disk 4 von 4 (CD)
1 Luminous Times (Hold On To Love) (Remastered 2007)
2 Walk To The Water (Remastered 2007)
3 Spanish Eyes (Remastered 2007)
4 Deep In The Heart (Remastered 2007)
5 Silver And Gold (Remastered 2007)
6 Sweetest Thing (Remastered 2007)
7 Race Against Time (Remastered 2007)
8 I Still Haven't Found What I'm Looking For (Lillywhite Alternative Mix '87)
9 One Tree Hill Reprise (Brian Eno 2017 Mix)
10 Silver And Gold (Sun City Version)
11 Beautiful Ghost Introduction To Songs Of Experience
12 Wave Of Sorrow (Birdland)
13 Desert Of Our Love
14 Rise Up
15 Drunk Chicken America