Thin Lizzy: Live And Dangerous (Limited Super Deluxe Edition)
Live And Dangerous (Limited Super Deluxe Edition)
8 CDs
CD (Compact Disc)
Herkömmliche CD, die mit allen CD-Playern und Computerlaufwerken, aber auch mit den meisten SACD- oder Multiplayern abspielbar ist.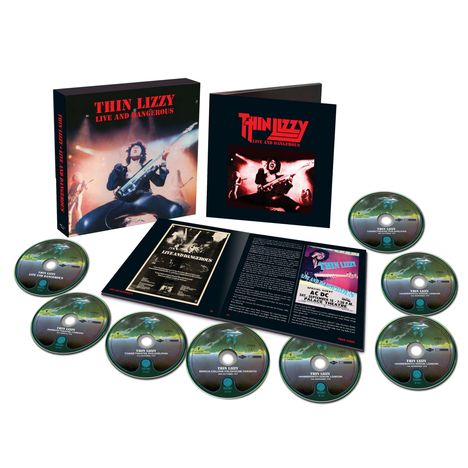 Derzeit nicht erhältlich.
Lassen Sie sich über unseren eCourier benachrichtigen, falls das Produkt bestellt werden kann.
Label: Mercury, 1976-1978
Erscheinungstermin: 20.1.2023
»Live And Dangerous« wurde 1978 veröffentlicht und ist wohl eines der besten Live-Alben aller Zeiten. Es wurde 1977 in London und Toronto aufgenommen, während der Tourneen zu den Alben Johnny the Fox und Bad Reputation.

Dieses Live-Album war ursprünglich als Studioalbum geplant. Thin Lizzy arbeiteten mit dem Produzenten Tony Visconti zusammen, der mit dem Vorgängeralbum Bad Reputation großen Erfolg gehabt hatte, und die Gruppe wollte wieder mit ihm zusammenarbeiten. Da Visconti jedoch einen sehr engen Zeitplan hatte, kam Phil Lynott auf die Idee, dass sie stattdessen zwei Wochen zusammen verbringen und ein Live-Album zusammenstellen sollten.

Dieses Box-Set ist die endgültige Version des Albums und enthält alle Shows, die das Album ausmachen, neu abgemischt von Ben Findlay von den Original-Multitracks, gemastert von Andy Pearce und überwacht von Gitarrist Scott Gorham.

Damit werden die Gerüchte ausgeräumt, dass das Album im Studio ausgiebig überspielt wurde, und es wird hier so präsentiert, wie die Shows gedacht waren, mit der Rohheit einer Band, die Abend für Abend auf dem Höhepunkt ihres Könnens war.

Abgerundet wird das Paket durch Anmerkungen von Mark Blake von mojo und ein Booklet mit seltenen Fotos und Memorabilia.

CD1: Live and Dangerous - neu gemastert von Originalbändern
CD2: Hammersmith 14/11/1976
CD3: Hammersmith 15.11.1976
CD4: Hammersmith 16.11.1976
CD5: Philadelphia 20/10/1977
CD6: Philadelphia 21/10/1977
CD7: Seneca College Fieldhouse, Toronto 28. Oktober 1977
CD8: Rainbow Theatre 1978


Die Hörproben gehören zum Artikel Thin Lizzy: Live And Dangerous (CD). Das Tracklisting kann bei diesem Artikel ggf. abweichen.
Disk 1 von 8 (CD)
1 Jailbreak
2 Emerald
3 Southbound
4 Rosalie
5 Dancing in the moonlight
6 Massacre
7 Still in love with you
8 Johnny the fox meets jimmy the weed
9 Cowboy song
10 The boys are back in town
11 Don't believe a word
12 Warriors
13 Are you ready?
14 Suicide
15 Sha la la
16 Baby drives me crazy
17 The rocker
Disk 2 von 8 (CD)
1 Jailbreak
2 Massacre
3 Emerald
4 Johnny
5 It's only money
6 Still in love with you
7 Johnny the fox meets jimmy the weed
8 The boys are back in town
9 Rosalie / cowgirl's song
10 Suicide
11 Warriors
12 Sha la la
13 Baby drives me crazy
Disk 3 von 8 (CD)
1 Jailbreak
2 Massacre
3 Emerald
4 Johnny the fox meets jimmy the weed
5 The boys are back in town
6 Rosalie / cowgirl's song
7 Suicide
8 Warriors
9 Sha la la
10 Baby drives me crazy
11 Me and the boys were wondering how you and the girls were ge
12 The rocker
Disk 4 von 8 (CD)
1 Jailbreak
2 Massacre
3 Emerald
4 Johnny
5 It's only money
6 Still in love with you
7 Johnny the fox meets jimmy the weed
8 The boys are back in town
9 Rosalie / cowgirl's song
10 Suicide
11 Warriors
12 Sha la la
13 Baby drives me crazy
14 Me and the boys were wondering how you and the girls were ge
Disk 5 von 8 (CD)
1 Soldier of fortune
2 Jailbreak
3 Johnny
4 Warrior
5 Dancing in the moonlight
6 Massacre
7 Still in love with you
8 Cowboy song
9 Boys are back in town
10 Opium trail
11 Don't believe a word
12 Emerald
13 Bad reputation
14 Baby drives me crazy
Disk 6 von 8 (CD)
1 Solider of fortune
2 Jailbreak
3 Johnny
4 Warriors
5 Dancing in the moonlight
6 Massacre
7 Still in love with you
8 Cowboy song
9 The boys are back in town
10 Opium trail
11 Don't believe a word
12 Emerald
13 Bad reputation
14 Baby drives me crazy
15 The rocker
Disk 7 von 8 (CD)
1 Soldier of fortune
2 Jailbreak
3 Emerald
4 Dancing in the moonlight
5 Massacre
6 Still in love with you
7 Johnny the fox meets jimmy the weed
8 Warriors
9 Opium trail
10 Cowboy song
11 The boys are back in town
12 Don't believe a word
13 Bad reputation
14 Are you ready?
15 Me and the boys were wondering how you and the girls were ge
16 The rocker
Disk 8 von 8 (CD)
1 Jailbreak
2 Emerald
3 Southbound
4 Rosalie
5 Dancing in the moonlight
6 Massacre
7 Still in love with you
8 Johnny the fox meets jimmy the weed
9 Don't believe a word
10 Warriors
11 Cowboy song
12 The boys are back in town
13 Suicide
14 Are you ready?
15 Sha la la
16 Baby drives me crazy
17 The rocker