The Sonic Dawn: Enter The Mirage
Enter The Mirage
CD
CD (Compact Disc)
Herkömmliche CD, die mit allen CD-Playern und Computerlaufwerken, aber auch mit den meisten SACD- oder Multiplayern abspielbar ist.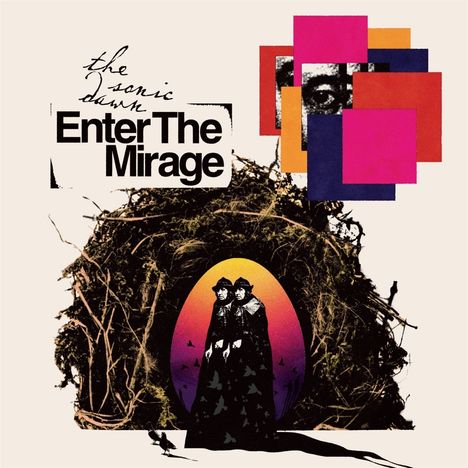 lieferbar innerhalb 1-2 Wochen
(soweit verfügbar beim Lieferanten)
Weitere Ausgaben von Enter The Mirage
* Digipack
Product Information

Enter the Mirage is arguably the most blazing and powerful album yet by The Sonic Dawn. It has an unusual live feel for a studio album, packing much of the raw energy and electricity that has made The Sonic Dawn's psychedelic concerts famous in the rock underground.

Enter the Mirage's overall theme is freedom. It is about visions that may seem too distant to be real, but only those who take the trip will ever really find out. Frontman, Emil Bureau, explains about the album's inception: "First I lost my father, then I lost my job and finally I lost my will to be a servant of anything that isn't peace, love and freedom. It should be simple, but in this world it isn't. Instead of getting back on the so-called career path, which is generally a dead end, I took a leap of faith, with the band's support."

Bureau spent half a year in a songwriting frenzy, spawning not only Enter the Mirage by The Sonic Dawn, but also a solo album in the folk genre (available via Heavy Psych Sounds). To give form to these song ideas, the Danish trio rented a space in the gloomiest part of Copenhagen, set up a studio there and rocked out for two months. You hear that roughness, present as a determined attitude from a tightly knit band. With three past albums and some 200 shows under their belt, The Sonic Dawn is a psychedelic group to be reckoned with. However, at the end of their long and laborious creative process, the band was completely broke. Fortunately, friend and former producer, Thomas Vang, allowed them to mix the album in The Village Recording at night, after his own sessions. Thanks to this, and a skillful mastering by Hans Olsson Brookes (Graveyard et al.) Enter the Mirage puts the HIGH back in high fidelity. Turn up the volume and experience The Sonic Dawn.


Disk 1 von 1 (CD)
1 Young Love, Old Hate
2 Hits Of Acid
3 Loose Ends
4 Children Of The Night
5 Shape Shifter
6 Enter The Mirage
7 Soul Sacrifice
8 Join The Dead
9 Sun Drifter
10 Ufo