The Rolling Stones: Goats Head Soup (180g) (Half Speed Master) (Super Deluxe Vinyl Box)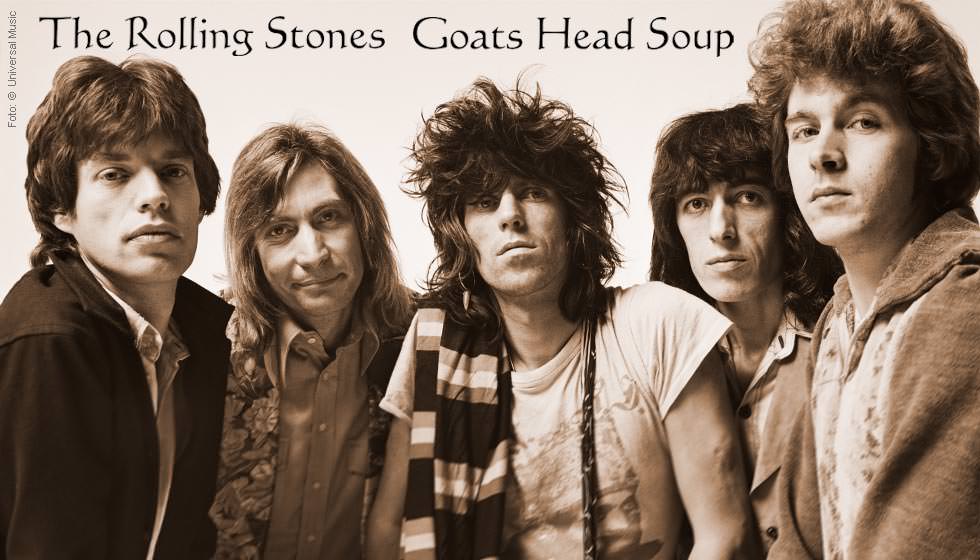 Ein Blick zurück
47 Jahre sind vergangen, seit The Rolling Stones das Album »Goats Head Soup« veröffentlichten. Einer von vielen Höhepunkten ihrer Diskografie.

2020 werfen die Rocklegenden noch einmal einen Blick zurück und legen die Platte noch einmal auf, und zwar in sechs verschiedenen Varianten mit vielen spannenden Extras und bislang unveröffentlichten Songs.
Goats Head Soup (180g) (Half Speed Master) (Super Deluxe Vinyl Box)
4 LPs
LP (Long Play)
Die gute alte Vinyl - Langspielplatte.

Vinyl liefern wir innerhalb Deutschlands immer portofrei.
Label: Universal, 1973
Bestellnummer:

10236841

Erscheinungstermin: 4.9.2020
Die Deluxe-Vinyl-Box beinhaltet das Album im neuen Stereo-Mix, seltene Bonustracks und Alternativ-Mixes sowie drei bislang unveröffentlichte Titel: »Scarlet«, »All The Rage« und »Criss Cross«. Für das Half-Speed Mastering zeichnete Miles Showell in den Londoner Abbey Road Studios verantwortlich.

Abgerundet wird die Edition mit dem Album »The Brussels Affair«, ein Live-Mitschnitt, der im Oktober 1973 im Forest National aufgezeichnet wurde; auch das Live-Album erscheint auf 180-Gramm-Vinyl.
1 Side A: Dancing With Mr D
2 100 Years Ago
3 Coming Down Again
4 Doo Doo Doo Doo Doo (Heartbreaker)
5 Angie
6 Side B: Silver Train
7 Hide Your Love
8 Winter
9 Can You Hear The Music
10 Star Star
1 Side C: Rarities & Alternative Mixes: Scarlet
2 All The Rage
3 Criss Cross
4 100 Years Ago (Piano Demo)
5 Dancing With Mr D (Instrumental)
6 Side D: Heartbreaker (Instrumental)
7 Hide Your Love (Alternative Mix)
8 Dancing With Mr D (Glyn Johns 1973 Mix)
9 Doo Doo Doo Doo Doo (Heartbreaker) – (Glyn Johns 1973 Mix)
10 Silver Train (Glyn Johns 1973 Mix)
1 Side E: »Brussels Affair – Live 1973«: Brown Sugar
2 Gimme Shelter
3 Happy
4 Tumbling Dice
5 Side F: »Brussels Affair – Live 1973«: Star Star
6 Dancing With Mr D
7 Doo Doo Doo Doo Doo (Heartbreaker)
8 Angie
1 Side G: »Brussels Affair – Live 1973«: You Can't Always Get What You Want
2 Midnight Rambler
3 Side H: »Brussels Affair – Live 1973«: Honky Tonk Women
4 All Down The Line
5 Rip This Joint
6 Jumpin' Jack Flash
7 Street Fighting Man