The Rolling Stones: A Bigger Bang: Live On Copacabana Beach 2006 (Limited Deluxe Edition)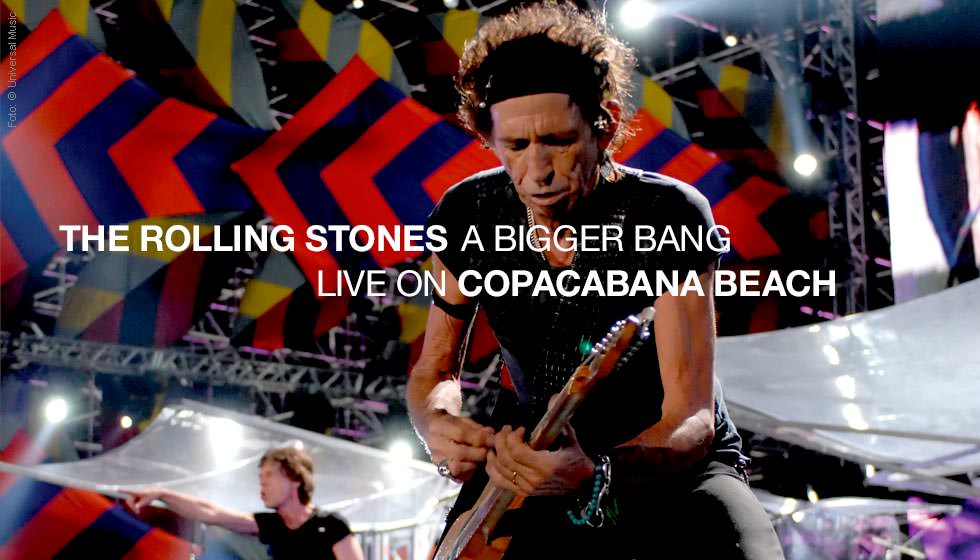 Remastert und restauriert
Ein absolutes Highlight für alle Fans von The Rolling Stones. Die britischen Rocklegenden präsentieren 2021 ihren neuen Konzertmitschnitt:

»A Bigger Bang: Live On Copacabana Beach 2006« gibt es gleich in mehreren spannenden Formaten, und zwar in Bild und Ton.

Diese remasterte und restaurierte Version enthält vier Tracks, die in der ursprünglichen Version von 2007 nicht enthalten waren.
A Bigger Bang: Live On Copacabana Beach 2006 (Limited Deluxe Edition)
2 CDs, 2 Blu-ray Discs
CD (Compact Disc)
Herkömmliche CD, die mit allen CD-Playern und Computerlaufwerken, aber auch mit den meisten SACD- oder Multiplayern abspielbar ist.
Blu-Ray Disc
Die Blu-Ray wurde als High-Definition-Nachfolger der DVD entwickelt und bietet ihrem Vorläufer gegenüber eine erheblich gesteigerte Datenrate und Speicherkapazität. Auf Blu-Rays können daher Filme mit deutlich besserer Auflösung gespeichert werden und bieten auf entsprechenden Bildschirmen eine enorm hohe Bildqualität. Blu-Ray-Player sind in der Regel abwärtskompatibel zu DVDs, so dass auch diese abgespielt werden können.
Artikel noch nicht erschienen, voraussichtlicher Liefertermin ist der 9.7.2021.
Sie können den Titel schon jetzt bestellen. Versand an Sie erfolgt gleich nach Verfügbarkeit.
Bestellmenge limitiert: Bei diesem Artikel nur 1 Exemplar pro Kunde!
Label: Mercury, 2006
FSK ab 0 freigegeben
Bestellnummer:

10504136

Erscheinungstermin: 9.7.2021
+ 40-seitiges Hardcover Buch
Gesamtverkaufsrang: 303
Verkaufsrang in CDs: 124
Ein besonderer Konzertmitschnitt der Rocklegenden im neuen Gewand
Willkommen in Rio De Janeiro und der legendären Show der Rolling Stones vom Copacabana Beach. Vor 1,5 Millionen Menschen, einem der größten kostenlosen Konzerte der Geschichte, war die Aufführung von The Rolling Stones am 18. Februar 2006 ein historisches Ereignis. ein kritischer Moment in der Rock'n'Roll-Geschichte. Während Mick Jagger, Keith Richards, Ronnie Wood und Charlie Watts von einer Spur zur nächsten auf alle Kolben schießen, trifft die Menge weiterhin auf ihre Energie, die brasilianische und britische Flaggen schwenkt, während sie im tropischen Abendsonnenuntergang rocken. Mit einer unglaublichen Inszenierung und Grafik enthält dieses vollständig restaurierte und remasterte Konzert von ihrer »A Bigger Bang½ -Welttournee jetzt vier bisher unveröffentlichte Tracks; Tumbling Dice, Oh No, Not You Again, This Place is Empty and Sympathy For The Devil.

Das Konzertalbum und der Konzertfilm der Rocklegenden remastert und restauriert und in vielen spannenden Formaten: Hier ist »The Rolling Stones: A Bigger Bang: Live On Copacabana Beach 2006«.


Disk 1 von 4
1 Jumpin' Jack Flash
2 It's Only Rock 'n' Roll (But I Like It)
3 You Got Me Rocking
4 Tumbling Dice
5 Oh No, Not You Again
6 Wild Horses
7 Rain Fall Down
8 Midnight Rambler
9 Night Time Is the Right Time
10 This Place Is Empty
11 Happy
12 Miss You
13 Rough Justice
14 Get Off My Cloud
15 Honky Tonk Women
16 Sympathy For The Devil
17 Start Me Up
18 Brown Sugar
19 You Can't Always Get What You Want
20 (I Can't Get No) Satisfaction
Disk 2 von 4
1 Start Me Up
2 You Got Me Rocking
3 She's So Cold
4 Tumbling Dice
5 Rain Fall Down
6 It's Only Rock 'n' Roll (but I Like It)
7 Wild Horses
8 All Down the Line
9 Night Time Is the Right Time
10 Slipping Away
11 Infamy
12 Miss You
13 Rough Justice
14 Get Off of My Cloud
15 Honky Tonk Women
16 Sympathy for the Devil
17 Brown Sugar
18 Jumpin' Jack Flash
19 You Can't Always Get What You Want
20 (I Can't Get No) Satisfaction
Disk 3 von 4
1 Jumpin' Jack Flash
2 It's Only Rock 'n' Roll (But I Like It)
3 You Got Me Rocking
4 Tumbling Dice
5 Oh No, Not You Again
6 Wild Horses
7 Rain Fall Down
8 Midnight Rambler
9 Night Time Is the Right Time
10 This Place Is Empty
11 Happy
12 Miss You
13 Rough Justice
14 Get Off My Cloud
15 Honky Tonk Women
16 Sympathy For The Devil
17 Start Me Up
18 Brown Sugar
19 You Can't Always Get What You Want
20 (I Can't Get No) Satisfaction
Disk 4 von 4
1 Start Me Up
2 You Got Me Rocking
3 She's So Cold
4 Tumbling Dice
5 Rain Fall Down
6 It's Only Rock 'n' Roll (but I Like It)
7 Wild Horses
8 All Down the Line
9 Night Time Is the Right Time
10 Slipping Away
11 Infamy
12 Miss You
13 Rough Justice
14 Get Off of My Cloud
15 Honky Tonk Women
16 Sympathy for the Devil
17 Brown Sugar
18 Jumpin' Jack Flash
19 You Can't Always Get What You Want
20 (I Can't Get No) Satisfaction