The Moody Blues: Days Of Future Passed - Live
Days Of Future Passed - Live
2 CDs
CD (Compact Disc)
Herkömmliche CD, die mit allen CD-Playern und Computerlaufwerken, aber auch mit den meisten SACD- oder Multiplayern abspielbar ist.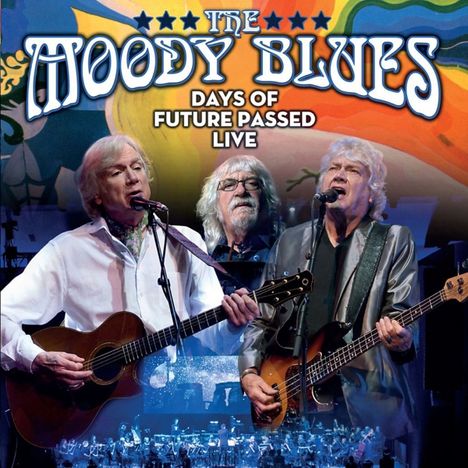 Nur noch 1 Stück am Lager. Danach versandfertig innerhalb 2-3 Wochen (soweit verfügbar beim Lieferanten)
Label: Eagle
Bestellnummer:

8119868

Erscheinungstermin: 23.3.2018
Weitere Ausgaben von Days Of Future Passed - Live
Nachdem schon letztes Jahr anlässlich des 50-jährigen Jubiläums das Album als erstes Remastering von den Originalbändern auf CD und Vinyl veröffentlicht wurde, gingen The Moody Blues anschließend auf Tour, die in dieser grandiosen Show im Sony Centre For The Performing Arts in Toronto ihren Höhepunkt fand. Zu Anfang spielte die Band alleine einige ausgewählte Moody Blues-Tracks. Danach kam das Orchester für die Performance des Albums »Days Of Future Passed« und die fantastische Zugabe dazu.
Disk 1 von 2 (CD)
1 I'm Just A Singer
2 The Voice
3 Steppin' In A Slide Zone
4 Say It With Love
5 Nervous
6 Your Wildest Dreams
7 Isn't Life Strange
8 I Know You're Out There Somewhere
9 The Story In Your Eyes
Disk 2 von 2 (CD)
1 The Day Begins
2 Morning Glory
3 Dawn (Prelude)
4 Dawn Is A Feeling
5 The Morning (Prelude)
6 Another Morning
7 Lunch Break (Prelude)
8 Peak Hour
9 Tuesday Afternoon (Forever Afternoon)
10 Evening (Time To Get Away)
11 The Sun Set (Prelude)
12 The Sun Set
13 Twilight (Prelude)
14 Twilight Time
15 Late Lament
16 Nights In White Satin
17 The Night (Finale)
18 Encore:Question
19 Ride My See-Saw
Mehr von Eagle