The Beach Boys: Sounds Of Summer: The Very Best Of The Beach Boys (remastered) (180g) (Limited 60th Anniversary Expanded Box Set)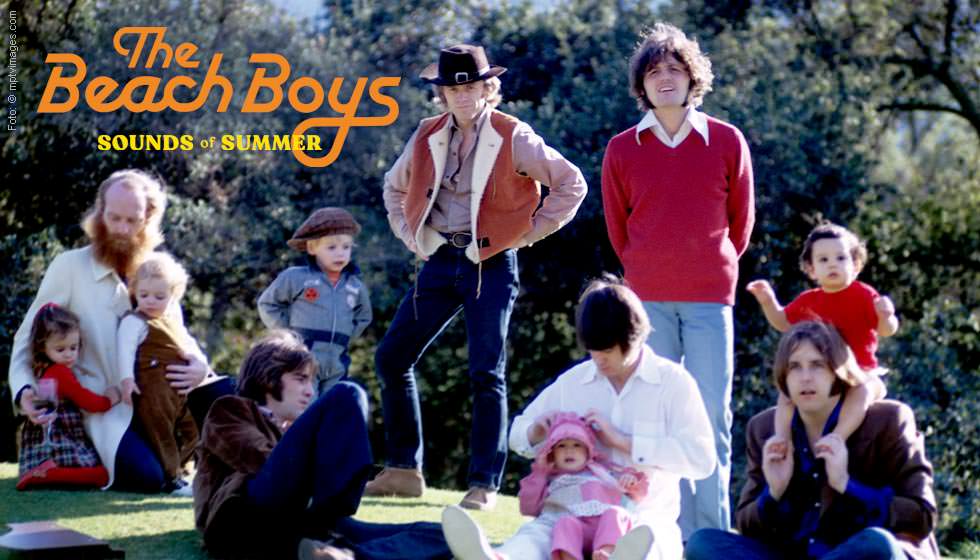 Der Sommer 2022 kann kommen und musikalisch nur noch gut werden
Die amerikanische Surf Rock-Legende The Beach Boys veröffentlichte ihr Best-of-Album »Sounds Of Summer« ursprünglich im Jahr 2003. Knapp zwei Jahrzehnte später erscheint eine neue Auflage.

Der Inhalt wurde mächtig aufgestockt: aus den 30 Songs der Erstveröffentlichung werden nun 80, verteilt auf drei CDs. Viele der Nummern haben ein aufwendiges Remastering erhalten und auch das Artwork zieht mit in zahlreichen Updates der Fotos und Liner Notes.
Sounds Of Summer: The Very Best Of The Beach Boys (remastered) (180g) (Limited 60th Anniversary Expanded Box Set)
6 LPs
LP (Long Play)
Die gute alte Vinyl - Langspielplatte.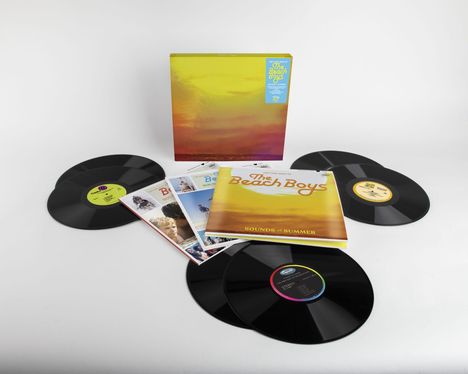 Artikel am Lager
Verlängerter Rückgabezeitraum bis 31. Januar 2024
Alle zur Rückgabe berechtigten Produkte, die zwischen dem 1. bis 31. Dezember 2023 gekauft wurden, können bis zum 31. Januar 2024 zurückgegeben werden.


Vinyl liefern wir innerhalb Deutschlands immer portofrei.
Label: Capitol
Bestellnummer:

10929768

Erscheinungstermin: 17.6.2022
Zum Auftakt des 60-jährigen Jubiläums der Beach Boys erscheint am 17. Juni die neu aufgelegte Version von "Sounds of Summer" in vielen Konfigurationen und mit viel Bonusmaterial!

Ursprünglich wurde das Album 2003 mit 30 Tracks veröffentlicht. Die neu erscheinende Expanded Edition enthält nun ganze 80 bedeutende Tracks aus der gesamten Karriere der Band, die alle neu gemastert wurden, darunter 22 neue Abmischungen und 2 erstmalige Stereomischungen. Zusätzlich enthalten die LP Versionen aktualisierte Fotos, Liner Notes und sind mit farbig bedruckten Hüllen versehen, die den originalen "Capitol Catalog"-Hüllen nachempfunden sind.
Rezensionen
»Im Vergleich mit verschiedenen älteren Abmischungen zeigt sich bei den neuen der Trend, den Klang der Aufnahmen zu vereinheitlichen.​ [.​.​.​] Die laufruhigen und sauber gepressten LPs unterstützten den Hörgenuss, der in keiner Rille beeinträchtigt wird.​« (MINT, August 2022)
LP
1 Seite A: California Girls (1965)
2 I Get Around (1964)
3 Surfin' Safari (1962)
4 Surfin' U.S.A. (1963)
5 Fun, Fun, Fun (1964)
6 Surfer Girl (1963)
7 Don't Worry Baby (1964)
8 Little Deuce Coupe (1963)
9 Seite B: Shut Down (1963)
10 Help Me, Rhonda (1965)
11 Be True To Your School (Single Version) (1963)
12 When I Grow Up (To Be A Man) (1964)
13 In My Room (1963)
14 God Only Knows (1966)
15 Sloop John B (1966)
16 Wouldn't It Be Nice (1966)
LP
1 Seite C: Getcha Back (1985)
2 Come Go With Me (1978)
3 Rock And Roll Music (1976)
4 Dance, Dance, Dance (1964)
5 Barbara Ann (1965)
6 Do You Wanna Dance? (1965)
7 Heroes And Villains (1967)
8 Good Timin' (1979)
9 Seite D: Kokomo (1988)
10 Do It Again (1968)
11 Wild Honey (1967)
12 Darlin' (1967)
13 I Can Hear Music (1969)
14 Good Vibrations (1966)
LP
1 Seite E: All Summer Long (1964)
2 Good To My Baby (1965)
3 This Whole World (1970)
4 All I Wanna Do (1970)
5 Disney Girls (1971)
6 Kiss Me Baby (1965)
7 Let The Wind Blow (1967)
8 Forever (1970)
9 Seite F: Sail On Sailor (1973)
10 Long Promised Road (1971)
11 Cotton Fields (1970)
12 Pom Pom Play Girl (1964)
13 Wind Chimes (Smile) (1966/1993)
14 I Went To Sleep (1968)
15 Farmer's Daughter (1963)
LP
1 Seite G: Let Us Go On This Way (1977)
2 You Need A Mess Of Help To Stand Alone (1972)
3 The Night Was So Young (1977)
4 Marcella (1972)
5 You're So Good To Me (1965)
6 Aren't You Glad (1967)
7 Baby Blue (1979)
8 Seite H: It's About Time (1970)
9 Roll Plymouth Rock (1966/1993)
10 Surf's Up (1971)
11 Add Some Music To Your Day (1970)
12 It's Ok (1976)
13 Goin' On (1980)
14 San Miguel (1969)
LP
1 Seite I: The Warmth Of The Sun (1964)
2 Everyone's In Love With You (1976)
3 All This Is That (1972)
4 California Saga (1973)
5 Feel Flows (1971)
6 Wendy (1964)
7 Girl Don't Tell Me (1965)
8 Seite J: Let Him Run Wild (1965)
9 All I Want To Do (1968)
10 Susie Cincinnati (1970)
11 Vegetables (1967)
12 Time To Get Alone (1969)
13 Where I Belong (1985)
14 I Just Wasn't Made For These Times (1966)
LP
1 Seite K: Little Bird (1968)
2 Til I Die (1971)
3 (Wouldn't It Be Nice To) Live Again (1971)
4 Friends (1968)
5 Devoted To You (1965)
6 Can't Wait Too Long (1968)
7 California Feelin' (1978)