Tex Ritter: The Tex Ritter Collection: Hits & Selected Singles 1933 - 1962
The Tex Ritter Collection: Hits & Selected Singles 1933 - 1962
3 CDs
CD (Compact Disc)
Herkömmliche CD, die mit allen CD-Playern und Computerlaufwerken, aber auch mit den meisten SACD- oder Multiplayern abspielbar ist.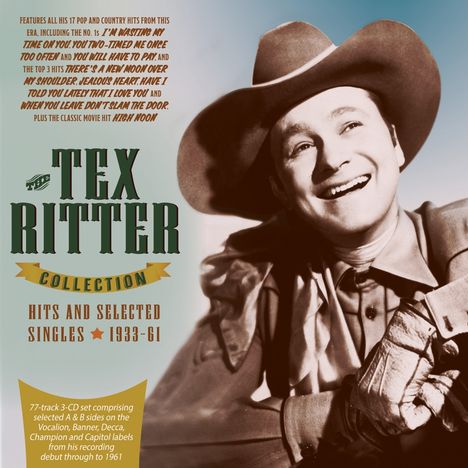 Derzeit nicht erhältlich.
Lassen Sie sich über unseren eCourier benachrichtigen, falls das Produkt bestellt werden kann.
Label: Acrobat
Erscheinungstermin: 4.3.2022
Tex Ritter war einer der ersten singenden Cowboys, der seine Karriere als Country-Sänger mit einer langen Karriere als Schauspieler in Westernfilmen verband.

• Hochwertiges 3-CD-Set mit 77 Titeln, bestehend aus ausgewählten A- und B-Seiten seiner Veröffentlichungen bei Vocalion, Champion, Decca und Capitol aus dieser Zeit.

• Enthält alle seine Pop- und Country-Chart-Einträge aus diesen Jahren, darunter die Country-Nr.-1-Hits »I'm Wasting My Time On You«, »You Two-Timed me Once Too Often« und »You Will Have To Pay« sowie die Pop-Hits »High Noon«, »The Wayward Wind« und »I Dreamed Of A Hillbilly Heaven«.

• Ein großartiges Schaufenster für sein vielfältiges Repertoire und seinen unverwechselbaren Stil.
Disk 1 von 3 (CD)
1 Goodbye Old Paint
2 Sam Hall
3 Thirty Three Years In Prison
4 Get Along Lil Dogie
5 Nobody's Darling But Mine
6 My Brown Eyed Texas Rose
7 The Oregon Trail
8 Take Me Back To My Boots And Saddle
9 High Wide And Handsome
10 We'll Rest At The End Of The Trail
11 Hills Of Old Wyoming
12 Melody From The Sky
13 I'm A Natural Born Cowboy
14 Singing In The Saddle
15 Viva Tequila
16 When It's Lamp Lighting Time In The Valley
17 Goodbye, My Little Cherokee
18 Someone
19 There's A Gold Star In Her Window
20 I'm Wastin' My Tears On You
21 There's A New Moon Over My Shoulder
22 Jealous Heart
23 You Two Timed Me Once Too Often
24 You Will Have To Pay
25 Christmas Carols By The Old Corral
26 I'm Gonna Leave You Like I Found You
Disk 2 von 3 (CD)
1 Long Time Gone
2 When You Leave, Don't Slam The Door
3 Have I Told You Lately That I Love You
4 From Now On
5 One Little Teardrop Too Late
6 Billy The Kid
7 The Texas Rangers
8 I Love My Rooster
9 The Wreck Of Number Nine
10 Froggy Went A-Courtin'
11 The Last Mile
12 Rock And Rye
13 Double Dealin' Darlin'
14 Tenneha, Timpson, Bobo And Blair
15 I Was Born A Hundred Years Ago
16 Thank You
17 Cactus Jackson Had A Ranch
18 The Boll Weevil Song
19 Teach Me To Forget
20 I Can't Get My Foot Off The Rail
21 Rye Whiskey
22 Deck Of Cards
23 Dallas Darlin'
24 Pecos Bill
25 Rounded Up In Glory
Disk 3 von 3 (CD)
1 Fort Worth Jail
2 Careless Hands
3 San Antonio Rose
4 Bad Brahma Bull
5 Cool Water
6 You Are My Sunshine
7 Never Mind My Tears
8 Boiled Crawfish
9 The Pledge Of Allegiance
10 Daddy's Last Letter
11 Stay Away From My Heart
12 You're Always Brand New
13 There's No One To Cry Over Me
14 Ol' Shorty
15 When My Blue Moon Turns To Gold Again
16 There Shall Be Showers Of Blessings
17 High Noon (Do Not Forsake Me)
18 Go On! Get Out!
19 My Woman Ain't Pretty
20 The Long Black Rifle
21 Let Me Go, Devil
22 Lord, Send An Angel
23 The Best Time Of All
24 A Whale Of Tale
25 The Wayward Wind
26 I Dreamed Of A Hillbilly Heaven