Small Faces: Ogdens' Nut Gone Flake (50th Anniversary Definitive Edition)
Ogdens' Nut Gone Flake (50th Anniversary Definitive Edition)
3 CDs, 1 DVD, 1 Buch
CD (Compact Disc)
Herkömmliche CD, die mit allen CD-Playern und Computerlaufwerken, aber auch mit den meisten SACD- oder Multiplayern abspielbar ist.
DVD
Die meisten angebotenen DVDs haben den Regionalcode 2 für Europa und das Bildformat PAL. Wir bieten aber auch Veröffentlichungen aus den USA an, die im NTSC-Format und mit dem Ländercode 1 auf den Markt kommen. Dies ist dann in unseren Artikeldetails angegeben.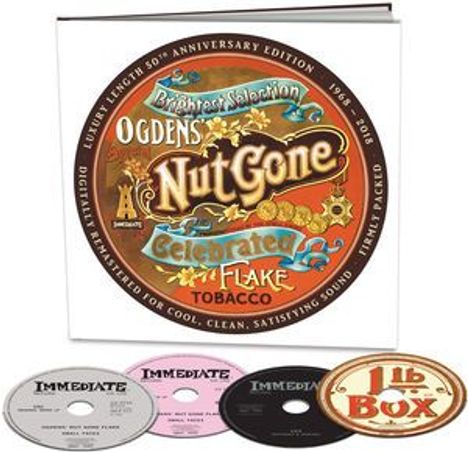 Artikel am Lager
Verlängerter Rückgabezeitraum bis 31. Januar 2023
Alle zur Rückgabe berechtigten Produkte, die zwischen dem 1. bis 31. Dezember 2022 gekauft wurden, können bis zum 31. Januar 2023 zurückgegeben werden.

Label: Snapper
FSK ab 0 freigegeben
Bestellnummer:

8733311

Erscheinungstermin: 5.10.2018
*** digitally remastered
DVD:Laufzeit:Keine Angaben
*** Hardcoverbook (LP-Format)
Was passiert, wenn Swinging Londons führendes Mod-Quartett seine Haare wachsen lässt, seine Kleidung wechselt und psychedelisch wird? Sie schreiben ein äradefinierendes, überwältigendes Konzeptalbum!

»Ogdens Nut Gone Flake« wurde ursprünglich am 24. Mai 1968 von Andrew Loog Oldham's Immediate Records veröffentlicht und erreichte bald den ersten Platz, wo es 6 Wochen lang blieb. Es ist das mit Abstand bekannteste und erfolgreichste Album der Small Faces, das bis heute von Kritikern gefeiert wird und immer noch in Besten-Listen auftaucht. Mit den klassischen Single-Tracks wie »Lazy Sunday« und »Afterglow« plus »Song Of A Baker« und dem Live- Favoriten »Rollin' Over«.

Die Platte, die auch für ihre preisgekrönte verrückte runde Verpackung beliebt ist, ist in jeder Hinsicht der kreative Höhepunkt der Band. Kurz nach der Veröffentlichung teilten sich die Small Faces in die Faces und Humble Pie auf und waren Geschichte. Um das 50-jährige Jubiläum zu feiern, wurde das Album von Nick Robbins bei Soundmastering in voller Zusammenarbeit mit dem überlebenden Small Faces-Mitglied Kenney Jones neu gemastert. So gut klang »Ogdens Nut Gone Flake« nie zuvor.


Product Information

The 50Th Anniversary Of The Iconic 1968 Album Celebrated With Deluxe Triple CD + DVD Hardback Book. What happens when Swinging London's foremost mod quartet grow their hair, change their clothes, and go psychedelic? They write an era-defining smash-hit concept album! »Ogdens Nut Gone Flake« was originally released by Andrew Loog Oldham's Immediate Records on 24 May 1968 and soon hit the No. 1 spot where it stayed for 6 weeks. Critically acclaimed and still featuring in albums-you-must-own-polls, it is by far and away The Small Faces' best-known and most successful album.

Alongside classic single tracks like »Lazy Sunday« and »Afterglow« plus »Song Of A Baker« and live favourite »Rollin' Over«, the LP even added a conceptual twist with the story of »Happiness Stan« and the narrations of Stanley Unwin on side 2. Loved also for it's award-winning crazy round packaging, the record represents the band's finest hour, though soon after it's release The Small Faces were no more, having morphed into the Faces and Humble Pie.

To celebrate the 50th anniversary, the album has been newly remastered by Nick Robbins at Soundmastering with the full cooperation of surviving Small Faces member Kenney Jones. This is the best Ogdens' has ever sounded! A 60-page hardback book edition will contain 3 CDs for mono and stereo versions of the album plus a disc of rare bonus material, together with a DVD containing The Small Faces' legendary feature on an episode of the BBC's TV show »Colour Me Pop« in June 1968, with the highlights being their performance of »Happiness Stan« and Peter Whitehead's promotional film for »Lazy Sunday«. It will also feature a deluxe booklet loaded with material, including in-depth sleeve notes by Small Faces authority and Mojo contributor Mark Paytress, interviews, rare photos and memorabilia.
Rezensionen
»Die besten auftreibbaren Bänder wurden Halfspeed gemastert für diese Luxusedition, Mono­ und Stereomixe, womit mehr Dynamik, mehr Details gespeichert wurden als auf dem Originalvinyl.​ (.​.​.​) Diese Box erscheint nicht im Platz sparenden Pappkästchen, sondern im 70-seitigen Coffee­- Table­-Book­-Format mit sämtlicher Artwork, dem Coverkonzept, beschrieben vom Photo­-Ass Gered Mankowitz, sowie klugem neuen Essay von Mark Paytress.​« (Good Times, Dezember 2018/Januar 2019)
Die Hörproben gehören zum Artikel Small Faces: Ogdens' Nut Gone Flake (Deluxe Edition) (CD). Das Tracklisting kann bei diesem Artikel ggf. abweichen.
Disk 1 von 5 (CD)
1 MONO:Ogdens' nut gone flake
2 Afterglow
3 Long agos and worlds apart
4 Rene
5 Song of a baker
6 Lazy sunday
7 Happiness Stan
8 Rollin' over
9 The hungry intruder
10 The journey
11 Mad John
12 Happydaystoytown
Disk 2 von 5 (CD)
1 STEREO:Ogdens' nut gone flake
2 Afterglow
3 Long agos and worlds apart
4 Rene
5 Song of a baker
6 Lazy sunday
7 Happiness Stan
8 Rollin' over
9 The hungry intruder
10 The journey
11 Mad John
12 Happydaystoytown
Disk 3 von 5 (CD)
1 OUTTAKES:Ogdens' nut gone flake
2 Afterglow
3 Long agos and worlds apart
4 Rene, the dockers delight
5 Song of a baker
6 Lazy sunday
7 Happiness Stan
8 Bun in the oven
9 The fly
10 The journey
11 Mad John
12 Happydaystoytown
13 Kamikhazi
14 Every little bit hurts
15 Groovy
16 Afterglow of your love
17 Ogdens' nut gone flake
Disk 4 von 5 (DVD)
1 BBC LATE NIGHT:Song of a baker
2 Lazy sunday
3 Happiness Stan
4 Rollin' over
5 The fly
6 The journey
7 Mad John
8 Happydaystoytown