Small Faces: Greatest Hits: The Immediate Years 1967 - 1969
Greatest Hits: The Immediate Years 1967 - 1969
CD
CD (Compact Disc)
Herkömmliche CD, die mit allen CD-Playern und Computerlaufwerken, aber auch mit den meisten SACD- oder Multiplayern abspielbar ist.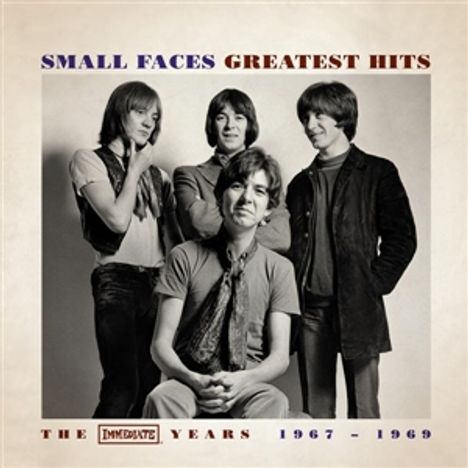 lieferbar innerhalb 2-3 Wochen
(soweit verfügbar beim Lieferanten)
Verlängerter Rückgabezeitraum bis 31. Januar 2023
Alle zur Rückgabe berechtigten Produkte, die zwischen dem 1. bis 31. Dezember 2022 gekauft wurden, können bis zum 31. Januar 2023 zurückgegeben werden.
Label: Charly
Bestellnummer:

8894056

Erscheinungstermin: 25.1.2019
Weitere Ausgaben von Greatest Hits: The Immediate Years 1967 - 1969
*** digitally remastered
*** Digisleeve (Hardcover)
Product Information

All the correct single versions are included in this collection, and all were remastered in 2014 from the newly discovered original mono master tapes.

Over 55 minutes of classic sixties pop: A-sides, rare B-sides, EP tracks, classic hit singles such as "Itchycoo Park", "Lazy Sunday", "Here Come The Nice", "Tin Soldier", "The Universal", "Afterglow Of Your Love" and more, all of which are still played on radio throughout the world.

Compiled with the full cooperation of surviving Small Faces members Kenney Jones and Ian "Mac" McLagan, this 16-page sleevepac CD by Grammy Award winner and Small Faces reissue series designer Rachel Gutek features an exclusive cover photo by Gered Mankowitz, informative track-by-track analysis, rare memorabilia, original ads and reviews plus introductory notes by Kenney and Mac and series producer Rob Caiger.

This mid-price edition of the Small Faces Greatest Hits - The Immediate Years 1967-1969 is released following the highly acclaimed deluxe remastered 50thanniversary edition of the band's debut #1 album, Ogdens' Nut Gone Flake.
Disk 1 von 1 (CD)
1 Here Come The Nice (Mono)
2 Talk To You (Mono)
3 (Tell Me) Have You Ever Seen Me ? (Mono)
4 Something I Want To Tell You (Mono)
5 Get Yourself Together (Mono)
6 Become Like You (Mono)
7 Green Circles (Mono)
8 Eddie's Dreaming (Mono)
9 Itchycoo Park (Mono)
10 I'm Only Dreaming (Mono)
11 Tin Soldier (Mono)
12 I Feel Much Better (Mono)
13 Lazy Sunday (Mono - 2012 Remaster)
14 Rollin' Over (Mono - 2012 Remaster)
15 Mad John (Single Version - Mono)
16 The Journey (Single Version - Mono)
17 The Universal (Mono)
18 Donkey Rides, A Penny A Glass (Mono)
19 Afterglow Of Your Love (Single Version - Mono)
20 Wham Bam Thank You Mam (Mono)