Pink Floyd: The Later Years 1987 - 2019 (Limited Box) (Mängelexemplar-Kratzer auf den DVDs)(Karton war geöffnet)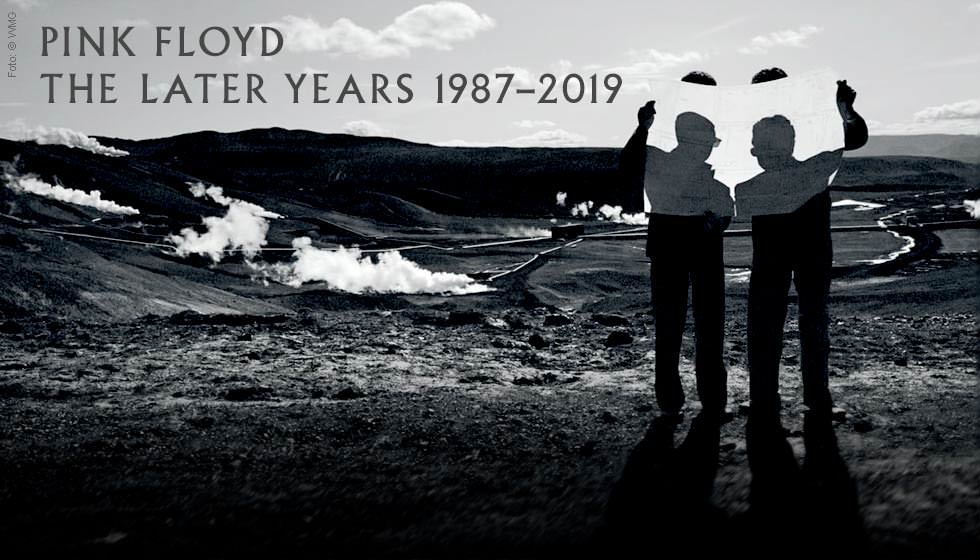 Die letzten Jahre
Nachdem Pink Floyd vor drei Jahren bereits das Box-Set »The Early Years 1965–1972« veröffentlichten, das sich den Anfangsjahren der Band widmete, kommt 2019 nun eine weitere Sammlung der Rocklegenden.

»The Later Years 1987–2019« blickt, der Name verrät es bereits, auf die vergangenen Jahre, und zwar als CD, Doppel-LP oder als gigantisches 16-Discs-Set mit über 13 Stunden unveröffentlichtem Audio- und Videomaterial.
The Later Years 1987 - 2019 (Limited Box) (Mängelexemplar-Kratzer auf den DVDs)(Karton war geöffnet)
5 CDs, 1 Blu-ray Audio, 5 Blu-ray Discs, 5 DVDs, 2 Singles 7", 1 Buch
CD (Compact Disc)
Herkömmliche CD, die mit allen CD-Playern und Computerlaufwerken, aber auch mit den meisten SACD- oder Multiplayern abspielbar ist.
Blu-Ray Disc
Die Blu-Ray wurde als High-Definition-Nachfolger der DVD entwickelt und bietet ihrem Vorläufer gegenüber eine erheblich gesteigerte Datenrate und Speicherkapazität. Auf Blu-Rays können daher Filme mit deutlich besserer Auflösung gespeichert werden und bieten auf entsprechenden Bildschirmen eine enorm hohe Bildqualität. Blu-Ray-Player sind in der Regel abwärtskompatibel zu DVDs, so dass auch diese abgespielt werden können.
DVD
Die meisten angebotenen DVDs haben den Regionalcode 2 für Europa und das Bildformat PAL. Wir bieten aber auch Veröffentlichungen aus den USA an, die im NTSC-Format und mit dem Ländercode 1 auf den Markt kommen. Dies ist dann in unseren Artikeldetails angegeben.
Single 7''
Die gute alte Vinyl –Single.
Derzeit nicht erhältlich.
Lassen Sie sich über unseren eCourier benachrichtigen, falls das Produkt bestellt werden kann.

Vinyl liefern wir innerhalb Deutschlands immer portofrei.
Mehr Pink Floyd geht nicht: Die späten Jahre der Rocklegenden in einer Box
Mit »The Later Years 1987 - 2019« präsentieren Pink Floyd 2019 eine weitere gigantische Werkschau in der Tradition der 2016 erschienenen »The Early Years 1965 - 1972«-Box.
Diesmal konzentriert sich das Set allerdings auf die spätere Periode der britischen Rocklegenden, in der Roger Waters die Band verließ und David Gilmour, Rick Wright und Nick Mason ohne ihn weitermachten.
»The Later Years 1987 - 2019« gibt es in Form eines Best-Ofs als Standard-CD und Doppel-LP. Den absoluten Höhepunkt für alle Fans bildet jedoch das Box-Set mit fünf CDs, einer Blu-ray Audio, fünf Blu-ray Discs, fünf DVDs und zwei 7"-Singles.
Darin enthalten: Die Alben »A Momentary Lapse Of Reason« und »Delicate Sound Of Thunder« als Remixe von David Gilmour und Andy Jackson. Ersteres wurde obendrein »updated«.
Hinzu kommen mehr als sechs Stunden bislang unveröffentlichtes Audiomaterial und über sieben Stunden ungesehene Audiovisuals aus den Alben »A Momentary Lapse Of Reason«, »The Division Bell« und »The Endless River«.
Weitere Highlights sind der bisher unveröffentlichte komplette Audiomitschnitt und die remasterten Filme vom Konzert in Venedig 1989 und dem legendären Knebworth Konzert aus dem Jahr 1990.
Hinzu kommt neues Material aus den Proben zu »Pulse« und der vollständige Ian-Emes-Film »The Endless River«.
Außerdem wartet der letzte Pink-Floyd-Gig mit David Gilmour, Nick Mason und Richard Wright beim Syd Barrett Tribute Concert im Jahr 2007, der hier zum allerersten Mal auf Blu-ray, DVD und 7"-Vinyl erscheint.
Abgerundet wird »The Later Years 1987 - 2019« von diversen spannenden Erinnerungsstücken, darunter Reproduktionen von Tourprogrammen, ein Textbuch und ein 60-seitiger Fotoband. Die jeweiligen Tracklistings und Inhalte der Box finden Sie im Folgenden.
Absolut imposant: »The Later Years 1987 - 2019« wirft einen umfassenden Blick auf die späte Karriere von Pink Floyd – mit vielen Raritäten, die nun endlich den Weg ans Tageslicht gefunden haben.
Die Box im Überblick:
5 CDs in einem eigenen, 40-seitigen gebundenen Buch mit einer Beschreibung des Inhalts, dem Tracklisting und ausführlicher Inhaltsbeschreibung, Details und Credits.
CD 1: »A Momentary Lapse Of Reason« Remixed & Updated (51 Min.)
CD 2 & 3: »Delicate Sound Of Thunder« Remixed (140 Min.)
CD 4: Live Recordings, 1987 & 1994 Unreleased Studio Recordings (65 Min.)
CD 5: Knebworth Concert 1990 (57 Min.)
6 Blu-ray Discs, jede in einem eigenen Klappcover mit spezieller Cover-Art, Tracklisting und Veröffentlichungs-Credits für die Musik. Die Discs befinden sich in einer Plastik-Schutzhülle in einem Täschchen.
Blu-ray 1: Surround & Hi-res Audio Mixes (152 Min.)
Blu-ray 2: »Delicate Sound Of Thunder« Restored & Remixed (120 Min.)
Blu-ray 3: »Pulse« Restored & Re-edited (145 Min.)
Blu-ray 4: Venice Concert 1989 & Knebworth Concert 1990 (147 Min.)
Blu-ray 5: Unreleased Live Films, Music Videos & Concert Screen Films (154 Min.)
Blu-ray 6: Documentaries & Unreleased Material (122 Min.)
5 DVDs (mit demselben Inhalt wie die Blu-rays 2–6), jede in einem eigenem Klappcover mit spezieller Cover-Art, Tracklisting und Veröffentlichungs-Credits für die Musik.
Zwei 7"-Vinyl-Singles in brandneu bebilderten Hüllen. Enthalten die Arnold-Layne-Performance von Pink Floyd beim Syd-Barrett-Tribut-Konzert 2007 und »Lost For Words« aus den Proben zur »Pulse«-Tour im Earl's Court.
60-seitiges, gebundenes Buch mit Fotos, designt von Aubrey Powell von Hipgnosis und Peter Curzon von StormStudios, mit vielen vorher nicht gezeigten Motiven. Ein neu geschaffenes Set von Reproduktionen von Tourprogrammen (Pink Floyd World Tour 1987 / 1988, Pink Floyd Live 1989, Pink Floyd European Tour 1994) und ein brandneues Textbuch, designt von Aubrey Powell von Hipgnosis und Peter Curzon von StormStudios.
Eine Sammlung von reproduzierten Memorabilien, darunter Tourpässe, Sticker und Poster, alle originalgetreu nachgedruckt und in einem Prestige-Card-Umschlag.
Rezensionen
»Das remasterte Pulse klingt noch bombastischer, auch Delicate Sound Of Thunder hat das Remastering hörbar gutgetan, erstmals gibt es den Film zum letzten Album The Endless River zu sehen. Fraglos liefert der Venedig-Gig aus dem Jahr 1989 höchst beeindruckende Bilder von diesem Spektakel, bei dem die eigens dafür errichtete Bühne auf dem Markusplatz von den obligatorischen Luxusjachten gesäumt wird.« (Good Times, Dezember 2019 / Januar 2020)

»Eine mächtige Edition für den Fan, der wirklich aber alles will.« (stereoplay, Januar 2020)
Die Hörproben gehören zum Artikel Pink Floyd: The Best Of The Later Years 1987 - 2019 (CD). Das Tracklisting kann bei diesem Artikel ggf. abweichen.
Disk 1 von 19
1 2019 A MOMENTARY LAPSE OF REASON UPDATED AND REMIXED:Signs Of Life
2 Learning To Fly
3 The Dogs Of War
4 One Slip
5 On The Turning Away
6 Yet Another Movie
7 Round And Around
8 A New Machine Part 1
9 Terminal Frost
10 A New Machine Part 2
11 Sorrow
Disk 2 von 19
1 2019 DELICATE SOUND OF THUNDER REMIXED(1):Shine On You Crazy Diamond, Parts 1-5
2 Signs Of Life
3 Learning To Fly
4 Yet Another Movie
5 Round And Around
6 A New Machine Part 1
7 Terminal Frost
8 A New Machine Part 2
9 Sorrow
10 The Dogs Of War
11 On The Turning Away
Disk 3 von 19
1 2019 DELICATE SOUND OF THUNDER REMIXED(2):One Of These Days
2 Time
3 On The Run
4 The Great Gig In The Sky
5 Wish You Were Here
6 Welcome To The Machine
7 Us And Them
8 Money
9 Another Brick In The Wall, Part 2
10 Comfortably Numb
11 One Slip
12 Run Like Hell
Disk 4 von 19
1 1987 & 1994 LIVE RECORDINGS / UNRELEASED STUDIO RECORDINGS:One Of These Days (live in Hanover 1994)
2 Astronomy Domine (live in Miami 1994)
3 The Dogs Of War (live in Atlanta 1987)
4 On The Turning Away (live in Atlanta 1987)
5 Run Like Hell (live in Atlanta 1987)
6 Blues 1 (unreleased 1994 recording)
7 Slippery Guitar (unreleased 1994 recording)
8 Rick's Theme (unreleased 1994 recording)
9 David's Blues (unreleased 1994 recording)
10 Marooned Jam (unreleased 1994 recording)
11 Nervana (unreleased 1994 recording)
12 High Hopes (Early version) (unreleased 1994 recording)
Disk 5 von 19
1 1990 KNEBWORTH CONCERT REMIXED:Shine On You Crazy Diamond, Parts 1-5
2 The Great Gig In The Sky
3 Wish You Were Here
4 Sorrow
5 Money
6 Comfortably Numb
7 Run Like Hell
Disk 6 von 19
1 A MOMENTARY LAPSE OF REASON UPDATED & REMIXED:Signs Of Life
2 Learning To Fly
3 The Dogs Of War
4 One Slip
5 On The Turning Away
6 Yet Another Movie
7 Round And Around
8 A New Machine Part 1
9 Terminal Frost
10 A New Machine Part 2
11 Sorrow
12 The Division Bell 2014 Remix:Cluster One
13 What Do You Want From Me
14 Poles Apart
15 Marooned
16 A Great Day For Freedom
17 Wearing The Inside Out
18 Take It Back
19 Coming Back To Life
20 Keep Talking
21 Lost For Words
22 High Hopes
23 Unreleased Studio Recordings:Blues 1 (unreleased 1994 recording 5.1 mix)
24 Slippery Guitar (unreleased 1994 recording 5.1 mix)
25 Rick's Theme (unreleased 1994 recording 5.1 mix)
26 David's Blues (unreleased 1994 recording 5.1 mix)
27 Marooned Jam (unreleased 1994 recording 5.1 mix)
28 Nervana (unreleased 1994 recording 5.1 mix)
29 High Hopes (Early Version) (Alternative Version 5.1 mix)
Disk 7 von 19
1 2019 DELICATE SOUND OF THUNDER RESTORED & RE-MIXED:Shine On You Crazy Diamond, Parts 1-5
2 Signs Of Life
3 Learning To Fly
4 Sorrow
5 The Dogs Of War
6 On The Turning Away
7 One Of These Days
8 Time
9 On The Run
10 The Great Gig In The Sky
11 Wish You Were Here
12 Us And Them
13 Money
14 Comfortably Numb
15 One Slip
16 Run Like Hell
Disk 8 von 19
1 2019 PULSE RESTORED & RE-EDITED:Shine On You Crazy Diamond, Parts 1-5, 7
2 Learning To Fly
3 High Hopes
4 Take It Back
5 Coming Back To Life
6 Sorrow
7 Keep Talking
8 Another Brick In The Wall, Part 2
9 One Of These Days
10 The Dark Side of The Moon: Speak To Me
11 Breathe (In The Air)
12 On The Run
13 Time
14 The Great Gig In The Sky
15 Money
16 Us And Them
17 Any Colour You Like
18 Brain Damage
19 Eclipse
20 Encores:Wish You Were Here
21 Comfortably Numb
22 Run Like Hell
Disk 9 von 19
1 1989 / 1990 VENICE CONCERT & KNEBWORTH CONCERT:Shine On You Crazy Diamond, Part 1
2 Learning To Fly
3 Yet Another Movie
4 Round And Around
5 Sorrow
6 The Dogs Of War
7 On The Turning Away
8 Time
9 The Great Gig In The Sky
10 Wish You Were Here
11 Money
12 Another Brick In The Wall, Part 2
13 Comfortably Numb
14 Run Like Hell
15 Fireworks
16 Shine On You Crazy Diamond, Parts 1-5
17 The Great Gig In The Sky
18 Wish You Were Here
19 Sorrow
20 Money
21 Comfortably Numb
22 Run Like Hell
Disk 10 von 19
1 UNRELEASED LIVE FILMS, MUSIC VIDEOS & SCREEN FILMS:Music Videos:Learning To Fly
2 Marooned
3 Take It Back
4 High Hopes
5 Louder Than Words
6 Learning To Fly (alternate version)
7 Bonus Live Tracks from Delicate Sound Of Thunder:Yet Another Movie
8 Round And Around
9 A New Machine Part 1
10 Terminal Frost
11 A New Machine Part 2
12 Tour Rehearsal 1994:A Great Day for Freedom Version 1
13 A Great Day for Freedom Version 2
14 Lost for Words
15 Concert Screen Films 1987:Signs of Life
16 Learning To Fly
17 The Dogs of War
18 One Of These Days
19 Speak To Me
20 On The Run
21 Us And Them
22 Money
23 Brain Damage + Eclipse
24 Concert Screen Films 1994:Shine On You Crazy Diamond, Parts 1-4, 7
25 Speak To Me
26 Time
27 The Great Gig In The Sky
28 Money
29 Us And Them (Black & White)
30 Us And Them (Colour)
31 Brain Damage + Eclipse - North American dates
32 Brain Damage + Eclipse - European dates
33 Brain Damage - Earls Court, London dates
34 Wish You Were (Rock & Roll Hall Of Fame Induction):Wish You Were Here with Billy Corgan
Disk 11 von 19
1 DOCUMENTARIES AND UNRELEASED MATERIAL:Arnold Layne (Live at Syd Barrett Tribute 2007)
2 A Momentary Lapse of Reason - Album Cover Photo Shoot
3 The Division Bell heads album cover photography (Ely, Cambridgeshire, UK)
4 Pulse TV Ad 1995
5 The Endless River film By Ian Emesdio:SIDE 1-Things Left Unsaid
6 It's What We Do
7 Ebb and Flow
8 SIDE 2-Sum
9 Skins
10 Unsung
11 Anisina
12 SIDE 3-The Lost Art of Conversation
13 On Noodle Street
14 Night Light
15 Allons-y (1)
16 Autumn '68
17 Allons-y (2)
18 Talkin' Hawkin'
19 SIDE 4-Calling
20 Eyes to Pearls
21 Surfacing
22 Louder Than Words
23 A Momentary Lapse of Reason cover shoot interview with David Gilmour and Storm Thorgerson
24 The Division Bell Airships 1994
25 Behind The Scenes - The Division Bell Tour
26 Arnold Layne Rehearsal (Syd Barrett tribute 2007)
27 The Endless River - Launch Event 2014
28 The Endless River EPK 2014
Disk 12 von 19
1 2019 DELICATE SOUND OF THUNDER RESTORED & RE-MIXED:Shine On You Crazy Diamond, Parts 1-5
2 Signs Of Life
3 Learning To Fly
4 Sorrow
5 The Dogs Of War
6 On The Turning Away
7 One Of These Days
8 Time
9 On The Run
10 The Great Gig In The Sky
11 Wish You Were Here
12 Us And Them
13 Money
14 Comfortably Numb
15 One Slip
16 Run Like Hell
Disk 13 von 19
1 2019 PULSE RESTORED & RE-EDITED:Shine On You Crazy Diamond, Parts 1-5, 7
2 Learning To Fly
3 High Hopes
4 Take It Back
5 Coming Back To Life
6 Sorrow
7 Keep Talking
8 Another Brick In The Wall, Part 2
9 One Of These Day
10 The Dark Side of The Moon:Speak To Me
11 Breathe (In The Air)
12 On The Run
13 Time
14 The Great Gig In The Sky
15 Money
16 Us And Them
17 Any Colour You Like
18 Brain Damage
19 Eclipse
20 Encores:Wish You Were Here
21 Comfortably Numb
22 Run Like Hell
Disk 14 von 19
1 1989/1990 VENICE CONCERT & KNEBWORTH CONCERT:Shine On You Crazy Diamond, Part 1
2 Learning To Fly
3 Yet Another Movie
4 Round And Around
5 Sorrow
6 The Dogs Of War
7 On The Turning Away
8 Time
9 The Great Gig In The Sky
10 Wish You Were Here
11 Money
12 Another Brick In The Wall, Part 2
13 Comfortably Numb
14 Run Like Hell
15 Fireworks
16 Shine On You Crazy Diamond, Parts 1-5
17 The Great Gig In The Sky
18 Wish You Were Here
19 Sorrow
20 Money
21 Comfortably Numb
22 Run Like Hell
Disk 15 von 19
1 UNRELEASED LIVE FILMS, MUSIC VIDEOS & SCREEN FILMS:Music Videos:Learning To Fly
2 Marooned
3 Take It Back
4 High Hopes
5 Louder Than Words
6 Learning To Fly (alternate version)
7 Bonus Live Tracks from Delicate Sound Of Thunder:Yet Another Movie
8 Round And Around
9 A New Machine Part 1
10 Terminal Frost
11 A New Machine Part 2
12 Tour Rehearsal 1994:A Great Day for Freedom Version 1
13 A Great Day for Freedom Version 2
14 Lost for Words
15 Concert Screen Films 1987:Signs of Life
16 Learning To Fly
17 The Dogs of War
18 One Of These Days
19 Speak To Me
20 On The Run
21 Us And Them
22 Money
23 Brain Damage + Eclipse
24 Concert Screen Films 1994:Shine On You Crazy Diamond, Parts 1-4, 7
25 Speak To Me
26 Time
27 The Great Gig In The Sky
28 Money
29 Us And Them (Black & White)
30 Us And Them (Colour)
31 Brain Damage + Eclipse - North American dates
32 Brain Damage + Eclipse - European dates
33 Brain Damage - Earls Court, London dates
34 Wish You Were (Rock & Roll Hall Of Fame Induction):Wish You Were Here with Billy Corgan
Disk 16 von 19
1 DOCUMENTARIES AND UNRELEASED MATERIAL:Arnold Layne (Live at Syd Barrett Tribute 2007)
2 A Momentary Lapse of Reason - Album Cover Photo Shoot
3 The Division Bell heads album cover photography (Ely, Cambridgeshire, UK)
4 Pulse TV ad 1995
5 The Endless River film By Ian Emes:SIDE 1-Things Left Unsaid
6 It's What We Do
7 Ebb and Flow
8 SIDE 2-Sum
9 Skins
10 Unsung
11 Anisina
12 SIDE 3-The Lost Art of Conversation
13 On Noodle Street
14 Night Light
15 Allons-y (1)
16 Autumn '68
17 Allons-y (2)
18 Talkin' Hawkin'
19 SIDE 4-Calling
20 Eyes to Pearls
21 Surfacing
22 Louder Than Words
23 A Momentary Lapse of Reason cover shoot interview with David Gilmour and Storm Thorgerson
24 The Division Bell Airships 1994
25 Behind The Scenes - The Division Bell Tour
26 Arnold Layne Rehearsal (Syd Barrett tribute 2007)
27 The Endless River - Launch Event 2014
28 The Endless River EPK 2014
Disk 17 von 19
1 Arnold Lane
Disk 18 von 19
1 Lost For Words
Disk 19 von 19