Nick Cave & The Bad Seeds: B-Sides & Rarities (Part I & II) (180g) (Limited Deluxe Box Set)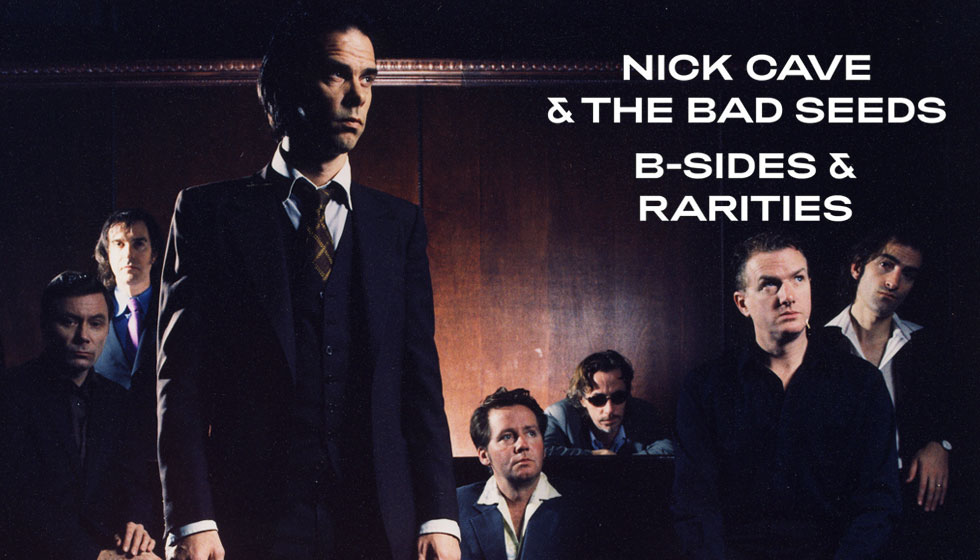 Neue und alte Raritäten
Vor 16 Jahren veröffentlichten Nick Cave & The Bad Seeds ihre erste Raritätensammlung »B-Sides & Rarities«, die sich den Anfängen der australischen Rockikonen widmet.

2021 legen sie die Kollektion nicht nur neu auf, sie setzen sie mit »B-Sides & Rarities (Part II)« außerdem fort.

Nachdem sich Teil eins den Anfängen der Band widmete, wirft Teil zwei einen Blick auf die letzten Jahre.

B-Sides & Rarities (Part I & II) (180g) (Limited Deluxe Box Set)
7 LPs
LP (Long Play)
Die gute alte Vinyl - Langspielplatte.

Vinyl liefern wir innerhalb Deutschlands immer portofrei.
Label: BMG Rights, 2005
Bestellnummer:

10695524

Erscheinungstermin: 22.10.2021
Eine seltsame und schöne Sammlung verlorener Songs
Nick Cave ist ein vielbeschäftigter Mann. Erst Anfang 2021 veröffentlichte er mit »Carnage« ein Kollaborationsalbum mit Warren Ellis, 2020 kam sein Solokonzertalbum »Idiot Prayer«, 2019 seine letzte Bad-Seeds-Platte »Ghosteen«.

2021 steht mit »B-Sides & Rarities« jetzt auch noch eine besondere Retrospektive ins Haus.

Bereits 2005 erschien die erste Sammlung von B-Seiten, Outtakes und Raritäten. Sie wird jetzt als »B-Sides & Rarities Part I« neu aufgelegt – auf drei CDs im Digipak mit 56 seltenen Tracks von 1988 bis 2005, zusammengestellt von Mick Harvey.

Nick Cave zum Album: »Ich mochte die originalen ›B-Sides & Rarities‹ immer mehr als alle unsere anderen Alben. Es ist das einzige, dem ich gerne zuhöre. Es wirkt entspannter, stellenweise sogar ein bisschen unsinnig, aber mit einigen schönen Songs durchweg. Auch die Kleinheit bestimmter Songs hat etwas, das ihrem ursprünglichen Geist näherkommt.«

Zudem erscheint mit »B-Sides & Rarities Part II« 2021 eine Fortsetzung mit 27 weiteren B-Seiten und Outtakes aus den Jahren 2006 bis 2020, darunter erste Aufnahmen von »Skeleton Tree«, »Girl In Amber« und »Bright Horses«. Alle Stücke wurden für die Kompilation von Cave und Bandkollege Warren Ellis zusammengetragen. Außerdem hat es mit »Vortex« ein bislang unveröffentlichter Song ins Tracklisting geschafft. Das Lied schrieben die beiden Musiker bereits im Jahr 2006 mit Martin Casey und Jim Sclavunos.

»›B-Sides & Rarities Part II‹ setzt diese seltsame und schöne Sammlung verlorener Songs von The Bad Seeds fort. Ich liebe die letzte Seite der letzten Scheibe, weil sie die kleinen und zerbrechlichen Anfänge einiger meiner Lieblingssongs von Bad Seeds offenbart. ›Waiting For You‹ komplett mit einem bizarren ›Canning Factory‹-Rhythmustrack, einem wunderschönen ›Life Per Se‹, das für ›Skeleton Tree‹ zu traurig erachtet wird, und ›Earthlings‹, das manche für den besten Track der »Ghosteen«-Sessions halten«, so Cave.

»B-Sides & Rarities Part II« gibt es wahlweise auf Doppel-LP oder Doppel-CD sowie als Deluxe-Doppel-CD im Rigid Slipcase. Ein Highlight ist auch das Limited Deluxe Box Set »B-Sides & Rarities (Part I & II)«, das beide Teile der Raritätensammlung mit insgesamt 83 Tracks auf sieben LPs vereint.

Limitierte Auflage, 83 Titel, 180g 7 LP Deluxe Boxset (erstmals Teil I & II auf Vinyl)
Rezensionen
»Eine eindrucksvolle Werkschau.​« (Audio, Dezember 2021)
Die Hörproben gehören zum Artikel Nick Cave & The Bad Seeds: B-Sides & Rarities (Part II) (CD). Das Tracklisting kann bei diesem Artikel ggf. abweichen.
1 Deanna
2 The Mercy Seat
3 City of Refuge
4 The Moon Is in the Gutter
5 The Six Strings That Drew Blood
6 Rye Whiskey
7 Running Scared
8 Black Betty
9 Scum
10 The Girl at the Bottom of My Glass
11 The Train Song
12 Cocks N Asses
13 Blue Bird
1 Helpless
2 God s Hotel
3 (I ll Love You) Till the End of the World
4 Cassiel s Song
5 Tower of Song
6 Rye Whiskey
7 What Can I Give You?
8 What a Wonderful World
9 Rainy Night in Soho
10 Lucy (Version #2)
11 Jack the Ripper
1 The Ballad of Robert Moore and Betty Coltrane
2 The Willow Garden
3 King Kong Kitchee Kitchee Ki-mi-o
4 Knoxville Girl
5 There s No Night Out in the Jail
6 That s What Jazz Is to Me
7 Where the Wild Roses Grow
8 O Malley s Bar Pt. 1
9 O Malley s Bar Pt. 2
10 O Malley s Bar Pt. 3
11 O Malley s Bar Reprise
1 Red Right Hand
2 Time Jesum Transeuntum Et Non Riverentum
3 Little Empty Boat
4 Right Now I m A-roaming
5 Come Into My Sleep
6 Black Hair
7 Babe I Got You Bad
8 Sheep May Safely Graze
9 Opium Tea
1 Grief Came Riding
2 Bless His Ever Loving Heart
3 Good Good Day
4 Little Janey s Gone
5 I Feel So Good
6 Shoot Me Down
7 Swing Low
8 Little Ghost Song
9 Everything Must Converge
10 Nocturama
11 She s Leaving You
12 Under This Moon
1 Hey Little Firing Squad
2 Fleeting Love
3 Accidents Will Happen
4 Free to Walk (With Debbie Harry)
5 Avalanche
6 Vortex
7 Needle Boy
8 Lightning Bolts
9 Animal X
10 Give Us a Kiss
11 Push the Sky Away (With the Melbourne Symphony Orchestra)
1 First Skeleton Tree
2 King Sized Nick Cave Blues
3 Opium Eyes
4 Big Dream (With Sky)
5 Instrumental #33
6 Hell Villanelle
7 Euthanasia
8 Life Per Se
9 Steve McQueen
10 First Bright Horses
11 First Girl in Amber
12 Glacier
13 Heart That Kills You
14 First Waiting for You
15 Sudden Song
16 Earthlings