Mark Knopfler: The Studio Albums 2009-2018 (Limited Edition)
The Studio Albums 2009-2018 (Limited Edition)
9 LPs
LP (Long Play)
Die gute alte Vinyl - Langspielplatte.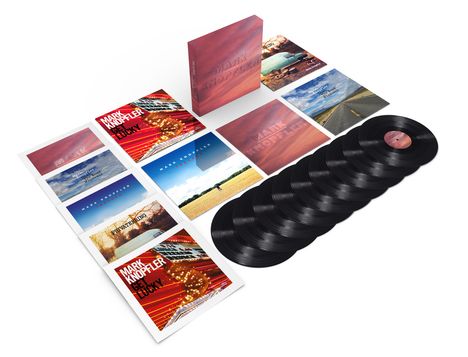 Artikel noch nicht erschienen, voraussichtlicher Liefertermin ist der 7.10.2022.
Sie können den Titel schon jetzt bestellen. Versand an Sie erfolgt gleich nach Verfügbarkeit.
Bestellmenge limitiert: Bei diesem Artikel nur 1 Exemplar pro Kunde!

Vinyl liefern wir innerhalb Deutschlands immer portofrei.
Label: Mercury, 2009-2018
Bestellnummer:

11012469

Erscheinungstermin: 7.10.2022
Weitere Ausgaben von The Studio Albums 2009-2018
Gesamtverkaufsrang: 74
Verkaufsrang in LPs: 29
Nach der Veröffentlichung von "The Studio Albums 1996-2007" im Oktober 2021 ist dies eine zweite Sammlung von Mark Knopflers Studioalben, darunter "Get Lucky" (2009), "Privateering" (2012), "Tracker" (2015) und "Down The Road Wherever" (2018) sowie eine Sammlung von Studio-B-Seiten und Bonustracks und zwei bisher unveröffentlichte Songs - "Back In The Day" und "Precious Voice From Heaven". Der Ton wurde von Original-Mastering-Ingenieur Bob Ludwig bei Gateway Mastering betreut, der Vinylschnitt von Bernie Grundman.
LP
1 Border Reiver
2 Hard Shoulder
3 You Can't Beat The House
4 Before Gas and TV
5 Monteleone
6 Cleaning My Gun
7 The Car Was The One
8 Remembrance Day
LP
1 Get Lucky
2 So Far From The Clyde
3 Piper To The End
4 Early Bird
5 Time in the Sun
6 Pulling Down the Ride
7 Home Boy
8 Good as Gold
LP
1 Redbud Tree
2 Haul Away
3 Don't Forget Your Hat
4 Privateering
5 Miss You Blues
6 Corned Beef City
7 Go, Love
8 Hot Or What
9 Yon Two Crows
10 Seattle
LP
1 Kingdom Of Gold
2 Got To Have Something
3 Radio City Serenade
4 I Used To Could
5 Gator Blood
6 Kingdom Of Gold
7 Got To Have Something
8 Radio City Serenade
9 I Used To Could
10 Gator Blood
LP
1 Laughs And Jokes And Drinks And Smokes
2 Basil
3 River Towns
4 Skydiver
5 Mighty Man
6 Broken Bones
7 Long Cool Girl
LP
1 Lights Of Taormina
2 Silver Eagle
3 Beryl
4 Wherever I Go
5 .38 Special
6 My Heart Has Never Changed
7 Terminal of Tribute To
8 Heart of Oak
9 Time Will End All Sorrow
10 Oklahoma Ponies
LP
1 Trapper Man
2 Back On The Dance Floor
3 Nobody's Child
4 Nobody Does That
5 Good On You Son
6 Floating Away
7 One Song At A Time
8 Heavy Up
LP
1 Slow Learner
2 Just A Boy Away From Home
3 My Bacon Roll
4 When You Leave
5 Matchstick Man
6 Drover's Road
7 Every Heart In The Room
8 Don't Suck Me In
9 Sky and Water
LP
1 Occupation Blues
2 River of Grog
3 Follow the Ribbon
4 Your Perfect Song
5 Precious Voice From Heaven (Previously unreleased)
6 Back In The Day (Previously unreleased)
7 Rear View Mirror
8 Pale Imitation