Keith Richards & The X-Pensive Winos: Live At The Hollywood Palladium (Mediabook)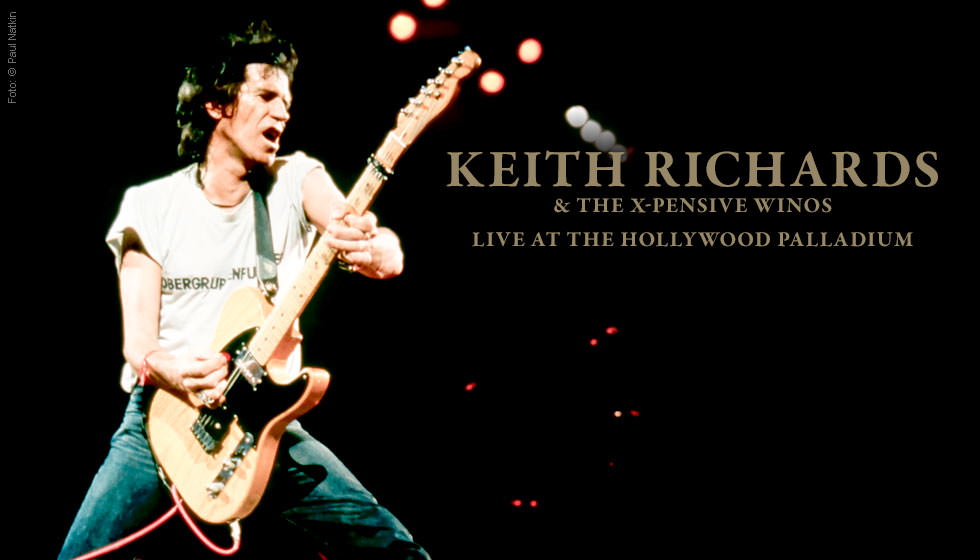 Nach Differenzen
Aufgrund verschiedener Differenzen legten die Rolling Stones in den 1980er-Jahren eine Pause ein und widmeten sich stattdessen anderen Projekten.

Keith Richards stellte 1988 die Band X-Pensive Winos zusammen, mit denen er zwei Studio- und eine Livepatte veröffentlichte.

»Live At The Hollywood Palladium« heißt das Konzertalbum, dass es 2020 endlich wieder auf CD, LP und als gigantisches Deluxe Box Set gibt.
Live At The Hollywood Palladium (Mediabook)
CD
CD (Compact Disc)
Herkömmliche CD, die mit allen CD-Playern und Computerlaufwerken, aber auch mit den meisten SACD- oder Multiplayern abspielbar ist.

Label: BMG Rights, 1988
Bestellnummer:

10322337

Erscheinungstermin: 20.11.2020
*** digitally remastered
*** Hardcoverbook
Gesamtverkaufsrang: 234
Verkaufsrang in CDs: 125
Das Konzertalbum neu aufgelegt
Nachdem im letzten Jahr mit »Talk is Cheap« bereits das Solodebüt von Keith Richards neu aufgelegt wurde, dürfen sich Fans des Rolling-Stones-Gitarristen 2020 auch noch über das Reissue des lange vergriffenen Konzertalbums »Live At The Hollywood Palladium« freuen.

Von 1988 bis 1993 waren die X-Pensive Winos die Band von Richards. 1991 veröffentlichten sie ihr erstes und einziges Livealbum »Live At The Hollywood Palladium«. Der Mitschnitt entstand am 15. Dezember 1988 im Rahmen der Talk-Is-Cheap-Tour im Hollywood Palladium in Los Angeles.

Jetzt gibt es das Ganze wieder auf CD, als klassisch-schwarze Doppel-LP, als limitierte Doppel-LP auf Red Vinyl und als Deluxe Box Set mit Doppel-LP, 10ʺ-Single, CD, DVD, einem Buch und spannenden Extras.

Endlich wieder erhältlich: das legendäre Livealbum von Keith Richards & The X-Pensive Winos. Hier ist »Live At The Hollywood Palladium«.


1 Take It So Hard
2 How I Wish
3 I Could Have Stood You Up
4 Too Rude
5 Make No Mistake
6 Time Is On My Side
7 Big Enough
8 Whip It Up
9 Locked Away
10 Struggle
11 Happy
12 Connection
13 Rockawhile