Johnny Cash: Platinum Collection (White Vinyl)
Platinum Collection (White Vinyl)
3 LPs
LP (Long Play)
Die gute alte Vinyl - Langspielplatte.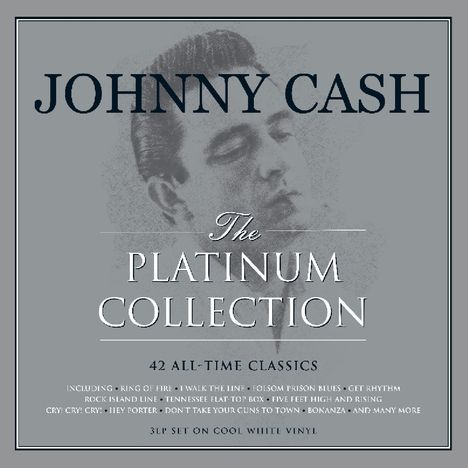 Vinyl liefern wir innerhalb Deutschlands immer portofrei.
Label: Not Now
Bestellnummer:

8945841

Erscheinungstermin: 20.5.2022
*** Gatefold Cover
Dieses 3-LP-Set enthält die besten Johnny Cash-Songs von seinen Sun- Aufnahmen bis zu seinen frühen Jahren bei Columbia Records. Journalisten und Kritiker ordnen Künstler normalerweise gerne in Kategorien ein, aber die Vielseitigkeit von Johnny Cash muss ihnen im Laufe der Jahre einige Schwierigkeiten bereitet haben. Diese zeigt sich in dieser Zusammenstellung.
LP
1 I walk the line
2 Folsom prison blues
3 Cry! cry! cry!
4 Home of the blues
5 Katy, too
6 I got stripes
7 Seasons of my heart
8 Ring of fire (live)
9 Delia's gone
10 The wreck of old '97
11 Five feet high and rising
12 Straight a's in love
13 The ways of a woman in love
14 What do I care
LP
1 Rock island line
2 Get rhythm
3 Hey, good lookin'
4 Don't take your guns to town
5 Hey porter
6 You're the nearest thing to heaven
7 All over again
8 Ballad of a teenage queen
9 Big river
10 Second honeymoon
11 Come in stranger
12 I want to go home
13 Oh lonesome me
14 Bonanza!
LP
1 The rebel-Johnny Yuma
2 Loading coal
3 Guess things happen that way
4 It's just about time
5 I just thought you'd like to know
6 Honky tonk girl
7 Luther played the boogie
8 Busted
9 Tennessee flat-top box
10 Down the street to 301
11 I love you because
12 Country boy
13 In them old cottonfields back home
14 In the jailhouse now