Johnny Cash: Five Classic Albums Plus (Second Set)
Five Classic Albums Plus (Second Set)
2 CDs
CD (Compact Disc)
Herkömmliche CD, die mit allen CD-Playern und Computerlaufwerken, aber auch mit den meisten SACD- oder Multiplayern abspielbar ist.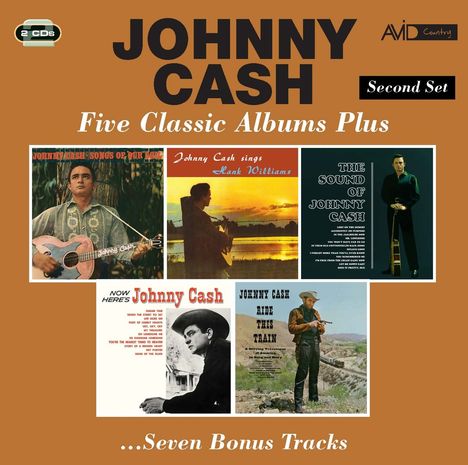 Label: Avid
Bestellnummer:

10915513

Erscheinungstermin: 6.5.2022
AVID Country setzt seine Five Classic Albums-Reihe mit einer zweiten neu gemasterten 2CD-Veröffentlichung von Johnny Cash fort, komplett mit Original-Artwork & Liner Notes.

»Songs Of Our Soil«; »Sings Hank Williams«; »The Sound Of Johnny Cash«; »Now Here's Johnny Cash« und »Ride The Train«.
Disk 1 von 2 (CD)
1 Drink to Me
2 Five Feet High and Rising
3 The Man On the Hill
4 Hank and Joe and Me
5 Clementine
6 The Great Speckled Bird
7 I Want to Go Home
8 The Caretaker
9 Old Apache Squaw
10 Don't Step On Mother's Roses
11 My Grandfather's Clock
12 It Could Be You (Instead of Him)
13 I Can't Help It
14 You Win Again
15 Hey Good Lookin'
16 I Could Never Be Ashamed of You
17 Next in Line
18 Straight A's in Love
19 Folsom Prison Blues
20 Give My Love to Rose
21 I Walk the Line
22 I Love You Because
23 Come in Stranger
24 Mean Eyed Cat
25 Lost On the Desert
26 Accidentally On Purpose
27 In the Jailhouse Now
28 Mr. Lonesome
29 You Won't Have Far to Go
30 In Them Old Cottonfields Back Home
31 Get Rhythm
32 What Do I Care
33 All Over Again
Disk 2 von 2 (CD)
1 Della's Gone
2 I Forgot More Than You'll Ever Know
3 You Remembered Me
4 I'm Free from the Chain Gang Now
5 Let Me Down Easy
6 Sing It Pretty, Sue
7 Sugartime
8 Down the Street to 301
9 Life Goes On
10 Port of Lonely Hearts
11 Cry Cry Cry
12 My Treasure
13 Oh Lonesome Me
14 So Doggone Lonesome
15 You're the Nearest Thing to Heaven
16 Story of a Broken Heart
17 Hey Porter
18 Home of the Blues
19 The Rebel - Johnny Yuma
20 Remember the Alamo
21 The Ballad of Boot Hill
22 Lorena
23 Loading Coal
24 Slow Rider
25 Lumberjack
26 Dorraine of Ponchartrain
27 Going to Memphis
28 When Papa Played the Dobro
29 Boss Jack
30 Old Doc Brown