Filmmusik: Beauty And The Beast
Filmmusik: Beauty And The Beast
CD
CD (Compact Disc)
Herkömmliche CD, die mit allen CD-Playern und Computerlaufwerken, aber auch mit den meisten SACD- oder Multiplayern abspielbar ist.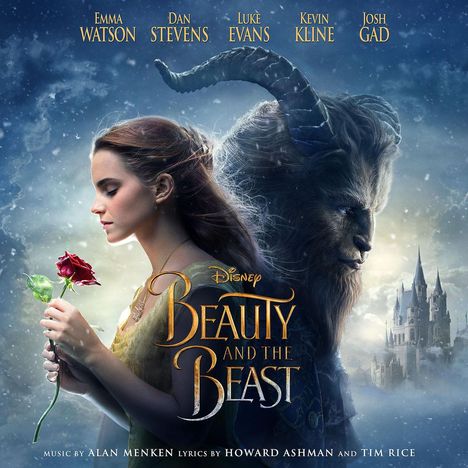 umgehend lieferbar, Bestand beim Lieferanten vorhanden
Label: Walt Disney, 2017
Bestellnummer:

6085787

Erscheinungstermin: 10.3.2017
Weitere Ausgaben von Filmmusik: Beauty And The Beast
*** Originalmusik von Alan Menken zum gleichnamigen Film
»Die Schöne und das Biest« ist eine der erfolgreichsten Geschichten aus dem Hause Disney. 1991 erschien der Zeichentrickfilm und gewann 1992 jeweils einen Oscar, sowie jeweils einen Golden Globe für den Besten Song und die Beste Filmmusik. Bis 2010 war es der einzige animierte Film der jemals für einen Oscar in der Kategorie Bester Film nominiert wurde. Bereits 1994 feierte das gleichnamige Musical zum Filmklassiker am Broadway Premiere.

Nun startet endlich die langerwartete Real-Verfilmung in den Kinos, mit Emma Watson in der Hauptrolle. Der Soundtrack zum Film beinhaltet die neu vertonten Filmsong-Klassiker, als auch ganz neue Songs aus der Feder vom mehrfach ausgezeichneten Komponisten Alan Menken. Zum Staraufgebot gehören unter anderem John Legend und Ariana Grande mit dem Duett »Beauty And The Beast«, Celine Dion mit »How Does A Moment Last Forever« und Josh Groban mit »Evermore«.


Disk 1 von 1 (CD)
1 Overture (From "Beauty and the Beast"/Score)
2 Main Title: Prologue Pt. 1 (From "Beauty and the Beast"/Score)
3 Aria (From "Beauty and the Beast"/Soundtrack Version)
4 Main Title: Prologue Pt. 2 (From "Beauty and the Beast"/Score)
5 Belle (From "Beauty and the Beast"/Soundtrack Version)
6 How Does A Moment Last Forever (Music Box) (From "Beauty and the Beast"/Soundtrack Version)
7 Belle (Reprise) (From "Beauty and the Beast"/Soundtrack Version)
8 Gaston (From "Beauty and the Beast"/Soundtrack Version)
9 Be Our Guest (From "Beauty and the Beast"/Soundtrack Version)
10 Days In The Sun (From "Beauty and the Beast"/Soundtrack Version)
11 Something There (From "Beauty and the Beast"/Soundtrack Version)
12 How Does A Moment Last Forever (Montmartre) (From "Beauty and the Beast"/Soundtrack Version)
13 Beauty and the Beast (From "Beauty and the Beast"/Soundtrack Version)
14 Evermore (From "Beauty and the Beast"/Soundtrack Version)
15 The Mob Song (From "Beauty and the Beast"/Soundtrack Version)
16 Beauty and the Beast (Finale) (From "Beauty and the Beast"/Soundtrack Version)
17 How Does A Moment Last Forever (From "Beauty and the Beast"/Soundtrack Version)
18 Beauty and the Beast (From "Beauty and the Beast"/Soundtrack Version)
19 Evermore (From "Beauty and the Beast"/Soundtrack Version)