Emerson, Lake & Palmer: Pictures At An Exhibition (Deluxe Edition)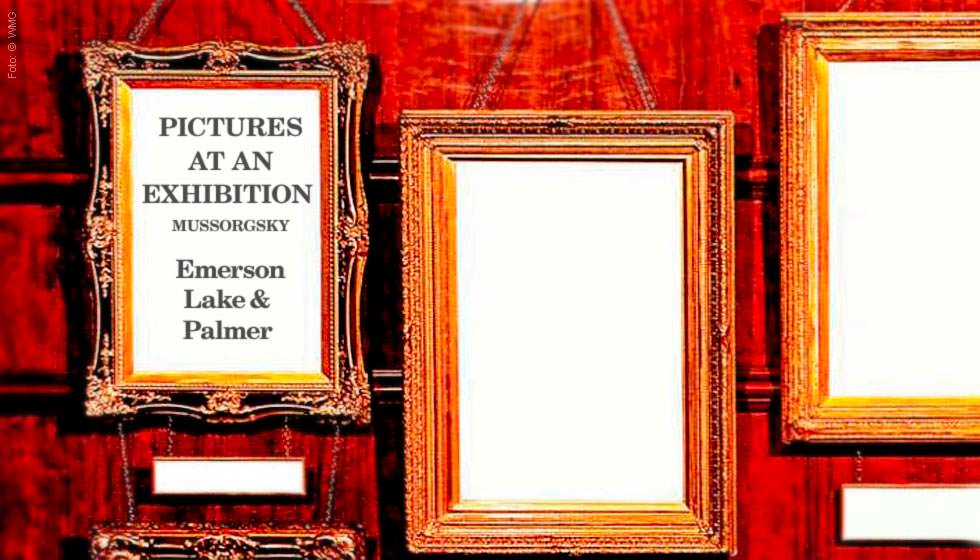 ELP und die Klassik
Emerson, Lake and Palmer gelten als die erste Supergroup des Progressive Rock. Die Band gründete sich bereits vor 46 Jahren und setzte sich aus Mitgliedern von The Nice, King Crimson und Atomic Rooster zusammen. Im März 2016 verstarb Keyboarder Keith Emerson.

Mit »Pictures At An Exhibition« erscheint kurz nach seinem Tod eine remasterte Version des dritten ELP-Longplayers – das legendäre Album, für das sich das Trio wie so oft einer berühmten klassischen Vorlage bediente.

Pictures At An Exhibition (Deluxe Edition)
2 CDs
CD (Compact Disc)
Herkömmliche CD, die mit allen CD-Playern und Computerlaufwerken, aber auch mit den meisten SACD- oder Multiplayern abspielbar ist.
Label: BMG Rights, 1970-72
Bestellnummer:

3768977

Erscheinungstermin: 29.7.2016
Weitere Ausgaben von Pictures At An Exhibition
*** Digibook
* digitally remastered
Gesamtverkaufsrang: 815
Verkaufsrang in CDs: 322
»Pictures At An Exhibition« 2016 neu gemastert
»Pictures At An Exhibition« ist das dritte Album der britischen Progressive-Rock-Supergroup Emerson, Lake and Palmer. 2016 erscheint der legendäre Longplayer erneut, und zwar als remasterte Version.
Ursprünglich war »Pictures At An Exhibition« bereits 1971 erschienen, nachdem die Band das Album im selben Jahr live in der Newcastle City Hall aufgenommen hatte.
Es handelt sich dabei um eine Neuinterpretation des Klavierzyklus »Bilder einer Ausstellung« des russischen Komponisten Modest Mussorgsky sowie die Zugabe »Nutrocker« – eine Darbietung von Kim Vincent Fowleys rockiger Version des Marsches der Zinnsoldaten aus Tschaikowskys »Nussknacker«. Das Album stieg 1971 bis auf Platz drei der britischen Albumcharts.
Insgesamt umfasst »Pictures At An Exhibition« zwölf Tracks, die für die Wiederveröffentlichung 2016 neu gemastert wurden.
»Pictures At An Exhibition« ist als LP mit originalem Gatefold-Sleeve und Artwork und als CD sowie als Deluxe Edition erhältlich. Diese umfasst sowohl das remasterte Album auf CD sowie eine Bonus-CD mit Liveaufnahmen aus dem Lyceum Theatre in London. Dort wurde das Werk bereits am 9. Dezember 1970 aufgeführt.
Zeitgleich mit »Pictures At An Exhibition« erscheinen auch die Alben
»Emerson, Lake & Palmer«
und
»Tarkus«
als neu gemasterte und erweiterte Versionen.
Ein ganz besonderes Highlight für alle Fans von Emerson, Lake and Palmer. Die 2016 neu gemasterte Version von »Pictures At An Exhibition«.
Rezensionen
»CD1 enthält ein Bonus-Medley, festgehalten am 4.​12.​1972 beim Mar Y Sol Festival in Puerto Rico.​ CD2 wiederum beschert den Auftritt im Londoner Lyceum Ballroom am 9.​12.​1970, inklusive der Tracks "The Barbarian" und "Knife Edge" vom Debütalbum sowie den Nice-Klassiker "Rondo" und eine "Nut Rocker"-Version als Abschlussnummer.​« (Good Times, August/September 2016)
Disk 1 von 2
1 Promenade (Pt. 1Newcastle City Hall 1971 2016 - Remaster)
2 The Gnome (Newcastle City Hall 1971 2016 - Remaster)
3 Promenade (Pt. 2Newcastle City Hall 1971 2016 - Remaster)
4 The Sage (Pt. 3Newcastle City Hall 1971 2016 - Remaster)
5 The Old Castle (Newcastle City Hall 1971 2016 - Remaster)
6 Blues Variation (Newcastle City Hall 1971 2016 - Remaster)
7 Promenade (Pt. 3Newcastle City Hall 1971 2016 - Remaster)
8 The Hut of Baba Yaga (Pt. 1(Newcastle City Hall 1971 2016 - Remaster)
9 The Curse of Baba Yaga (Newcastle City Hall 1971 2016 - Remaster)
10 The Hut of Baba Yaga (Pt. 2(Newcastle City Hall 1971 2016 - Remaster)
11 The Great Gates of Kiev (Newcastle City Hall 1971 2016 - Remaster)
12 Nutrocker (Newcastle City Hall 1971 2016 - Remaster)
13 Pictures At An Exhibition
Disk 2 von 2
1 Promenade (Pt. 1 Live Lyceum Theatre London 1970)
2 The Gnome (Live Lyceum Theatre London 1970)
3 Promenade (Pt. 2 Live Lyceum Theatre London 1970)
4 The Sage (Live Lyceum Theatre London 1970)
5 The Old Castle (Live Lyceum Theatre London 1970)
6 Blues Variation (Live Lyceum Theatre London 1970)
7 Promenade (Pt. 3Live Lyceum Theatre London 1970)
8 The Hut of Baba Yaga (Pt. 1 Live Lyceum Theatre London 1970)
9 The Curse of Baba Yaga (Live Lyceum Theatre London 1970)
10 The Hut of Baba Yaga (Pt. 2 Live Lyceum Theatre London 1970)
11 The Great Gates of Kiev (Live Lyceum Theatre London 1970)
12 The Barbarian (Live Lyceum Theatre London 1970)
13 Knife-Edge (Live Lyceum Theatre London 1970)
14 Rondo (Pt. 3Live Lyceum Theatre London 1970)
15 Nut Rocker (Live Lyceum Theatre London 1970)