Dropkick Murphys: The Gang's All Here (Limited Edition) (Green Vinyl)
The Gang's All Here (Limited Edition) (Green Vinyl)
LP
LP (Long Play)
Die gute alte Vinyl - Langspielplatte.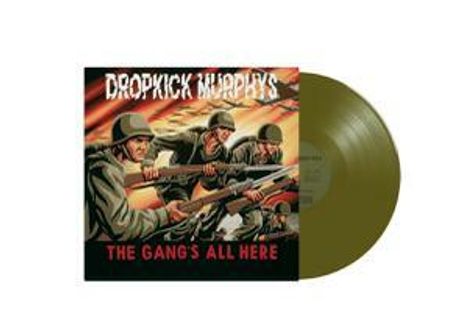 Lieferzeit beträgt mind. 4 Wochen
(soweit verfügbar beim Lieferanten)

Vinyl liefern wir innerhalb Deutschlands immer portofrei.
Label: Epitaph, 1999
Bestellnummer:

10532656

Erscheinungstermin: 16.7.2021
Weitere Ausgaben von The Gang's All Here
»The Gang's All Here« is the second studio album released by American Celtic punk band the Dropkick Murphys in 1999. It is their first album with Al Barr. The album »[took] up the expected us-against-the-world pose«, its songwriting is of a higher standard than contemporary punk albums. A charmfully, mangled, punked-up »Amazing Grace« only adds to fun, wild ride »The Gang's All Here« guarantees. »10 Years of Service« was the album's first and only single and music video from the Album.
Die Hörproben gehören zum Artikel Dropkick Murphys: The Gang's All Here (CD). Das Tracklisting kann bei diesem Artikel ggf. abweichen.
LP
1 Roll call
2 Blood and whiskey
3 Pipebomb on lansdowne
4 Perfect stranger
5 10 years of service
6 Upstarts and broken hearts
7 Devil's brigade
8 Curse of the fallen soul
9 Homeward bound
10 Going strong
11 The fighting 69th
12 Boston asphalt
13 Wheel of misfortune
14 The only road