Def Leppard: Hysteria (30th Anniversary Deluxe Edition)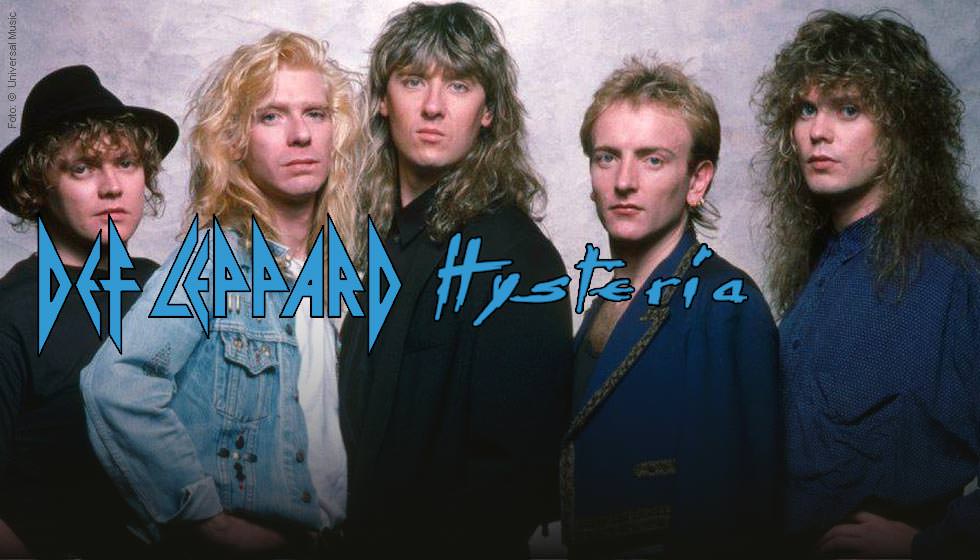 Grund zum Feiern
In den 1980er-Jahren und Anfang der 1990er feierten Def Leppard ihre größten Erfolge. In dieser Zeit erschien auch ihr bislang größter Erfolg: das Album »Hysteria«.

2017 jährt sich der Geburtstag der Platte bereits zum 30. Mal. Und wie könnte man das besser feiern, als mit einer remasterten und erweiterten Neuauflage des Klassikers?

Hier ist sie.
Hysteria (30th Anniversary Deluxe Edition)
3 CDs
CD (Compact Disc)
Herkömmliche CD, die mit allen CD-Playern und Computerlaufwerken, aber auch mit den meisten SACD- oder Multiplayern abspielbar ist.

Label: Mercury, 1987
Bestellnummer:

7426183

Erscheinungstermin: 4.8.2017
*** digitally remastered 2017
*** Digipack
Der Def-Leppard-Klassiker 2017 neu gemastert und mit vielen Extras
Am 3. August 1987 erschien das vierte Def-Leppard-Album »Hysteria«, bis heute der weltweit erfolgreichste Longplayer der britischen Hardrockikonen. Er landete sowohl in Großbritannien als auch in den USA auf Platz eins der Charts, in Deutschland immerhin auf Platz zehn. Zu den erfolgreichsten Singles gehören die Songs »Pour Some Sugar on Me« und »Love Bites«.

2017 legt die Band »Hysteria« erneut auf, und zwar als remasterte Version auf CD und Doppel-LP sowie in zwei verschiedenen erweiterten Jubiläumsboxen.

Die Deluxe-Edition auf drei CDs umfasst neben dem Album die Liveshow von 1988 "In The Round - In Your Face" Live in Denver.

Echte Fans kommen mit der Limited-Super-Deluxe-Edition voll auf ihre Kosten. Diese enthält insgesamt fünf CDs, zwei DVDs, vier Bücher (Story Of, Ein Ross-Halfin-Fotobuch, »Hysteria«-Tourprogramm, Diskografie) und ein »Hysteria«-Tourposter. Die beiden zusätzlichen CDs umfassen eine Audioversion des 1989er-Konzertfilms »Live: In The Round, In Your Face« der auf der »Hysteria«-Tour entstand. Die beiden DVDs zeigen Promovideos und Liveauftritte sowie die »Classic Albums«-Dokumentation.

Der Def-Leppard-Klassiker wir 30. Und wie könnte man das besser feiern als mit dieser remasterten und erweiterten Jubiläumsausgabe von »Hsyteria«.
Disk 1 von 3
1 Women
2 Rocket
3 Animal
4 Love Bites
5 Pour Some Sugar On Me
6 Armageddon It
7 Gods Of War
8 Don't Shoot Shotgun
9 Run Riot
10 Hysteria
11 Excitable
12 Love And Affection
Disk 2 von 3
1 Stagefright (Live In McNichols Sports Arena, Denver 1988)
2 Rock! Rock! (Till You Drop) (Live In McNichols Sports Arena, Denver 1988)
3 Women (Live In McNichols Sports Arena, Denver 1988)
4 Too Late For Love (Live In McNichols Sports Arena, Denver 1988)
5 Hysteria (Live In McNichols Sports Arena, Denver 1988)
6 Gods Of War (Live In McNichols Sports Arena, Denver 1988)
7 Die Hard The Hunter (Live In McNichols Sports Arena, Denver 1988)
Disk 3 von 3
1 Bringin' On The Heartbreak (Live In McNichols Sports Arena, Denver 1988)
2 Foolin' (Live In McNichols Sports Arena, Denver 1988)
3 Armageddon It (Live In McNichols Sports Arena, Denver 1988)
4 Animal (Live In McNichols Sports Arena, Denver 1988)
5 Pour Some Sugar On Me (Live In McNichols Sports Arena, Denver 1988)
6 Phil Solo (Live In McNichols Sports Arena, Denver 1988)
7 Rock Of Ages (Live In McNichols Sports Arena, Denver 1988)
8 Photograph (Live In McNichols Sports Arena, Denver 1988)