David Bowie: Nothing Has Changed: The Very Best Of Bowie (Deluxe-Edition)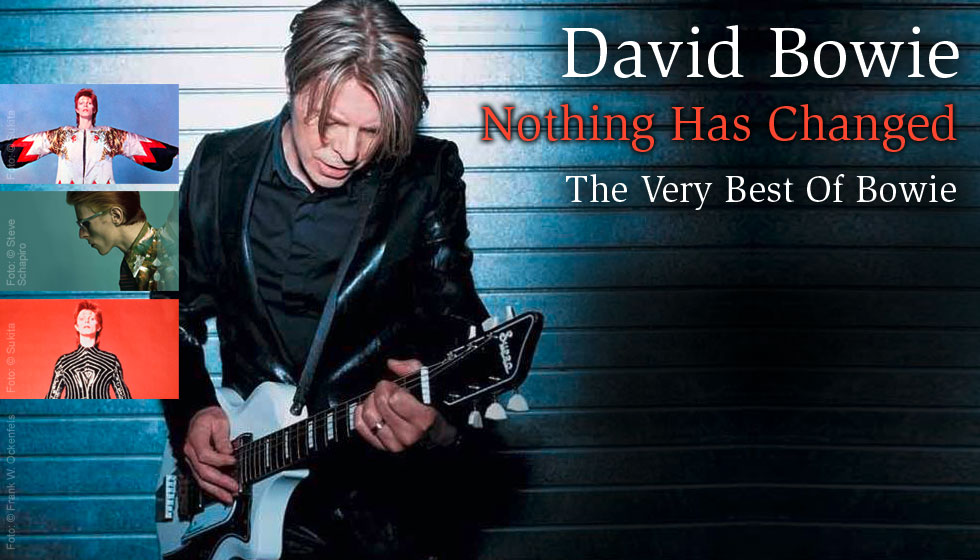 50 Jahre, 59 Songs – das Phänomen David Bowie
David Bowie ist Kunst. Als Pop-Ikone vereint er Fans aus vielen Generationen.

Mit »Nothing Has Changed« erscheint eine Very-Best-Of-Sammlung, die 50 Jahre von 1964 bis 2014 umfasst. Für die Deluxe-Edition hat David Bowie 59 Songs erwählt. Auch ein ganz neuer Titel und Songs, die erstmalig auf CD erscheinen, zählt er zu seinem Gesamtkunstwerk.

»Nothing Has Changed«? Auch wenn sich eigentlich nichts ändert, ändert sich mit den Jahren die Betrachtungsweise auf die Musik vergangener Jahrzehnte. Das geht David Bowie mit seinen Stücken so und wird uns ebenfalls so gehen. Gerade deshalb ist es spannend, sich diese definitive Bowie-Sammlung anzuhören.
Nothing Has Changed: The Very Best Of Bowie (Deluxe-Edition)
3 CDs
CD (Compact Disc)
Herkömmliche CD, die mit allen CD-Playern und Computerlaufwerken, aber auch mit den meisten SACD- oder Multiplayern abspielbar ist.
Derzeit nicht erhältlich.
Lassen Sie sich über unseren eCourier benachrichtigen, falls das Produkt bestellt werden kann.
Weitere Ausgaben von Nothing Has Changed: The Very Best Of Bowie
* Mono/Stereo
»Nothing Has Changed« von David Bowie
Das Gesamtwerk des Gesamtkunstwerks
David Bowie ist nach fünfzig Jahren im Musikbusiness sowie aufgrund seines vielfältigen künstlerischen Schaffens eine Kultur-Ikone unserer Zeit, die wahrhaftig als Gesamtkunstwerk gelten darf. Am Eingang der Bowie-Ausstellung, die vom Victoria and Albert Museum in London aus um die ganze Welt reist, bildeten sich 2014 in Berlin täglich Warteschlangen. Die magnetische Präsenz Bowies und die Fähigkeit, 50 Jahre lang immer wieder neue Wege zu beschreiten, lässt sich aus »Nothing Has Changed« wunderbar heraushören.
»Nothing Has Changed«– nichts hat sich geändert und doch ändert sich alles. Das ist das poetische Konzept, das David Bowie bei der definitiven Ausgabe seiner Songs leitete. Seit 1964 nimmt er unter dem Künstlernamen David Bowie Songs auf. Nun hat er die für ihn Wichtigsten aus der Zeit von 1964 bis 2014 ausgewählt und noch ein paar neue Stücke oben drauf gelegt, obwohl seit seinem letzten Album »The Next Day« (2013) erst ein Jahr vergangen ist.
Für die Werkschau »Nothing Has Changed« gehören aus Bowies Sicht die neuen Stücke demnach fest zum Gesamtwerk hinzu. Neu ist die Single »Sue (or In A Season Of Crime)«, produziert mit Tony Visconti, der ihn schon seit 1967 als Freund und Produzent begleitet. »Sue« wurde mit dem Maria Schneider Orchestra aufgenommen. Der Big-Band-Leaderin Schneider, die auch für das Arrangement verantwortlich zeichnet, und ihrem Orchester standen Saxophonist Donny McCaslin und Posaunist Ryan Keberle als Solisten zur Seite. Insgesamt sind es also durchaus besondere Töne, die Bowie in »Sue« anklingen lässt. Sue erscheint zeitgleich mit der Deluxe-Edition, der Doppel-CD und Doppel-LP als 10-Zoll-Single in limitierter Auflage.
Ein weiterer neuer Song auf »Nothing Has Changed« ist »Let Me Sleep Beside You«, entstanden in den Sessions zum nie offiziell veröffentlichten Album »Toy« (2001/2002). »Your Turn To Drive« und der Ken-Scott-Mix zu »Life On Mars« von 2003 sind erstmals auf CD erhältlich. Hinzu kommt eine 2001 eingespielte Neuaufnahme von »Shadow Man«, einem Outtake von 1971.
Mit der Bowie-Compilation »Nothing Has Changed« fügen sich alles Phasen seiner musikalischen Karriere zum spannenden Gesamtwerk. Mit »Liza Jane« ist seine allererste unter dem Namen Davie Jones with the King Bees veröffentlichte Single ebenso dabei wie der ›Hello Steve Reich Mix‹ von »Love Is Lost« aus 2013.
Mit »Nothing Has Changed« halten wir eine Sammlung in Händen, die David Bowie im Ganzen widerspiegelt. Das erklärt das Artwork der drei Ausgaben. Designer Jonathan Barnbrook wählte für jede Edition ein Foto, das David Bowie beim Blick in einen Spiegel zeigt. Diese archetypische Verbindung – der Blick über den Spiegel verbunden und doch gebrochen – besteht sowohl zwischen David Bowie mit dem Betrachter als auch zwischen den unterschiedlichen und doch zusammengehörigen Editionen.
Zum ersten Mal gibt es mit »Nothing Has Changed« eine definitive, fünf Jahrzehnte umspannende Bowie-Sammlung. Und es gibt keinen Grund, sie nicht zu besitzen.
Folgende Fassungen erscheinen von »Nothing Has Changed«:
Deluxe-Edition mit 59 Songs auf 3 CDs
Doppel-CD mit 39 Songs
Vinyl-Doppel-LP mit 20 Songs
Rezensionen
»In ausgewogen druckvollem (Re-)Mastering inszeniert die Drei-CD-Version eine Parade vielschichtiger Ausnahmesongs aus 50 Jahren: in umgekehrter Chronologie, von heute bis einst.« (stereoplay, Februar 2015)
Disk 1 von 3
1 Sue (or In A Season Of Crime)
2 Where Are We Now?
3 Love Is Lost (Hello Steve Reich Mix by James Murphy for the DFA Edit)
4 The Stars (Are Out Tonight)
5 New Killer Star (radio edit)
6 Everyone Says 'Hi' (edit)
7 Slow Burn (radio edit)
8 Let Me Sleep Beside You
9 Your Turn To Drive
10 Shadow Man
11 Seven (Marius De Vries mix)
12 Survive (Marius De Vries mix)
13 Thursday's Child (radio edit)
14 I'm Afraid Of Americans (V1) (radio edit)
15 Little Wonder (edit)
16 Hallo Spaceboy (PSB Remix) (with The Pet Shop Boys)
17 The Heart's Filthy Lesson (radio edit)
18 Strangers When We Meet (single version)
Disk 2 von 3
1 Buddha Of Suburbia
2 Jump They Say (radio edit)
3 Time Will Crawl (MM remix)
4 Absolute Beginners (single version)
5 Dancing In The Street (with Mick Jagger)
6 Loving The Alien (single remix)
7 This Is Not America (with The Pat Metheny Group)
8 Blue Jean
9 Modern Love (single version)
10 China Girl (single version)
11 Let's Dance (single version)
12 Fashion (single version)
13 Scary Monsters (And Super Creeps) (single version)
14 Ashes To Ashes (single version)
15 Under Pressure (with Queen)
16 Boys Keep Swinging
17 Heroes (single version)
18 Sound And Vision
19 Golden Years (single version)
20 Wild Is The Wind (2010 Harry Maslin Mix)
Disk 3 von 3
1 Fame
2 Young Americans (2007 Tony Visconti mix single edit)
3 Diamond Dogs
4 Rebel Rebel
5 Sorrow
6 Drive-In Saturday
7 All The Young Dudes
8 The Jean Genie (original single mix)
9 Moonage Daydream
10 Ziggy Stardust
11 Starman (original single mix)
12 Life On Mars? (2003 Ken Scott Mix)
13 Oh! You Pretty Things
14 Changes
15 The Man Who Sold The World
16 Space Oddity
17 In The Heat Of The Morning
18 Silly Boy Blue
19 Can't Help Thinking About Me
20 You've Got A Habit Of Leaving
21 Liza Jane