Bruce Springsteen: The Album Collection Vol. 2 (1987 - 1996) (remastered) (Limited-Numbered-Edition)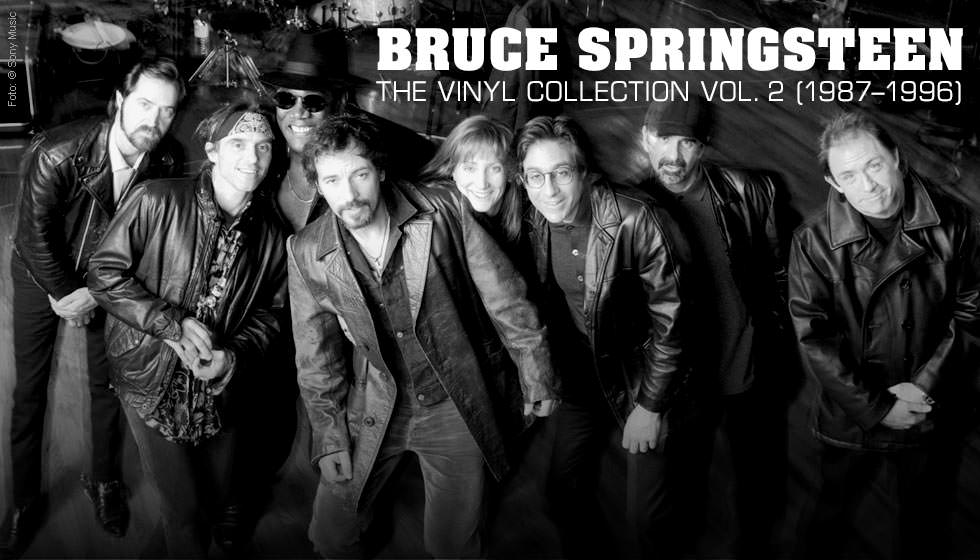 Eine spannende Phase
Bruce Springsteen wirft 2018 einen Blick zurück, und zwar mit einem besonderen Vinyl-Boxset.

»The Vinyl Collection Vol. 2 (1987–1996)« dokumentiert eine besondere Phase seines Schaffens, und zwar mit Alben, die lange nicht auf Patte erhältlich waren, Raritäten, nie veröffentlichtem Material und ein paar spannenden Überraschungen.
The Album Collection Vol. 2 (1987 - 1996) (remastered) (Limited-Numbered-Edition)
8 LPs, 2 Singles 12"
LP (Long Play)
Die gute alte Vinyl - Langspielplatte.
Single 12''
Maxi-Single auf Vinyl. Im Vergleich zu herkömmlichen Singles und LPs haben Maxi-Singles eine breitere Rille, die eine höhere Wiedergabequalität ermöglicht (ausgeprägtere Bässe und Höhen). Eine höhere Grundlautstärke bewirkt auch ein besseres Signal-Rausch-Verhältnis.
Nur noch 1 Stück am Lager. Danach versandfertig innerhalb einer Woche (soweit verfügbar beim Lieferanten)

Vinyl liefern wir innerhalb Deutschlands immer portofrei.
Label: Columbia, 1987-96
Bestellnummer:

8197340

Erscheinungstermin: 18.5.2018
Filmausschnitte/Videotrailer
* Alben: Tunnel Of Love / Human Touch / Lucky Town / In Concert - MTV Plugged / The Goast Of Tom Joad / Chimes Of Freedom / Blood Brothers
Am 18. Mai 2018 veröffentlicht Columbia Records / Legacy Recordings das nummerierte und limitierte Vinyl-Boxset »Bruce Springsteen: The Vinyl Collection Vol. 2 (1987 - 1996)«. Die in der Collection versammelten Alben waren lange Zeit nicht erhältlich und erscheinen nun erstmals in ihrer remasterten Fassung auf Vinyl.
Es handelt sich um die vier Studioalben, die Bruce Springsteen in dieser Schaffensphase veröffentlichte, dazu kommen eine 12"-Version der 1988 erschienenen Live-EP »Chimes of Freedom«, das »MTV Plugged«-Special aus dem Jahr 1993 auf Doppel-LP und die 1996er »Blood Brothers«-EP, die zum ersten Mal überhaupt auf Vinyl auf den Markt kommt. Sämtliche LPs werden im Original-Artwork geliefert, ein 60-seitiges Booklet mit seltenen Fotos, Memorabilia und Zeitungsausschnitten aus den Jahren 1987 - 1996 rundet das Set ab.
Die Alben auf »Bruce Springsteen: The Vinyl Collection Vol. 2 (1987 - 1996)« wurden von dem renommierten Tontechniker Bob Ludwig und Springsteens langjährigem Tonmann Toby Scott anhand der originalen Analog-Masters mittels des aufwendigen »Plangent Process« remastert. Um die Klangqualität zu optimieren, wurden die Songs der Longplayer »Tunnel of Love« (1987) und »Human Touch« (1992) auf Doppel-Vinyl gepresst. Das Boxset besteht somit aus insgesamt 10 Schallplatten.
Alle Studioalben, die auf »Bruce Springsteen: The Vinyl Collection Vol. 2 (1987–1996)« zu finden sind, wurden von der RIAA mit Gold, Platin oder Mehrfach-Platin zertifiziert und die LPs erreichten die Top 5 der Billboard 200. »The Vinyl Collection Vol. 2 (1987 - 1996)« ist der Nachfolger von
»Bruce Springsteen: The Album Collection Vol. 1, 1973 - 1984«
, einem Boxset, das die ersten sieben Studioalben von Bruce Springsteen enthält.
Rezensionen
»Volume 1 deckte im November 2014 die Jahre 1973 bis 1984 auf acht LPs ab. Volume 2 für die Dekade 1987 bis 1996 kommt gleichfalls auf acht Longplayer im Slipcase, die hier noch zwei EPs mit vier beziehungsweise fünf Songs ergänzen. (...) Der Sound kommt durchgehend saftig und kraftvoll.« (Good Times, Juni / Juli 2018)
1 Ain't Got You - Album Version
2 Tougher Than the Rest
3 All That Heaven Will Allow - Album Version
4 Spare Parts - Album Version
5 Cautious Man - Album Version
6 Walk Like A Man - Album Version
1 Tunnel of Love
2 Two Faces - Album Version
3 Brilliant Disguise
4 One Step Up
5 When You're Alone - Album Version
6 Valentine's Day - Album Version
1 Human Touch
2 Soul Driver - Album Version
3 57 Channels (And Nothin' On) - Album Version
4 Cross My Heart - Album Version
5 Gloria's Eyes - Album Version
6 With Every Wish - Album Version
7 Roll of the Dice
1 Real World - Album Version
2 All Or Nothin' At All - Album Version
3 Man's Job
4 I Wish I Were Blind - Album Version
5 The Long Goodbye - Album Version
6 Real Man - Album Version
7 Pony Boy - Album Version
1 Better Days
2 Lucky Town - Album Version
3 Local Hero - Album Version
4 If I Should Fall Behind
5 Leap Of Faith - Album Version
6 The Big Muddy - Album Version
7 Living Proof
8 Book Of Dreams - Album Version
9 Souls Of The Departed - Album Version
10 My Beautiful Reward - Album Version
1 Red Headed Woman - Live at Warner Hollywood Studios, Los Angeles, CA - September 1992
2 Better Days - Live at Warner Hollywood Studios, Los Angeles, CA - September 1992
3 Atlantic City - Live at Warner Hollywood Studios, Los Angeles, CA - September 1992
4 Darkness On the Edge of Town - Live at Warner Hollywood Studios, Los Angeles, CA - September 1992
5 Man's Job - Live at Warner Hollywood Studios, Los Angeles, CA - September 1992
6 Human Touch - Live at Warner Hollywood Studios, Los Angeles, CA - September 1992
7 Lucky Town - Live at Warner Hollywood Studios, Los Angeles, CA - September 1992
1 I Wish I Were Blind - Live at Warner Hollywood Studios, Los Angeles, CA - September 1992
2 Thunder Road - Live at Warner Hollywood Studios, Los Angeles, CA - September 1992
3 Light of Day - Live at Warner Hollywood Studios, Los Angeles, CA - September 1992
4 If I Should Fall Behind - Live at Warner Hollywood Studios, Los Angeles, CA - September 1992
5 Living Proof - Live at Warner Hollywood Studios, Los Angeles, CA - September 1992
6 My Beautiful Reward - Live at Warner Hollywood Studios, Los Angeles, CA - September 1992
1 The Ghost of Tom Joad
2 Straight Time - Album Version
3 Highway 29 - Album Version
4 Youngstown - Album Version
5 Sinaloa Cowboys - Album Version
6 The Line - Album Version
7 Balboa Park - Album Version
8 Dry Lightning - Album Version
9 The New Timer - Album Version
10 Across The Border - Album Version
11 Galveston Bay - Album Version
12 My Best Was Never Good Enough - Album Version
1 Tougher Than The Rest - Live at LA Memorial Sports Arena, Los Angeles, CA - April 1988
2 Be True - Live at Joe Louis Arena, Detroit, MI - March 1988
3 Chimes of Freedom - Live at Stockholms Olympiastadion, Stockholm, SE - July 1988
4 Born to Run - Acoustic Version - Live at LA Memorial Sports Arena, Los Angeles, CA - April 1988
1 Blood Brothers - Alternate Version
2 High Hopes
3 Murder Incorporated - Live at Tramps, New York, NY - February 1995
4 Secret Garden - String Version
5 Without You