The Rolling Stones: Bridges To Bremen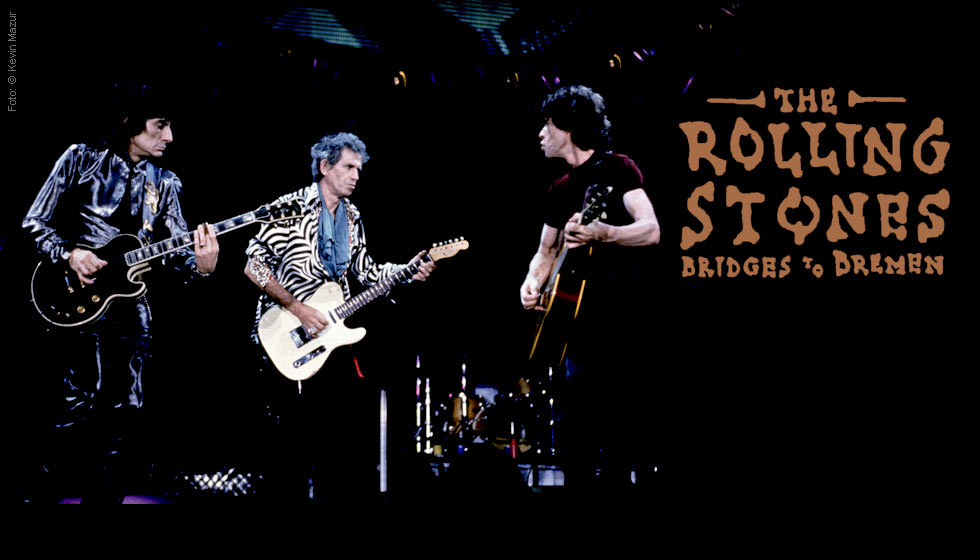 Die Stones erobern Bremen
21 Jahre ist es her, dass die Rolling Stones auf ihrer »Bridges To Babylon«-Tour Halt in der Hansestadt Bremen machten.

2019 widmen Sie diesem besonderen Konzert ein eigenes Album samt Film: Hier ist »Bridges To Bremen«.
Bridges To Bremen
DVD
DVD
Die meisten angebotenen DVDs haben den Regionalcode 2 für Europa und das Bildformat PAL. Wir bieten aber auch Veröffentlichungen aus den USA an, die im NTSC-Format und mit dem Ländercode 1 auf den Markt kommen. Dies ist dann in unseren Artikeldetails angegeben.
Nur noch 1 Stück am Lager. Danach versandfertig innerhalb einer Woche (soweit verfügbar beim Lieferanten)
Label: Eagle, 1998
FSK ab 0 freigegeben
Bestellnummer:

9111909

Erscheinungstermin: 21.6.2019
Rock & Pop
Sound:DSS 5.1/DTS Digital Surround Sound/Dolby Digital 2.0;
Bild:4:3/NTSC;Ländercode:0;Laufzeit:169 Min.
Besser spät als nie
Rolling-Stones-Fans dürfen sich 2019 nicht über zu wenig Output der Band beschweren. Nach ihrem Best-of »Honk«, das im April erschien, kommt jetzt auch noch ein neues Livealbum: Hier ist »Bridges To Bremen«.

Der Titel gibt bereits ein paar Hinweise, um welchen Konzertmitschnitt es sich dabei handelt. Dieser entstand nämlich im Bremer Weserstadion auf ihrer »Bridges To Babylon«-Tour im Jahr 1998, genauer genommen am 2. September.

Sage und schreibe 40.000 Zuschauer waren damals live dabei, als die Rocklegenden Klassiker und Hits wie »(I Can't Get No) Satisfaction«, »Gimme Shelter«, »Sympathy For The Devil«, »Honky Tonk Women«, »Jumpin' Jack Flash« und viele mehr zum Besten gaben. Das gesamte Tracklisting von »Bridges To Bremen« finden Sie im Folgenden.

Als kleines Extra warten zudem vier Songs der Stones-Konzerte auf dem Soldier Field in Chicago 1997.

Der Mitschnitt ist als DVD und Blu-ray, als Set mit DVD bzw. Blu-ray und Doppel-CD sowie als 3-LP-Set erhältlich.

21 Jahre nach der beeindruckenden Show kommen jetzt endlich der Konzertfilm und das Album: »Bridges To Bremen« von The Rolling Stones.


1 (I Can't Get No) Satisfaction (Live At Weserstadion, Bremen / 1998)
2 Let's Spend The Night Together (Live At Weserstadion, Bremen / 1998)
3 Flip The Switch (Live At Weserstadion, Bremen / 1998)
4 Gimme Shelter (Live At Weserstadion, Bremen / 1998)
5 Anybody Seen My Baby? (Live At Weserstadion, Bremen / 1998)
6 Paint It Black (Live At Weserstadion, Bremen / 1998)
7 Saint Of Me (Live At Weserstadion, Bremen / 1998)
8 Out Of Control (Live At Weserstadion, Bremen / 1998)
9 Memory Motel (Live At Weserstadion, Bremen / 1998)
10 Miss You (Live At Weserstadion, Bremen / 1998)
11 Thief In The Night (Live At Weserstadion, Bremen / 1998)
12 Wanna Hold You (Live At Weserstadion, Bremen / 1998)
13 Bridges Interlude (Live At Weserstadion, Bremen / 1998)
14 It's Only Rock 'N' Roll (But I Like It) (Live At Weserstadion, Bremen / 1998)
15 You Got Me Rocking (Live At Weserstadion, Bremen / 1998)
16 Like A Rolling Stone (Live At Weserstadion, Bremen / 1998)
17 Sympathy For The Devil (Live At Weserstadion, Bremen / 1998)
18 Tumbling Dice (Live At Weserstadion, Bremen / 1998)
19 Honky Tonk Women (Live At Weserstadion, Bremen / 1998)
20 Start Me Up (Live At Weserstadion, Bremen / 1998)
21 Jumpin' Jack Flash (Live At Weserstadion, Bremen / 1998)
22 You Can't Always Get What You Want (Live At Weserstadion, Bremen / 1998)
23 Brown Sugar (Live At Weserstadion, Bremen / 1998)
24 Menu / The Rolling Stones / Bridges To Bremen (Live At Weserstadion, Bremen / 1998)
25 Rock And A Hard Place (Live At Soldier Field, Chicago / 1997)
26 Under My Thumb (Live At Soldier Field, Chicago / 1997)
27 All About You (Live At Soldier Field, Chicago / 1997)
28 Let It Bleed (Live At Soldier Field, Chicago / 1997)
Mehr von Eagle