Ayreon: Electric Castle Live And Other Tales (Deluxe Edition)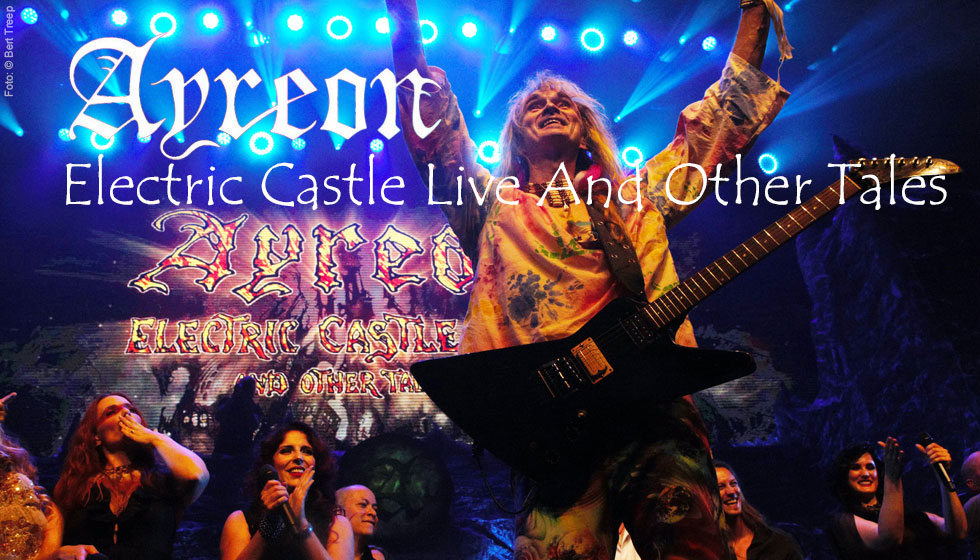 Jubiläumsfeier
Es war ein Livespektakel, eine viertägige Jubiläumsfeier, ein großes Wiedersehen mit alten Bekannten.

Zum 20. Geburtstag ihres Klassikers »Into The Electric Castle« spielten Ayreon letztes Jahr vier Konzerte mit Songs des Albums, weiteren Highlights und spannenden Gästen.

Das beste dieser Perfomances gibt es jetzt mit »Electric Castle Live And Other Tales« in verschiedenen Formaten.

Electric Castle Live And Other Tales (Deluxe Edition)
2 CDs, 1 DVD
CD (Compact Disc)
Herkömmliche CD, die mit allen CD-Playern und Computerlaufwerken, aber auch mit den meisten SACD- oder Multiplayern abspielbar ist.
DVD
Die meisten angebotenen DVDs haben den Regionalcode 2 für Europa und das Bildformat PAL. Wir bieten aber auch Veröffentlichungen aus den USA an, die im NTSC-Format und mit dem Ländercode 1 auf den Markt kommen. Dies ist dann in unseren Artikeldetails angegeben.
Label: Mascot, 2019
FSK ab 6 freigegeben
Bestellnummer:

9666485

Erscheinungstermin: 27.3.2020
DVD:Sound:Dolby Digital 2.0/DSS 5.1;Bild:16:9/NTSC;Ländercode:All;
Laufzeit:155 Min.
*** Digisleeve
Ein Klassiker und andere Geschichten
Vor mehr als 20 Jahren veröffentlichten Ayreon ihr berühmtes Album »Into The Electric Castle«. Zum Jubiläum brachte Arjen Anthony Lucassen die Songs im letzten Jahr auf die Bühne.

Mit »Electric Castle Live And Other Tales« gibt es jetzt den Mitschnitt in Bild und Ton.

An insgesamt vier Nächten wurden die Songs im niederländischen Tilburg wieder aufgeführt. Mastermind Lucassen wurde dabei von einigen Sängern und Musikern des Originalalbums von 1998 unterstützt, darunter Thijs van Leer, Damian Wilson, Edward Reekers und Anneke van Giersbergen. Weitere Gastaufritte gab es von Simone Simons (Epica), John Jaycee Cuijpers (Praying Mantis) und viele mehr.

Aber der Titel würde nicht »Electric Castle Live And Other Tales« heißen, wenn neben den Electric-Castle-Songs nicht auch noch andere »Geschichten« warten würden. Dazu gehören Stücke von anderen Lucassen-Projekten wie The Gentle Storm, Ambeon, Stream Of Passion, Guilt Machine, Star One und seinem Soloalbum. Ein Marillion-Cover gibt es ebenfalls.

Ein mitreißendes Livealbum mit Konzertfilm, ein Progressive-Rock-Klassiker im neuen Gewand und weitere Highlights: Hier ist »Electric Castle Live And Other Tales« von Ayreon.


Disk 1 von 3
1 Welcome to the New Dimension
2 Isis and Osiris
3 Amazing Flight
4 Time Beyond Time
5 The Decision Tree
6 Tunnel of Light
7 Across the Rainbow Bridge
8 The Garden of Emotions
9 Valley of the Queens
10 The Castle Hall
11 Tower of Hope
12 Cosmic Fusion
Disk 2 von 3
1 Robby Valentine
2 The Mirror Maze
3 Evil Devolution
4 The Two Gates
5 Forever of the Stars
6 Another Time, Another Space
7 Shores of India
8 Ashes
9 Out in the Real World
10 Twisted Coil
11 Kayleigh
12 Pink Beatles in a Purple Zeppelin
13 Songs of the Ocean
Disk 3 von 3
1 Welcome to the New Dimension
2 Isis and Osiris
3 Amazing Flight
4 Time Beyond Time
5 The Decision Tree
6 Tunnel of Light
7 Across the Rainbow Bridge
8 The Garden of Emotions
9 Valley of the Queens
10 The Castle Hall
11 Tower of Hope
12 Cosmic Fusion
13 Robby Valentine
14 The Mirror Maze
15 Evil Devolution
16 The Two Gates
17 Forever of the Stars
18 Another Time, Another Space
19 Shores of India
20 Ashes
21 Out in the Real World
22 Twisted Coil
23 Kayleigh
24 Pink Beatles in a Purple Zeppelin
25 Speech Arjen And Joost
26 Behind The Scenes / Interview