Amy Winehouse: At The BBC (180g)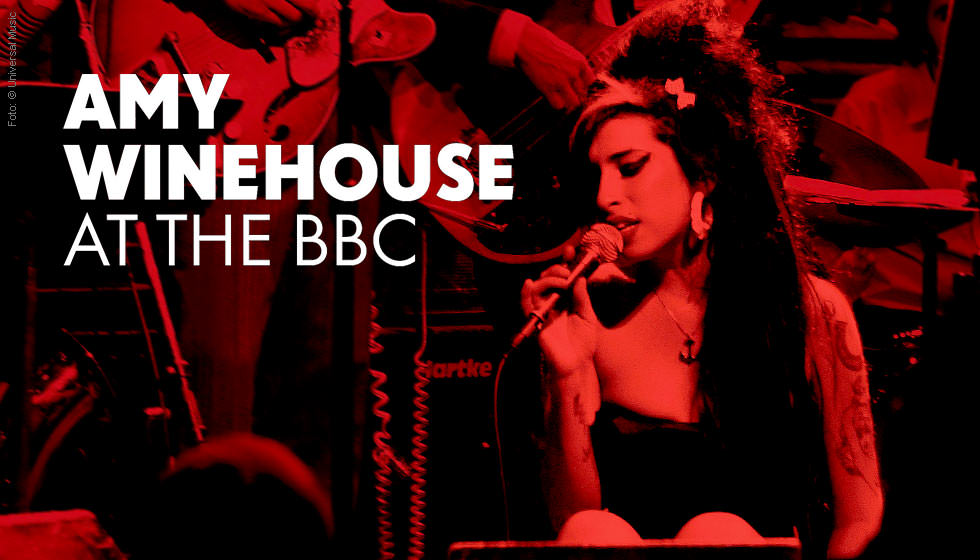 Erinnerung
Mehr als 30 Millionen verkaufte Tonträger, sechs Grammys, ein Top-drei-Debüt und ein Nummer-eins-Album: In ihrer kurzen Karriere feierte Amy Winehouse zahlreiche Erfolge, wurde bald zu einer Soulikone. Doch bereits 2011 verstarb sie im jungen Alter von nur 27 Jahren.

2021 gibt es nun eine besondere Erinnerung an die Sängerin: die Deluxe-Reissues ihres Konzertalbums »Amy Winehouse: At The BBC« auf CD und Vinyl.
At The BBC (180g)
3 LPs
LP (Long Play)
Die gute alte Vinyl - Langspielplatte.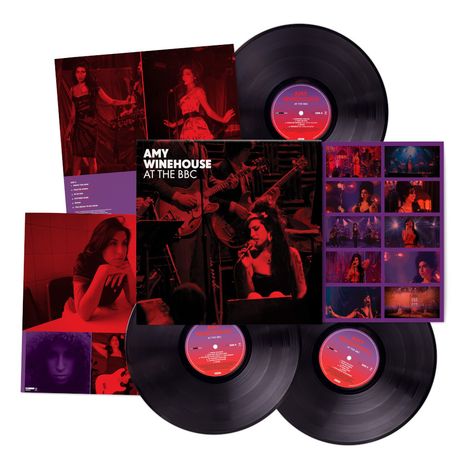 umgehend lieferbar, Bestand beim Lieferanten vorhanden

Vinyl liefern wir innerhalb Deutschlands immer portofrei.
Weitere Ausgaben von At The BBC
* Explicit Lyrics

*** Triple Gatefold Cover
Gesamtverkaufsrang: 1316
Verkaufsrang in LPs: 558
Gesamtverkaufsrang: 1316
Verkaufsrang in LPs: 558
Die neue Dreifach-Live-Sammlung
Zehn Jahre sind vergangen, seit die Musikwelt Abschied von einer ihrer großen Sängerinnen nehmen musste: Amy Winehouse.
Zur Erinnerung an die britische Soul- und Jazz-Ikone gibt es 2021 ein besonderes Dreifach-Release: die Compilation »Amy Winehouse: At The BBC«, wahlweise auf drei CDs oder drei LPs.
Das Livealbum erschien ursprünglich bereits 2012, wurde nun aber noch erweitert.
Neben den »BBC Sessions« wartet jetzt außerdem »A Tribute To Amy Winehouse« von Jools Holland, eine Sammlung von Livemitschnitten, darunter Amys erster Auftritt bei »Later with Jools« im Jahr 2003 mit dem Song »Stronger Than Me«, zwei Performances vom Mercury Prize 2007 und viele mehr. Das gesamte Tracklisting von »Amy Winehouse: At The BBC« finden Sie im Folgenden.
Ein weiteres Highlight ist der Mitschnitt »The BBC One Session Live At Porchester Hall«. Die Konzertaufnahme, die 2012 bereits als DVD erschien, gibt es nun auf CD und erstmals auch auf Vinyl.
Die »Amy Winehouse: At The BBC«-Box im Überblick:
LP bzw. CD 1: »A Tribute To Amy Winehouse by Jools Holland«
LP bzw. CD 2: »The BBC Sessions«
LP bzw. CD 3: »BBC One Sessions Live At Porchester Hall (2007)«
LP
1 Stronger Than Me (Live On Later... With Jools Holland / 2003)
2 Take The Box (Live From The Mercury Prize Awards / 2004)
3 Teach Me Tonight (Live On Jools Holland Hootenanny / 2004)
4 Rehab (Live On Later... With Jools Holland / 2006)
5 Tenderly (Live On Later... With Jools Holland / 2006)
6 Tears Dry On Their Own (Live On Later... With Jools Holland / 2006)
7 Monkey Man (Live On Jools Holland Hootenanny / 2006)
8 I Heard It Through The Grapevine (Live On Jools Holland Hootenanny / 2006)
9 Don't Go To Strangers (Live On Jools Holland Hootenanny / 2006)
10 Love Is A Losing Game (Live From The Mercury Prize Awards / 2007)
LP
1 Know You Now (Live At The Leicester Summer Sundae / 2004)
2 Fuck Me Pumps (Live From T In The Park / 2004)
3 In My Bed (Live From T In The Park / 2004)
4 October Song (Live From T In The Park / 2004)
5 Rehab (Live Pete Mitchell, Bbc Radio Session / 2006)
6 You Know I'm No Good (Live Jo Whiley, Bbc Live Lounge Session / 2007)
7 Just Friends (Live Bbc Radio 2 Big Band Special / 2009)
8 Love Is A Losing Game (Live On Later... With Jools Holland / 2009)
9 Tears Dry On Their Own (Live Jo Whiley, Bbc Live Lounge Session / 2007)
10 Best Friends, Right? (Live At The Leicester Summer Sundae / 2004)
11 I Should Care (Live From The Stables / 2004)
12 Lullaby Of Birdland (Live From The Stables / 2004)
13 Valerie (Live Jo Whiley, Bbc Live Lounge Session / 2007)
14 To Know Him Is To Love Him (Live Pete Mitchell, Bbc Radio Session / 2006)
LP
1 Know You Now (Live At Porchester Hall / 2007)
2 Tears Dry On Their Own (Live At Porchester Hall / 2007)
3 You Know I'm No Good (Live At Porchester Hall / 2007)
4 Just Friends (Live At Porchester Hall / 2007)
5 He Can Only Hold Her (Live At Porchester Hall / 2007)
6 I Heard Love Is Blind (Live At Porchester Hall / 2007)
7 Rehab (Live At Porchester Hall / 2007)
8 Take The Box (Live At Porchester Hall / 2007)
9 Some Unholy War (Live At Porchester Hall / 2007)
10 Back To Black (Live At Porchester Hall / 2007)
11 Valerie (Live At Porchester Hall / 2007)
12 Addicted (Live At Porchester Hall / 2007)
13 Me & Mr Jones (Live At Porchester Hall / 2007)
14 Monkey Man (Live At Porchester Hall / 2007)