Alter Bridge: Live At The Royal Albert Hall Feat. The Parallax Orchestra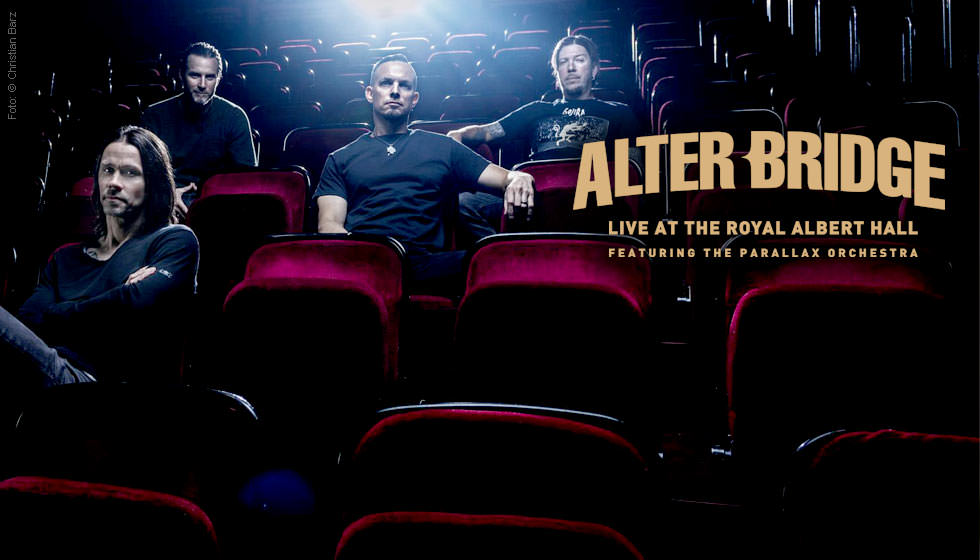 Premiere
Auch nach 15 Jahren im Musikgeschäft feiern eingespielte Bands wie Alter Bridge noch Premieren:

Im letzten Jahr spielten die US-Rocker ihre ersten Konzerte in der berühmten Londoner Royal Alber Hall, und zwar gemeinsam mit dem Parallax Orchestra.

»Alter Bridge: Live At The Royal Albert Hall Feat. The Parallax Orchestra« heißt der Mitschnitt dieser beeindruckenden Performance.
Live At The Royal Albert Hall Feat. The Parallax Orchestra
2 CDs
CD (Compact Disc)
Herkömmliche CD, die mit allen CD-Playern und Computerlaufwerken, aber auch mit den meisten SACD- oder Multiplayern abspielbar ist.
umgehend lieferbar, Bestand beim Lieferanten vorhanden
Label: Napalm, 2017
Bestellnummer:

8702602

Erscheinungstermin: 7.9.2018
Manche Nächte sind einfach magisch! Anfang Oktober 2017 begaben sich die US-Hard Rock-Giganten Alter Bridge zum ersten Mal in ihrer Karriere für zwei ganz besondere Shows in die legendäre Royal Albert Hall in London.

Myles Kennedy, Mark Tremonti, Brian Marshall und Scott Phillips spielten an zwei aufeinanderfolgenden Nächten reichlich rares und bislang nie live vorgestelltes Material, aber natürlich durften auch die ganz großen Hits der Band nicht fehlen.

Doch das war nicht die einzige Premiere für Alter Bridge, denn obendrein kollaborierte man auf der Bühne mit Dirigent Simon Dobson und dem hochkarätigen 52-köpfigen Parallax Orchester.

Das Ergebnis: Zwei unvergleichliche Nächte sowohl für die Band als auch für das ausverkaufte Haus und 9000 glückliche Fans! Nun wurden diese beiden epischen Aufführungen zu einem einzigartigen Erlebnis vereint, das nun mit Fans auf der ganzen Welt geteilt wird: Alter Bridge Live At The Royal Albert Hall.


Disk 1 von 2
1 Slip tot he void
2 Addicted to pain
3 Before tomorrow comes
4 The writing on the wall
5 Cry of Achilles
6 In loving memory
7 Fortress
8 Ties that bind
9 The other side
10 Brand new start
11 Ghost of days gone by
Disk 2 von 2
1 The last hero
2 The end is here
3 Words darker than their wings
4 Waters rising
5 Lover
6 Wonderful life / Watch over you
7 This side of fate
8 Broken wings
9 Blackbird
10 Open your eyes