Rick (Ricky) Nelson: For Your Sweet Love / Sings For You
For Your Sweet Love / Sings For You
CD
CD (Compact Disc)
Herkömmliche CD, die mit allen CD-Playern und Computerlaufwerken, aber auch mit den meisten SACD- oder Multiplayern abspielbar ist.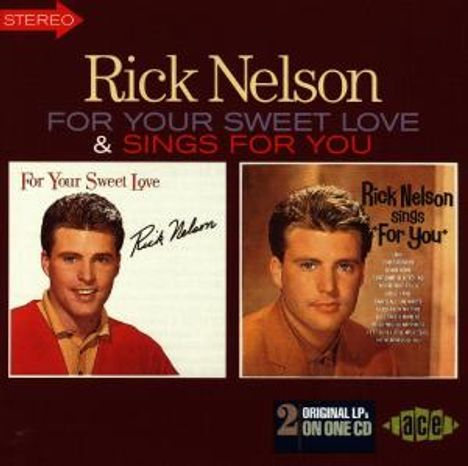 Lieferzeit beträgt mind. 4 Wochen
(soweit verfügbar beim Lieferanten)
Label: Ace, 1963
Bestellnummer:

3085251

Erscheinungstermin: 21.10.1997
These first two LPs cut under his new deal with Decca in 1963 both featured the Nelson road band of guitarist James Burton, Joe Osbourne (bass), Roy Johnson (piano) and long time drummer Ritchie Frost. The experiance really shows on these seamless studio cuts.
Disk 1 von 1 (CD)
1 For Your Sweet Love
2 Gypsy Woman
3 You Don't Love Me Anymore
4 Everytime I See You Smiling
5 Pick Up The Pieces
6 String Along
7 One Boy Too Late
8 Everytime I Think About You
9 Let's Talk The Whole Thing Over
10 I Got A Woman
11 What Comes Next?
12 I Will Follow You
13 For You
14 Fools Rush In (Where Angels Fear To Tread)
15 Down Home
16 That Same Old Feeling
17 You're Free To Go
18 I Rise, I Fall
19 That's All She Wrote
20 A Legend In My Time
21 Just Take A Moment
22 Hello Mister Happiness
23 Hey There, Little Miss Tease
24 The Nearness Of You