The Moody Blues: Collected
Collected
3 CDs
CD (Compact Disc)
Herkömmliche CD, die mit allen CD-Playern und Computerlaufwerken, aber auch mit den meisten SACD- oder Multiplayern abspielbar ist.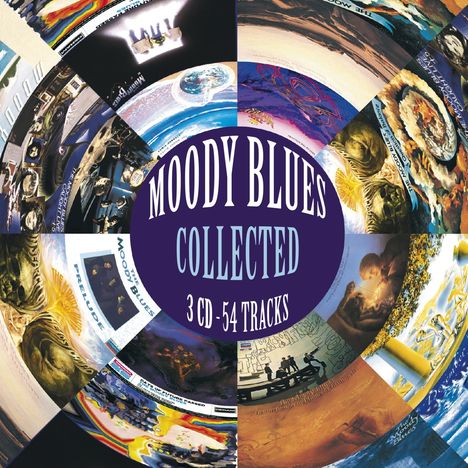 lieferbar innerhalb 1-2 Wochen
(soweit verfügbar beim Lieferanten)
Verlängerter Rückgabezeitraum bis 31. Januar 2023
Alle zur Rückgabe berechtigten Produkte, die zwischen dem 1. bis 31. Dezember 2022 gekauft wurden, können bis zum 31. Januar 2023 zurückgegeben werden.
Label: Universal
Bestellnummer:

8577777

Erscheinungstermin: 3.12.2021
Weitere Ausgaben von Collected
The Moody Blues gehören zu den Erfindern der psychedelischen/progressiven Rockbands, die 1964 in 1964 in Birmingham, England, gegründet. Collected zeigt die vielen Stile, Phasen und Klänge von The Moody Blues, kurz und bündig. Beginnend mit ihrem Meilenstein »Nights In White Satin« bis hin zu den frühen Decca-Jahren mit dem ursprünglichen Leadsänger und späteren Paul McCartney-Sideman Denny Laine bei den Klassikern »Go Now« und »Boulevard De La Madelaine«. Wir erhalten auch Raritäten wie »New Horizons«, »King And Queen«, »What Am I Doing Here« und »This Is The Moment« ('Time Traveller' Box-Set), alles Justin Lieder. Die Band hat weltweit 70 Millionen Alben verkauft, darunter 18 Platin- und Gold-LPs. Im Jahr 2018 wurden sie in die Rock and Roll Hall of Fame aufgenommen.


Disk 1 von 3 (CD)
1 Nights in white satin
2 Tuesday afternoon (forever afternoon)
3 The morning: another morning
4 Voices in the sky
5 Dr. livingston i presume
6 Ride my see-saw
7 Legend of a mind
8 Lovely to see you
9 Never comes the day
10 Are you sitting comfortably
11 Dear diary
12 Gypsy (of a strange and distant time)
13 Watching and waiting
14 Higher and higher
15 I never thought i'd live to be a hundred
16 Candle of life
17 Melancholy man
18 Dawning of the day
19 Questions
Disk 2 von 3 (CD)
1 The stroy in your eyes
2 Emily's song
3 Isn't life strange
4 I'm just a singer in a rock 'n roll band
5 New horizons
6 Blue guitar
7 Remember me, my friend
8 King and queen
9 What am i doing here
10 Raised on love
11 Carry me
12 Had to fall in love
13 Driftwood
14 Forever autumn
15 It's not on
16 The voice
17 Gemini dream
18 Blue world
Disk 3 von 3 (CD)
1 Your wildest dreams
2 The other side of life
3 Vintage wine
4 I know you're out there somewhere
5 Lean on me (tonight)
6 Say it with love
7 Bless the wings (that bring you back)
8 This is the moment
9 Strange times
10 December snow
11 Go now (bonus)
12 Boulevard de la madeleine (bonus)
13 From the bottom of my heart (i love you)(bonus)
14 Fly me high (bonus)
15 Cities (bonus)
16 Love and beauty (bonus)
17 A simple game (bonus)