Magic Moments 11 - In The Spirit Of Jazz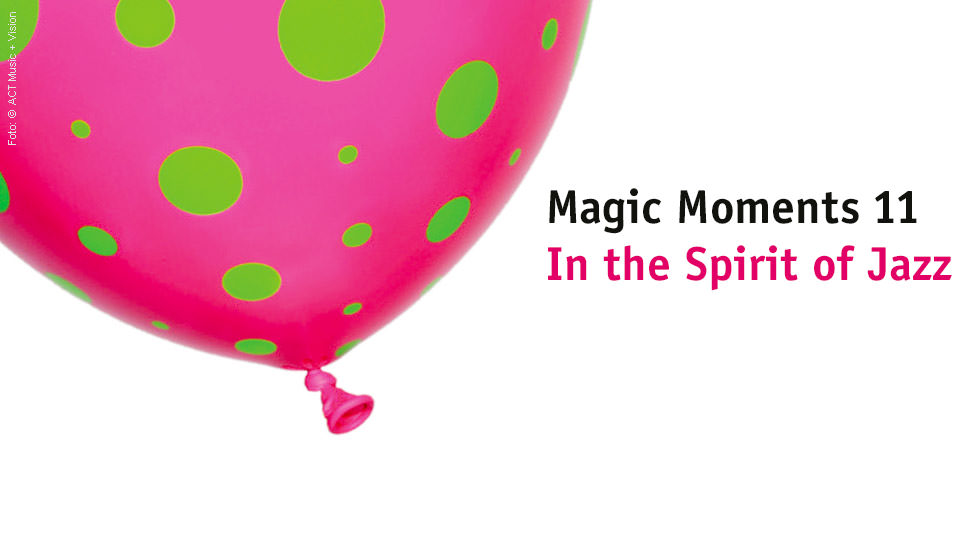 Einiges zu bieten
Jedes Jahr gibt das Münchner Jazzlabel ACT Jazzfans einen spannenden Einblick in ihren aktuellen Katalog und zeigt ihnen, was das Genre derzeit zu bieten hat: mit der hauseigenen Best-of-Reihe »Magic Moments«.

2018 erscheint bereits die elfte Ausgabe des Samplers, diesmal mit 16 spannenden Künstlern und ihren Songs. Hier ist »Magic Moments 11 – In The Spirit Of Jazz«.
Magic Moments 11 - In The Spirit Of Jazz
CD
CD (Compact Disc)
Herkömmliche CD, die mit allen CD-Playern und Computerlaufwerken, aber auch mit den meisten SACD- oder Multiplayern abspielbar ist.
Label: ACT
Bestellnummer:

8702295

Erscheinungstermin: 28.9.2018
Serie: Magic Moments
*** Digipack
Die neue Zusammenstellung der beliebten Magic-Moments-Reihe, kuratiert von ACT-Gründer und Produzent Siggi Loch.

16 Titel, 67 Minuten bestes Jazz-Infotainment mit bekannten ACT-Stars, spannenden Newcomern und Neuentdeckungen.
1 David Helbock's Random Control: African Marketplace
2 Andreas Schaerer/Luciano Biondini/Kalle Kalima/Lucas Niggli: Planet Zumo
3 Jin Jim: House Of The King
4 Benjamin Schmid & Andreas M. Hofmeir: Concertino vom Lande - Beim Fernsehen
5 Laila Biali: Queen Of Hearts
6 Lars Danielsson & Paolo Fresu: Amigos
7 Vincent Peiran/Living Being: Enzo
8 NES: Ahlam
9 Tonbruket: Dig It To The End
10 Emile Parisien Quintet/Vincent Peirani/Michel Portal: Le clown tueur de la fête foraine III
11 Joachim Kühn New Trio: Barcelona - Wien
12 KUU!: Thank You Iceland
13 Michael Wollny Trio: Hello Dave
14 Ida Sand & Stockholm Underground feat. Nils Landgren: I Have Nothing Left For You
15 Julian & Roman Wasserfuhr/Jörg Brinkmann: Cello Bello
16 Iiro Rantala & The Deutsche Kammerphilharmonie Bremen: Tears For Esbjörn
Mehr von ACT