Christian-Pierre La Marca - Wonderful World
Christian-Pierre La Marca - Wonderful World
2 CDs
CD (Compact Disc)
Herkömmliche CD, die mit allen CD-Playern und Computerlaufwerken, aber auch mit den meisten SACD- oder Multiplayern abspielbar ist.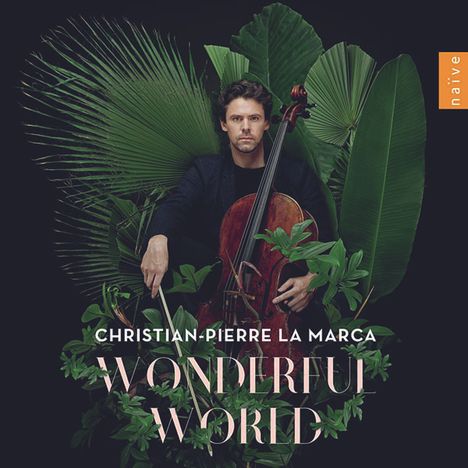 Nur noch 1 Stück am Lager. Danach versandfertig innerhalb 1-2 Wochen (soweit verfügbar beim Lieferanten)
Faure: Apres un reve
+Arlen: Over the Rainbow
+Portal: Habanera
+Strauss: Morgen!
+Weill: Lost in the Stars
+Loesser: I've never been in Love before
+Gershwin: Summertime
+Glass: The Poet acts
+Say: Sivas; Hopa
+Enhco: Prelude of Wind and Water
+Dvorak: Silent Woods
+Ramírez: Alfonsina y el mar
+Rimsky-Korssakoff: Hummelflug
+Guastavino: La rosa y el sauce
+Saint-Saens: Der Schwan
+Lilly Wood & The Prick: You want my Money
+Mancini: Moon River
+Einaudi: I Giorni
+Piazzolla: Invierno porteno
+Frahm: Ambre
+Escaich: Between Man and Nature
+Tchaikowsky: Valse sentimentale
+Traditionals: Celtic Valse
+Bloch: Prayer
+Trotignon: Fly
+Thiele-Weiss: What a wonderful World
Künstler: Christian-Pierre La Marca, Michel Portal, Sabine Devieilhe, Patricia Petibon, Thomas Enhco, Thierry Escaich, Orchestre de Paris
Label: Naive, DDD, 2020
Bestellnummer:

10733853

Erscheinungstermin: 12.11.2021
Soeben wurde er für sein letztes Album »Cello 360« mit dem englischen Gramophone Award 2021 in der Kategorie »Konzeptalbum des Jahres« ausgezeichnet – nun präsentiert Christian-Pierre La Marca seine zweite CD »Wonderful World« bei naïve.

Seit langem engagiert sich der französische Cellist für die Umwelt, sein Engagement fand bereits künstlerischen Ausdruck in der Entstehung des »Concert for the Planet« im Jahr 2019. In seiner humanistischen Ode an die Natur präsentiert er ein umfangreiches Programm, das nichts weniger als die Rettung des Planeten zum Thema hat. Namhafte Partner und Partnerinnen aus Klassik, Neoklassik, Weltmusik und Jazz wie Michel Portal, Sabine Devieilhe, Patricia Petibon, Thomas Enhco, Baptiste Trotignon und Thierry Escaich aber auch Popavantgardisten wie Lilly Wood & The Prick vereinen sich zu einem einzigartigen Solidaritätsprojekt. So gibt es eine vielfarbige stilistische Palette mit insgesamt 29 Titeln auf dem Doppelalbum: Von dem Opener »Après un rêve« von Fauré über Kurt Weill zu Gershwins »Summertime«, von Rimsky-Korsakov über Philip Glass zu »Moon River« von Mancini und zuletzt Louis Armstrongs Evergreen »Wonderful World«.

La Marcas herausragendes Cellospiel meistert mit Leichtigkeit diese Spagatsprünge und formt diese Vielfalt zu einem geschlossenen Ganzen. Ein weiteres Highlight sind vier Bilder des preisgekrönten Fotografen Yann Arthus-Bertrand im 44-seitigen Booklet.
Disk 1 von 2 (CD)
1 Christian-Pierre La Marca: Fauré Après un rêve
2 Christian-Pierre La Marca: Arlen Over the Rainbow
3 Christian-Pierre La Marca: Portal Habanera
4 Christian-Pierre La Marca: Strauss Morgen!
5 Christian-Pierre La Marca: Weill Lost in the Stars
6 Christian-Pierre La Marca: Loesser I've Never Been in Love Before
7 Christian-Pierre La Marca: Gershwin Summertime
8 Christian-Pierre La Marca: Glass The Poet Acts
9 Christian-Pierre La Marca: Say Sivas
10 Christian-Pierre La Marca: Say Hopa
11 Christian-Pierre La Marca: Enhco Prelude(of Wind and Water)
12 Christian-Pierre La Marca: Dvorak Silent Woods
13 Christian-Pierre La Marca: Ramírez Alfonsina y el mar
14 Christian-Pierre La Marca: Rimsky-Korsakov Flight of Bumblebee
15 Christian-Pierre La Marca: Guastavino La rosa y el sauce
16 Christian-Pierre La Marca: Saint-Saens Le Cygne
17 Christian-Pierre La Marca: Lilly Wood & The Prick You Want My Money
Disk 2 von 2 (CD)
1 Christian-Pierre La Marca: Mancini Moon River
2 Christian-Pierre La Marca: Einaudi I giorni
3 Christian-Pierre La Marca: Piazzolla Invierno porteño
4 Christian-Pierre La Marca: Escaich-La Marca-Petibon Awake of Nature (improvisation
5 Christian-Pierre La Marca: Frahm Ambre
6 Christian-Pierre La Marca: Escaich-La Marca-Petibon Between Man and Nature (improv
7 Christian-Pierre La Marca: Tchaikovsky Valse sentimentale
8 Christian-Pierre La Marca: Traditional Celtic Valse
9 Christian-Pierre La Marca: Traditional-Stivell-Corbel Brian Boru Renaissance
10 Christian-Pierre La Marca: Bloch Prayer
11 Christian-Pierre La Marca: Trotignon Fly
12 Christian-Pierre La Marca: Thiele-Weiss What a Wonderful World
Mehr von Naïve