Johann Sebastian Bach: Inventionen & Sinfonias BWV 772-801
Inventionen & Sinfonias BWV 772-801
Originaltitel: Clavichord
2 CDs
CD (Compact Disc)
Herkömmliche CD, die mit allen CD-Playern und Computerlaufwerken, aber auch mit den meisten SACD- oder Multiplayern abspielbar ist.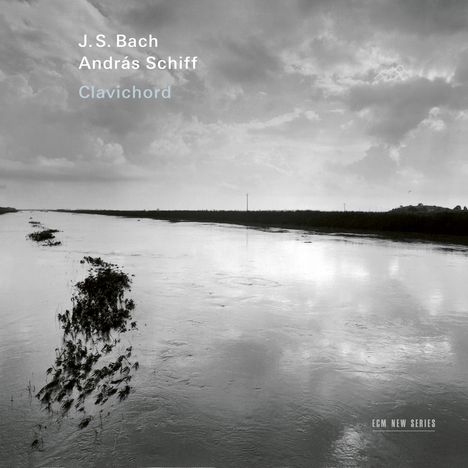 +Duette BWV 802-805; Chromatische Fantasie & Fuge BWV 903; Ricercar a 3 aus "Ein musikalisches Opfer" BWV 1079; Capriccio BWV 992
Künstler: Andras Schiff (Clavichord)
Label: ECM, DDD, 2021
Bestellnummer:

11092435

Erscheinungstermin: 27.1.2023
Gesamtverkaufsrang: 398
Verkaufsrang in CDs: 173
Nach seiner bahnbrechenden Einspielung einiger der wichtigsten Klavierwerke Johann Sebastian Bachs wendet sich András Schiff, einer der großen Bach-Interpreten unserer Zeit, dem bevorzugten Instrument des Komponisten zu. Der Klang des Clavichords sei, so Schiff, eine Einladung in »eine neue Welt, eine stille Oase in unserer lauten, unruhigen Zeit. Dank des Clavichords spiele und höre ich Bach jetzt anders«. Als intimes und persönliches Instrument – »ein sehr sanftes Geschöpf, ideal, um allein für sich zu spielen« – kann es, wie Schiff anmerkt, auch ein anspruchsvoller und unversöhnlicher »Lehrer« sein. »Auf dem Clavichord haben wir nur unsere Finger zur Verfügung, sie müssen die Musik mit den feinsten Abstufungen des Anschlags erzeugen.«

Die frühen Klavierwerke stehen hier im Vordergrund und bringen uns die Klänge von Bachs Zeit und die »kantable Kunst« des Clavichords näher. Das Album beginnt mit dem Capriccio sopra la lontananza del fratro dilettissmo, führt durch die Inventionen und Sinfonien und schließt mit einer herausragenden Interpretation der Chromatischen Fantasie und Fuge. Auf dieser Aufnahme, Schiffs erster auf dem Clavichord, spielt er eine Nachbildung eines Specken-Instruments von 1743 von dem belgischen Instrumentenbauer Joris Potvlieghe. Das Album wurde im Kammermusiksaal des Bonner Beethoven-Hauses aufgenommen und von Manfred Eicher produziert.
Rezensionen
»Dank der tieferen Stimmung des Instruments (404 Hz) und einer ausgewogenen Balance der Töne untereinander öffnet Schiff hier die Tür zu einem Hörerlebnis, bei dem man meint, in Bachs Stube zu Gast zu sein.​ Musik wird hier nicht als gelehriger Vortrag erfasst, sondern als kommunikatives Vergnügen.​« (FONO FORUM, März 2023)
Tracklisting

Details

Mitwirkende
Disk 1 von 2 (CD)
Capriccio In B Flat Major, Bwv 992 "on The Departure Of A Dear Brother"
1 1. Arioso Adagio (Original Version)
2 2. - (Original Version)
3 3. Adagisissimo (Original Version)
4 4. - (Original Version)
5 5. Allegro poco. Aria di Postiglione (Original Version)
6 6. Fuga all'imitatione di posta (Original Version)
15 Inventions, Bwv 772-786
7 No. 1 In C Major, Bwv 772 (Original Version)
8 No. 2 In C Minor, Bwv 773 (Original Version)
9 No. 3 In D, Bwv 774 (Original Version)
10 No. 4 In D Minor, Bwv 775 (Original Version)
11 No. 5 In E Flat, Bwv 776 (Original Version)
12 No. 6 In E, Bwv 777 (Original Version)
13 No. 7 In E Minor, Bwv 778 (Original Version)
14 No. 8 In F, Bwv 779 (Original Version)
15 No. 9 In F Minor, Bwv 780 (Original Version)
16 No. 10 In G, Bwv 781 (Original Version)
17 No. 11 In G Minor, Bwv 782 (Original Version)
18 No. 12 In A, Bwv 783 (Original Version)
19 No. 13 In A Minor, Bwv 784 (Original Version)
20 No. 14 In B Flat, Bwv 785 (Original Version)
21 No. 15 In B Minor, Bwv 786 (Original Version)
4 Duettos
22 1. Duetto In E Minor, Bwv 802 (Original Version)
23 2. Duetto In F Major, Bwv 803 (Original Version)
24 3. Duetto In G Major, Bwv 804 (Original Version)
25 4. Duetto In A Minor, Bwv 805 (Original Version)
Musical Offering, Bwv 1079
26 Ricercar a 3 (Original Version)
Disk 2 von 2 (CD)
15 Sinfonias, Bwv 787-801
1 1. Sinfonia In C Major, Bwv 787 (15 Sinfonias, Bwv 787-801)
2 2. Sinfonia In C Minor, Bwv 788 (15 Sinfonias, Bwv 787-801)
3 3. Sinfonia In D Major, Bwv 789 (15 Sinfonias, Bwv 787-801)
4 4. Sinfonia In D Minor, Bwv 790 (15 Sinfonias, Bwv 787-801)
5 5. Sinfonia In E-Flat Major, Bwv 791 (15 Sinfonias, Bwv 787-801)
6 6. Sinfonia In E Major, Bwv 792 (15 Sinfonias, Bwv 787-801)
7 7. Sinfonia In E Minor, Bwv 793 (15 Sinfonias, Bwv 787-801)
8 8. Sinfonia In F Major, Bwv 794 (15 Sinfonias, Bwv 787-801)
9 9. Sinfonia In F Minor, Bwv 795 (15 Sinfonias, Bwv 787-801)
10 10. Sinfonia In G Major, Bwv 796 (15 Sinfonias, Bwv 787-801)
11 11. Sinfonia In G Minor, Bwv 797 (15 Sinfonias, Bwv 787-801)
12 12. Sinfonia In A Major, Bwv 798 (15 Sinfonias, Bwv 787-801)
13 13. Sinfonia In A Minor, Bwv 799 (15 Sinfonias, Bwv 787-801)
14 14. Sinfonia In B-Flat Major, Bwv 800 (15 Sinfonias, Bwv 787-801)
15 15. Sinfonia In B Minor, Bwv 801 (15 Sinfonias, Bwv 787-801)
Chromatic Fantasia And Fugue In D Minor, Bwv 903
16 1. Fantasia (Original Version)
17 2. Fugue (Original Version)
Mehr von ECM New Series