Full of the Highland Humours - Schottische Barockmusik
Full of the Highland Humours - Schottische Barockmusik
CD
CD (Compact Disc)
Herkömmliche CD, die mit allen CD-Playern und Computerlaufwerken, aber auch mit den meisten SACD- oder Multiplayern abspielbar ist.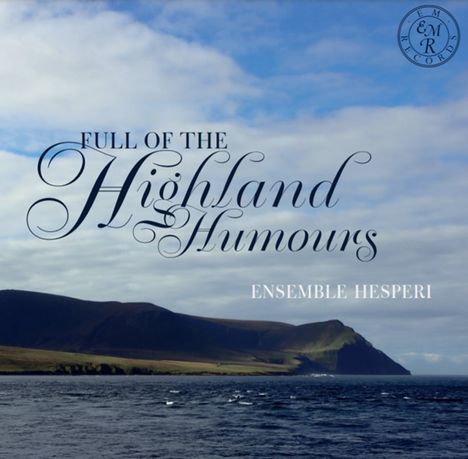 lieferbar innerhalb 1-2 Wochen
(soweit verfügbar beim Lieferanten)
James Oswald: The Airs for Spring, Summer, Autumn, Winter; Alloway House; A Sonata on Scotch Tunes
Giuseppe Sammartini: Triosonate Nr. 6
Nicola Matteis: Ground after the Scotch Humour
Thomas Erskine: Sonate Nr. 4 für 2 Violinen & Bc
Henry Playford: Peggy's the prettiest - My Lady Hope's Scotch Measure
Robert Bremner: Maggie Lauder; Hit her on the Bum
Francesco Geminiani: Sonata III "The Last Time I came o'er the Moor"
Künstler: Ensemble Hesperi
Label: EMR, DDD, 2021
Bestellnummer:

10849402

Erscheinungstermin: 8.4.2022
»Full of the Highland Humours«, die Debüt-Aufnahme des preisgekrönten Ensembles Hesperi, feiert den immensen Erfolg, den schottische Musik im London des 18. Jahrhunderts hatte. Zu den Höhepunkten der CD gehören selten aufgenommene Werke von James Oswald, einem äußerst erfolgreichen schottischen Komponisten, der London in den 1740er Jahren zu seiner »zweiten Heimat« machte.
Disk 1 von 1 (CD)
1 Oswald: the airs for summer: the poppy
2 Sammartini: twelve trio sonatas for two german flutes or vio
3 Sammartini: twelve trio sonatas for two german flutes or vio
4 Sammartini: twelve trio sonatas for two german flutes or vio
5 Sammartini: twelve trio sonatas for two german flutes or vio
6 Matteis: other ayres and pieces for the violin, bass viol an
7 Oswald: the airs for autumn: the sweet sultan
8 Oswald: a curious collection of scots tunes: alloway house
9 Erskine, earl of kellie: six sonatas for two violins and bas
10 Erskine, earl of kellie: six sonatas for two violins and bas
11 Oswald: the airs for spring: the ranunculus
12 Oswald: a curious collection of scots tunes: a sonata on sco
13 Oswald: a curious collection of scots tunes: a sonata on sco
14 Oswald: a curious collection of scots tunes: a sonata on sco
15 Oswald: a curious collection of scots tunes: a sonata on sco
16 Oswald: a curious collection of scots tunes: a sonata on sco
17 Playford: a collection of original scotch tunes, full of the
18 Oswald: the airs for winter: the cyclamen
19 Bremner: a harpsichord or spinnet miscellany: maggie lauder
20 Geminiani: a treatise of good taste in the art of musick: so
21 Geminiani: a treatise of good taste in the art of musick: so
22 Geminiani: a treatise of good taste in the art of musick: so
23 Bremner: a curious collection of scots tunes with variations