Best Of Christmas
2 CDs
CD (Compact Disc)
Herkömmliche CD, die mit allen CD-Playern und Computerlaufwerken, aber auch mit den meisten SACD- oder Multiplayern abspielbar ist.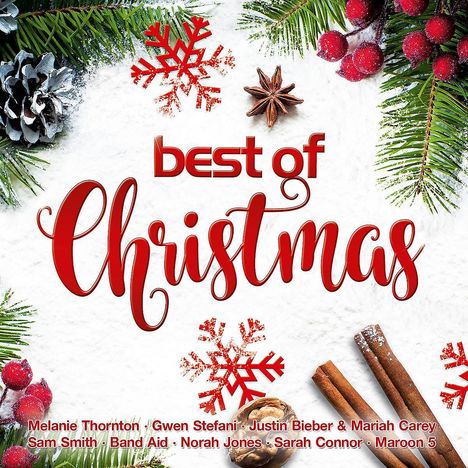 umgehend lieferbar, Bestand beim Lieferanten vorhanden
-13%
Label: PolyStar
Bestellnummer:

7780049

Erscheinungstermin: 10.11.2017
Weitere Ausgaben von Best Of Christmas
Eine Premiere der Extraklasse!

Erstmals präsentiert Best Of einen Soundtrack für die schönste Zeit des Jahres und der kann sich wirklich sehen lassen: »Best Of Christmas«

Nicht nur moderne Klassiker von Band Aid, Paul McCartney oder Melanie Thornton sorgen hier für einen Wonderful Dream.
Auch unter den Künstlern hat jeder seinen eigenen Wunschzettel an den Weihnachtsmann geschrieben. »Let It Snow! Let It Snow! Let It Snow!« Für Dean Martin zählt nur eins: Weiße Weihnacht!
Justin Bieber und Mariah Carey wissen, vor dem Kaminfeuer sitzt es sich besser zu zweit und sprechen mit »All I Want For Christmas Is You« allen Romantikern aus der Seele.

Außerdem gesellen sich Sam Smith, Helene Fischer, Robbie Williams und OneRepublic mit unter den Weihnachtsbaum – Was ein Fest!
»Have Yourself A Merry Little Christmas« mit der neuen »Best Of Christmas«!

Weihnachten kann kommen!
Disk 1 von 2 (CD)
1 Melanie Thornton: Wonderful Dream (Holidays Are Coming) (Radio Version)
2 Band Aid: Do They Know It's Christmas? (1984 Version)
3 OneRepublic: Christmas Without You
4 All I Want For Christmas Is You (Album Version)
5 Michael Ball: Driving Home For Christmas
6 Ronan Keating: It's Only Christmas (Album Version)
7 Better Than Christmas
8 Diana Krall: Jingle Bells
9 Dean Martin: Let It Snow! Let It Snow! Let It Snow! (Remastered 2002)
10 Frances: O Holy Night
11 George Michael: December Song (I Dreamed Of Christmas)
12 Colbie Caillat: Mistletoe
13 Aloe Blacc: The Christmas Song
14 Ariana Grande: Santa Tell Me
15 Demi Lovato: Let It Go (From "Frozen" / Single Version)
16 Sheryl Crow: All Through The Night
17 Carly Rae Jepsen: Last Christmas
18 Bryan Adams: Merry Christmas
19 The Common Linnets (Ilse DeLange & Waylon): Christmas Around Me
20 Maroon 5: Happy Christmas (War Is Over)
21 The Lumineers: Blue Christmas
22 The Kelly Family: Who'll Come With Me (Album Version)
23 Somethin' Stupid
Disk 2 von 2 (CD)
1 Sam Smith: Have Yourself A Merry Little Christmas
2 Helene Fischer: Rudolph The Red-Nosed Reindeer
3 Let It Snow
4 Xavier Naidoo: Hallelujah
5 Sarah Connor: Christmas In My Heart (Album Version)
6 Rod Stewart: Auld Lang Syne
7 Norah Jones: Peace
8 Baby It's Cold Outside
9 Jessie J: Man With The Bag
10 Jordan Smith: You're A Mean One, Mr. Grinch
11 Tori Amos: Snow Angel
12 Faith Evans: Santa Baby
13 Keyshia Cole: Have Yourself A Merry Little Christmas
14 Reamonn: I Need You
15 The Christmas Song
16 Owl City: Peppermint Winter
17 Gabriella Cilmi: Warm This Winter
18 Hanson: What Christmas Means To Me (Album Version)
19 The Vamps (England): Hoping For Snow
20 Lady Gaga: Christmas Tree
21 Elton John: Step Into Christmas
22 Paul McCartney: Wonderful Christmastime
23 Gwen Stefani: You Make It Feel Like Christmas