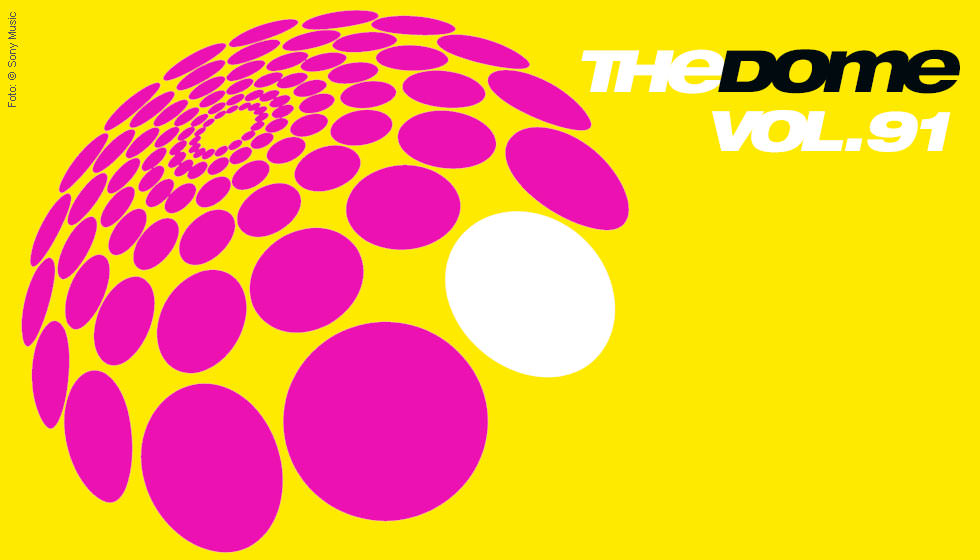 Rang und Namen
Der Sommer 2019 geht so langsam zu ende, doch er gibt noch einmal alles. Und passend dazu liefern uns »The Dome Vol. 91« den perfekten Soundtrack.

Der Hitsampler versammelt wieder alles, was zurzeit in der Pop- und Rockwelt einen Rang und Namen hat.
The Dome Vol. 91
2 CDs
CD (Compact Disc)
Herkömmliche CD, die mit allen CD-Playern und Computerlaufwerken, aber auch mit den meisten SACD- oder Multiplayern abspielbar ist.
lieferbar innerhalb einer Woche
(soweit verfügbar beim Lieferanten)
THE DOME 91

Die Chartparty der Megastars feiert mit über 40 überragenden Top-Hits auf 2CDs den Sommer!
Ob zum Chillen oder Tanzen findet hier jeder die passende musikalische Begleitung durch die schönste Jahreszeit, mit Tim Bendzko - Hoch, Kygo & Whitney Houston - Higher Love, Alle Farben - Different For Us oder Lil Nas X Feat. Billy Ray Cyrus - Old Town Road - Remix.

The Dome 91 präsentiert die aktuellen Chart-Hits aus Dance, Pop und Rock mit P!nk - Can We Pretend, Miley Cyrus - Mothers Daughter, Sam Smith - How Do You Sleep oder Shawn Mendes Feat. Camilla Cabello - Senorita.
Disk 1 von 2
1 YouNotUs & Janieck & Senex: Narcotic
2 Kygo & Whitney Houston: Higher Love
3 Pietro Lombardi: Macarena
4 Robin Schulz feat. Harloe: All This Love
5 Alle Farben & Jordan Powers: Different for Us
6 P!NK & Cash Cash: Can We Pretend
7 Dermot Kennedy: Outnumbered
8 Alma: Lonely Night
9 Dimitri Vegas, Like Mike & David Guetta: Instagram
10 Paul Kalkbrenner: No Goodbye
11 Philipp Dittberner & Marv: So kann es weitergehen
12 Zara Larsson: All the Time
13 Charming Horses x byMIA: Bad Look
14 Ilira: Pay Me Back!
15 Martin Garrix feat. JRM: These Are The Times
16 Lost Frequencies: Sun Is Shining
17 Topic x Vigiland x Christopher: Let Us Love
18 Kaskade & Meghan Trainor: With You
19 Emily Roberts x Pyke & Muñoz x STENGAARD: In This Together
20 Jax Jones & Bebe Rexha: Harder
21 The Chainsmokers & Bebe Rexha: Call You Mine
22 Marshmello & Kane Brown: One Thing Right
Disk 2 von 2
1 Lauv feat. Anne-Marie: Fuck, I'm Lonely
2 Tim Bendzko: Hoch
3 Lil Nas X feat. Billy Ray Cyrus: Old Town Road - Remix
4 Sam Smith: How Do You Sleep?
5 Tom Gregory: Small Steps
6 Miley Cyrus: Mother's Daughter
7 DJ Khaled feat. SZA: Just Us
8 Justin Jesso & Nina Nesbitt: Let it Be Me
9 Kyd the Band x Elley Duhe: Easy
10 Stefanie Heinzmann: Shadows
11 Sido feat. Luciano: Energie
12 Xavier Naidoo feat. MoTrip: Gute Zeiten
13 Declan J Donovan: Vienna
14 Ilkay Sencan & Dynoro: Rockstar
15 Jonas Brothers: Only Human
16 Mille & Malou Prytz: All Good
17 Malik Harris: Like That Again
18 Bastille: Joy
19 Freya Ridings: Castles
20 Juju : Hi Babe:
21 Y2K & BBNO$: Lalala
22 Shirin David feat. Maitre Gims: On Off