The Many Faces Of The Police
The Many Faces Of The Police
3 CDs
CD (Compact Disc)
Herkömmliche CD, die mit allen CD-Playern und Computerlaufwerken, aber auch mit den meisten SACD- oder Multiplayern abspielbar ist.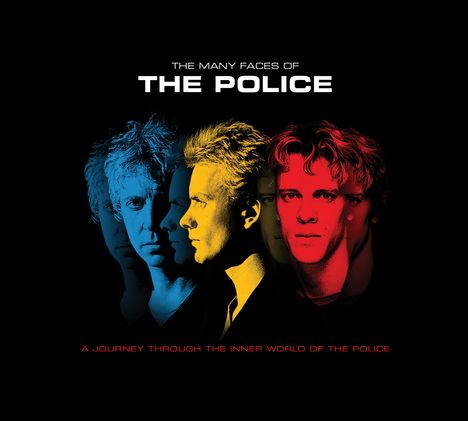 Nur noch 1 Stück am Lager. Danach versandfertig mind. 4 Wochen (soweit verfügbar beim Lieferanten)
-21%
*Sonderpreis gültig solange Artikel am Lager
Label: Music Brokers
Bestellnummer:

6174217

Erscheinungstermin: 24.3.2017
Weitere Ausgaben von The Many Faces Of The Police
*** Digipack
Gesamtverkaufsrang: 26695
Verkaufsrang in CDs: 12141
Aus der auf die Punk Explosion folgenden New-Wave Szene der späten 70s stammend, traten The Police schnell aus der Masse heraus, insbesondere aufgrund ihrer sich durch ihre Musik ziehenden Fusion von Reggae und Punk. Wenn dies dann noch von einem außergewöhnlichen Songwriting Talent und einem andere Bands der Szene weit übertreffenden Grad der Ausführung flankiert wird, dann entsteht eine Band für die Ewigkeit.

Sowohl Schlagzeuger Stewart Copeland als auch Gitarrist Andy Summers hatten bereits eine lange Geschichte in der englischen Musikszene als Mitglieder von »old wave« Gruppen wie Curved Air (Copeland), Dantalian's Chariot und Eric Burdon & The Animals (Summers) und genau das zahlte sich in der nicht zu bändigenden Performance von Copeland (der von da an seinen eigenne Stil entwickelte) und in der cleveren Arbeit von Summers, die zusammen mit der unverkennbaren Stimme von Sting, eine einzigartige Band ausmachten. Eine Band, die unzählige andere Gruppen beeinflusst hat.

Auf The Many Faces Of The Police erforschen wir die verschiedenen Wege der Band, ihre weniger bekannten Projekte, wir ehren ihre Songs und lernen die Szene genauer kennen, aus der The Police entstanden sind. Dabei steht auch der französische Gitarrist Henry Padovani, als eines der Gründungsmitglieder der Band, im Vordergrund, der nach seinem Rauswurf erfolgreich als Teil von The Electric Chairs gewesen ist. Diese Punkband war zunächst populärer als The Police, weshalb letztere auch viele Male für The Electric Chairs die Shows eröffnet haben.
Disk 1 von 3 (CD)
1 Many Faces Of The Police: Levitation / Circa Zero Feat Andy Summers
2 Western Pasta / The Flying Padovanis Feat Henry Padovani
3 Chewed Down To The Bone / The Racketeers Feat Stewart Copeland
4 Broken Brains / Andy Summers & John Etheridge
5 Say Goodnight / Circa Zero Feat Andy Summers
6 Big Black Widon / The Electric Chairs
7 Catbox Beach / Rusty Anderson Feat Stewart Copeland
8 Little Transgressions / Andy Summers & John Etheridge
9 Seed Of Wonder / Jesca Hoop Feat Stweart Copeland
10 Vas Plus Haut / The Flying Padovanis Feat Henry Padovani
11 Trouble Bones / The Racketeers Feat Stewart Copeland
12 Bad In Bed / The Electric Chairs
13 Shout Out The Stars / Circa Zero Feat Andy Summers
14 Tell A Lie / The Racketeers Feat Stewart Copeland
Disk 2 von 3 (CD)
1 The Songs: Every Breath You Take / Joan Osborne
2 So Lonely / Gregory Isaacs
3 Every Little Thing She Does Is Magic / Ali Campbell
4 De Do Do Do, De Da Da Da / Toots & The Maytals
5 Invisible Sun / Horace Andy
6 The Bed's To Big Without You / Inner Circle
7 Synchronicity 1 / Junior Reid
8 One World (Not Three) / The Wailing Souls
9 Invisible Dub / Lee Scratch Perry
10 Spirits In The Material World / Big Chief Monk Boudreaux & The Upressors With Ras Tree
11 Wrapped Around Your Finger / Cyril Neville
12 King Of Pain / Tarrus Riley
13 Can't Stand Losing You / Pepper
Disk 3 von 3 (CD)
1 The 80s New Wave Scene: Mirror In The Bathroom / The Beat
2 Delusions Of Grandeur / Ian Dury & The Blockheads
3 12 O'clock High / Dirty Looks
4 End Of A Dream / Tv 21
5 A Fool Like You / Yachts
6 Framework / Berlin Blondes
7 Is Vic There? / Department S
8 Two Swords / The Beat
9 Wake Up (And Make Love With Me) / Ian Dury & The Blockheads
10 On The Run (Who´s Gonna Get Me First) / Tv 21
11 The Got Me Covered / Dirty Looks
12 Looking For New Hearts / The Flys
13 Video Queen / Afraid Of Mice
14 Dubmarine / Yachts