The Many Faces Of Bob Dylan
The Many Faces Of Bob Dylan
3 CDs
CD (Compact Disc)
Herkömmliche CD, die mit allen CD-Playern und Computerlaufwerken, aber auch mit den meisten SACD- oder Multiplayern abspielbar ist.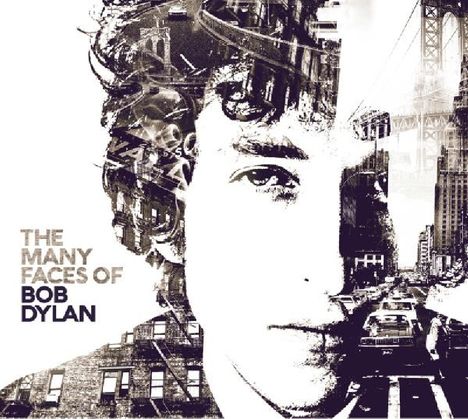 *** Digipack
Bevor die Welt Bob Dylan kennenlernte, handelten Songs fast unweigerlich von einer romantischen Beziehung oder über das Tanzen. Aufgrund seines Folk Backgrounds, waren Bob Dylan Songs dagegen immer von einem poetischen und existentiellen textlichen Inhalt geprägt, was mit ihm dann zu einem Teil der Rockmusik Kultur wurde. Dies ist einer der Gründe warum so legendäre Künstler wie The Beatles, Rolling Stones, Jack White und sogar Guns N'Roses (sehr erfolgreich mit ihrer eigenen Version von Knockin' On Heaven's Door) zu den Dylan Fans gezählt werden können.

Auf The Many Faces of Bob Dylan werden präsentiert: die ersten 2 CDs enthalten 28 bislang unbekannte Versionen des Künstlers, ein wahrer Schatz, der nun für die Fans verfügbar gemacht wird. Zusätzlich widmet sich CD3 der Greenwich Village Szene aus der Dylan entstammte, mit Künstlern wie Joan Baez und Dave Van Ronk. The Many Faces Of Bob Dylan ist ein bedeutendes Album sowohl für Dylans unzählige Fans, als auch für jeden der sich für die Entwicklung der Pop & Rockmusik der letzten 50 Jahre interessiert.
Disk 1 von 3 (CD)
1 The Classics And More: Blowin' In The Wind / Bob Dylan
2 A Hard Rain's A-Gonna Fall / Bob Dylan
3 It's All Over Now, Baby Blue / Bob Dylan
4 It's Alright, Ma (I´m Only Bleeding) / Bob Dylan
5 Boots Of Spanish Leather / Bob Dylan
6 Fixin´to Die / Bob Dylan
7 Man Of Constant Sorrow / Bob Dylan
8 See That My Grave Is Kept Clean / Bob Dylan
9 Gospel Plow / Bob Dylan
10 Po Lazarus / Bob Dylan
11 Sally Gal / Bob Dylan
12 Girl From The North Country / Bob Dylan
13 The Lonesome Death Of Hattie Carroll / Bob Dylan
14 Baby, Let Me Follow You Down / Bob Dylan
Disk 2 von 3 (CD)
1 Rarities From The Vault: Handsome Molly / Bob Dylan
2 Farewell (Fare Thee Well) / Bob Dylan
3 (I Hear That) Lonesome Whistle / Bob Dylan
4 Baby, Please Don´t Go / Bob Dylan
5 Who Killed Davey Moore / Bob Dylan
6 The Girl I Left Behind / Bob Dylan
7 Hard Travelling / Bob Dylan
8 Bob Dylan's Dream (De Freehwelin) / Bob Dylan
9 Makes A Long Time Man Feel Bad / Bob Dylan
10 Tell Me / Bob Dylan
11 The Death Of Emmett Till / Bob Dylan
12 Stealin' / Bob Dylan
13 In The Pines / Bob Dylan
14 Backwater Blues / Bob Dylan
Disk 3 von 3 (CD)
1 The Sound Of The Greenwich Village And Influences: Lost Highway / Hank Williams
2 House Of The Rising Sun / Joan Baez
3 Fixin' To Die / Dave Van Ronk
4 The Ballad Of Casey Jones / Pete Seeger
5 Old Age Pension Check / The New Lost City Ramblers
6 Cocaine Blues / Dave Van Ronk
7 Silver Dagger / Joan Baez
8 No Depression In Heaven / The New Lost City Ramblers
9 You're Gonna Change (Or I´m Gonna Leave) / Hank Williams
10 East Virginia / Joan Baez
11 Hard Times In The Mill / Pete Seeger
12 Poor Lazarus / Dave Van Ronk
13 Sales Tax On The Women / The New Lost City Ramblers
14 I'm So Lonesome I Could Cry / Hank Williams
15 The Farmer Is The Man That Feeds Us All / Pete Seeger